How Princess Diana Became Fashion Royalty
As an exhibition of her wardrobe opens at Kensington Palace, the Princess' former stylist, Anna Harvey, talks for the first time about how she took a shy debutante and helped her become an icon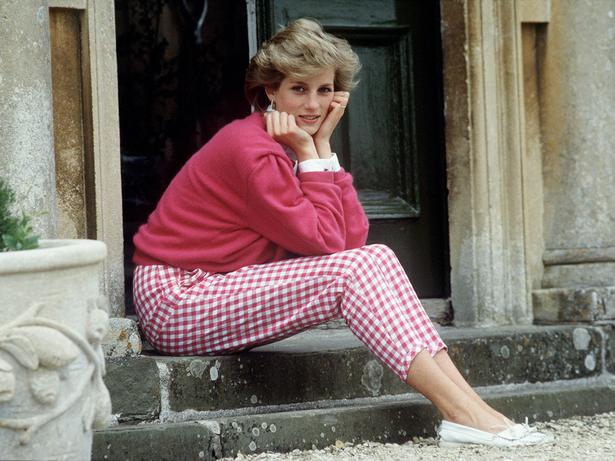 Wednesday Feb. 22, 2017
I first met Princess Diana when I was summoned into the office of Beatrix Miller — then the editor of Vogue, where I was the fashion editor at the time — and she was sitting there with her mother, Frances Shand Kydd. We'd photographed Diana for a shoot on society girls and on the day the pictures came out, the royal engagement had been announced. Still, I wasn't sure why I had been called in. So when, after a little chat, they explained they were looking for shoes to match the "going away" outfit, I naively replied, "What is the going away outfit?"
Mother and daughter glanced at each other and paused. Then they both nodded, Diana pulled out of her bag a cutting of apricot silk about the size of a £2 coin today — and our working relationship started. I trotted straight around to Manolo Blahnik and, without knowing the piece of fashion history he was working on, he made her shoes to match the silk.
I later learned that Diana and I had been set up, if you like, by Beatrix and Felicity Clark, Vogue's beauty director, who was close friends with Diana's sisters and had obviously briefed them that I was trustworthy and we would get on well together. It was a great mark of trust to confide in me so soon. But I guess they were right, because from there, Diana and I went on to work together, on and off, for 16 years.
Although I was a huge fan of the Emanuels, I didn't play a part in Diana's wedding dress — the Princess had been sent off to them before I became involved. The press didn't react very positively to the wedding dress because it was so creased. That's paper taffeta for you. I always thought the romance and the texture were wonderful, though.
After the shoes, my first job was to put together a trousseau for the Princess — clothes for her new life and her honeymoon. They were going off on the royal yacht Britannia; visiting different Mediterranean ports, so it was set to be hot and glorious. She'd be by the pool most of the day, and then she'd need something ravishing for the evenings to show off a bit of a suntan.
READ: The Enduring Appeal of Princess Diana
There was a fantastic shop in those days on the Pimlico Road called Mexicana, where they did all those beautiful pleated white cotton Mexican dresses. We bought two or three of those and a few peasant blouses, which we packed together. I never saw her wear any of them but she wrote me the sweetest letter afterwards saying that everything had been perfect.
In the beginning, there was a lot of indecision. Neither of us really knew that much about royal etiquette and what was expected of her style-wise. "We're going to Balmoral and we have to dress for tea," Diana would say, and then we'd have to guess about the style of dress she should wear and find lots of options. She very quickly jettisoned gloves. The royal family all wore them, but Diana just preferred not to.
I used to rush out to buy the news-papers each morning to see what she'd been wearing the day before. In 1983, during a tour to Australia, she wore a one-shouldered, one-sleeved white dress by a little-known, London-based, Japanese designer called Hachi who I'd introduced her to. It was a real "wow" moment. We'd done a lot of pie-crust collars and frills for this tour but this was the first long, fitted, sexy dress that she ever really wore.
For us, it was a sign that Diana was growing up and becoming a woman — she wasn't a 19-year-old debutante any more. But it was not particularly well-received. It was quite ahead of the game, fashion-wise, and considered a bit "much" for the Princess of Wales — she looked too good. Still, I think that was when she realised that, if she was clever, she could make a huge statement with what she wore and where she wore it.
We'd have a meeting ahead of all the major tours, then I'd take a huge pile of options over to Kensington Palace and we'd spend a morning trying things on. Once, she put on a beautiful black velvet dress with a grey taffeta skirt by Murray Arbeid. "Would you mind if I call in my husband to have a look?" she said. Prince Charles came in, and stood there quite bemused, seeing her in this extraordinary dress and me on the floor, pinning the skirt.
SHOP: Ten Ways to Channel Princess Diana's Style
Some of the things we chose together weren't all that successful. I look at those pieces with big, padded shoulders and think, "Why on earth did I put her in that?" or "Did she really wear that?" But fashion is mercurial. We must have thought she looked good at the time. It's the same if you look through the pages of Vogue at that time; those Dynasty shoulders look dated and rather ugly.
In terms of successes though, a real red-letter day for me was the morning after the Princess wore that navy velvet Victor Edelstein dress to the White House, where she danced with John Travolta. Andre Leon Talley, who was the fashion news director at US Vogue at the time, rang me at Vogue in London.
He said how impressed he was with her long, navy suede gloves, which she'd taken off to dance, at a time when most people were wearing white ones. He thought the whole look "wonderfully chic". I was so thrilled to hear from him — it meant we'd really scored. Almost by accident, Diana began to be an ambassador for British fashion — and as an industry, we were lucky to have her.
Like the Queen, Diana realised that people often waited for hours in the rain, cold or heat to see her, so incorporating colour into her wardrobe was important. She loved to play, too: in Portsmouth to launch a boat, she delighted in wearing blue-and-white stripes with a jaunty sailor hat.
Eventually her life moved in a new direction. She was braver, more confident and felt she could step out of the box. One day, Sam McKnight (who did her hair), Mary Greenwell (who did her makeup), the photographer Patrick Demarchelier, the Princess and I were sitting around gossiping on a shoot.
"Don't you think she'd look wonderful in Versace?" Sam said to me. And from then on, a lot of the suits and dresses she wore were designed by Gianni Versace. Towards the end, Diana was very much her own person and it was only occasionally that she'd ring and say, "I want a red suit, have you seen one anywhere?" (I think perhaps she did this out of loyalty, just to keep me on board for my sake.)
This was long before the days of being able to just go on to the internet and see 300 red suits. I had to remember, or if I knew a designer well I could call them and say, "Remember that suit you did in navy last season, could you make it in red?" Of course, by then designers and fashion houses felt honoured to work with the Princess and would instantly go to the Palace and do fittings.
READ: Why the 'Jackie Look' is Still In Vogue
I would like to give them all a vote of thanks for all their hard work and absolute discretion.Everyone was always so nervous, but Diana put them at ease. She started off so shy and ended up so confident. It just shows what we can all still learn from her.
• Diana: Her Fashion Story opens at Kensington Palace on February 24.
1981: THE ROMANTIC HEROINE
Before Lady Diana walked down the aisle of St Paul's Cathedral to marry the Prince of Wales in the puff-sleeved taffeta dress created for her by Elizabeth and David Emanuel, another of the couple's designs had already been made iconic by the young debutante. Diana's sisters, Sarah and Jane, had both worked for Vogue and were close friends with the magazine's beauty director, Felicity Clark. They arranged for Diana to appear in an "Upcoming Beauties" photo shoot. The resulting images, taken by Lord Snowdon, show Diana wearing a frilled pink Emanuel blouse she had picked out from Vogue's rail.
The engagement was announced on the day of the magazine's release. 'It was immediately iconic, it was copied and sold out everywhere,' says Eleri Lynn, curator of Diana: Her Fashion Story. The rapturous reception was also a deciding factor in Diana giving "the commission of the decade" to the Emanuels.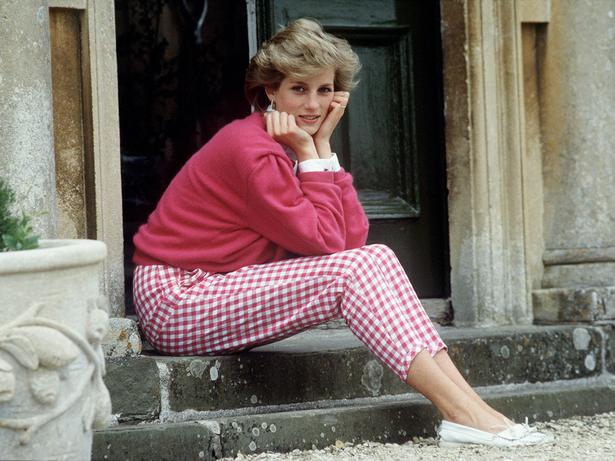 1985: THE 'HORSE BLANKET'
One of the Princess' lesser-known looks, this checked Emanuel coat was dubbed "the horse blanket" when she debuted it during an official visit to Venice in 1985. Part of a collection inspired by 1920s flapper girls, the look "just didn't work in photographs", explains Lynn. It's a neat example of how eager the Princess was to please. "She actively created her own image.
She read her reviews and tailored her style so that she could be seen as elegant and glamorous, which she considered part of her job," adds Lynn. "Most people have the luxury of experimenting with their style without the international press looking on, but that wasn't the case for Diana." The coat ended up in a pile that was taken to a charity shop by Sarah Ferguson's mother. It was bought by a woman who kept it for 20 years before selling it at auction in 2016, when it was acquired by Kensington Palace for this exhibition.
1985: THE TRAVOLTA DRESS
The most iconic — and valuable — of the Princess' looks to appear in the exhibition is the midnight-blue velvet, off-shoulder gown by British couturier Victor Edelstein, which she wore to a state dinner at the White House during the Reagan years. "This is really one of the most beautifully constructed dresses you'll see, and it is worth looking at it in the flesh because photographs simply don't do it justice," says Lynn of the design, which sold at auction for £240,000 in 2013.
Most famously, this was the night that, after a little nudging from Nancy Reagan, John Travolta asked Diana to dance, and the pair did so for half an hour. "The bodice is intricately ruched and the skirt clings tight to the thigh, then flares out into these sumptuous layers, so it would have looked amazing as they twirled. It's such a shame there's no video footage," says Lynn. "It was a meeting of royalty and Hollywood. She captured the glamour of both, which is why her image is so enduring." Edelstein went on to design a number of other velvet gowns for Diana; one of which is forever marked at the knee by tiny fingerprints, thought to be from her small sons hugging her goodbye before an evening event.
1986: THE FLAMENCO DRESS
"Diana loved playing with fashion and that's what made her so fascinating to watch," says Lynn. This Murray Arbeid design is a masterclass in how the Princess incorporated trends into her wardrobe while demonstrating royal tradition with a twist. With its flamenco styling, the gown was a witty choice when she wore it for a ball during a tour to Spain in 1987 — having first appeared in it at an America's Cup ball at the Grosvenor House Hotel in 1986.
But it was her choice of gloves to match the look that made it so memorable; one black, one red gave impact and a cheeky wink to protocol. "Sometimes I can be a little outrageous, which is quite nice. Sometimes," the Princess once said, while designers have spoken of the twinkle she would have in her eye when she knew a look would spark a talking point.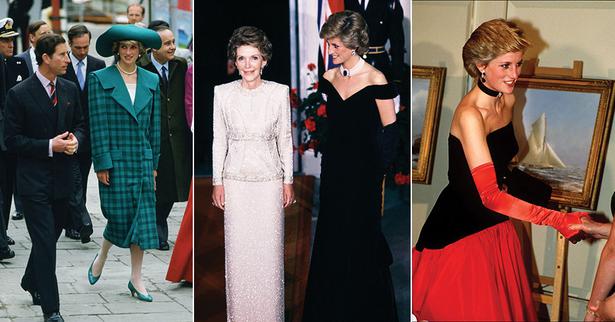 Diana in 1985 and 1986. Pictures / Getty Images

1989: THE ELVIS DRESS
"Dignified showstopper" was the brief for Catherine Walker's designs for the Princess of Wales during the 1980s. "She was acutely aware that she was creating a regal uniform, similar to court dressmakers of centuries before," observes Lynn. Indeed, the initial inspiration for the dress, which has long been known as the Princess' "Elvis" moment, was in fact the ruff collars of the Tudor period. It was Diana herself who coined the association with Presley's upturned necklines and glitzy stage looks.

"I don't think Diana ever looked more radiant or more chic than she did in that outfit," adds Lynn of the dress, which was initially designed for a visit to Hong Kong in 1989, its 20,000 pearls being a nod to oriental culture. Diana also wore the ensemble to the first ever British Fashion Awards, where she presented Hardy Amies with an award. She later wrote a letter thanking Walker for the outfit addressed, "to my best designer of the year".

1997: THE WORKING-WOMAN'S SUIT
The Princess relied on Catherine Walker's bespoke designs for much of her public life after first meeting the French designer when she bought some of her pretty polka-dotted and frilled maternity dresses while pregnant with William. "Diana soon learnt to make her silhouette sleeker," says Lynn of the evolution of her wardrobe, and Walker adapted with her most famous client.

This pale-blue dress suit, which she wore in 1997, encapsulates Diana's new-found confidence. "It's that very 1990s body-con, professional working mother look and shows how her sense of style had matured," notes Lynn. By this time, Diana's role had changed and her press secretary stopped releasing clothing credits to the papers, saying the Princess was focused on being a "work horse rather than a clothes horse". This look and others like it were an elegant way to communicate that message.


READ: Why Wearing a Suit on the Red Carpet is a Political Act for Women

— Telegraph Magazine

Share this: