Palace to Celebrate Princess Diana's Style
An exhibition of Princess Diana's favourite clothes will mark the 20th anniversary of her death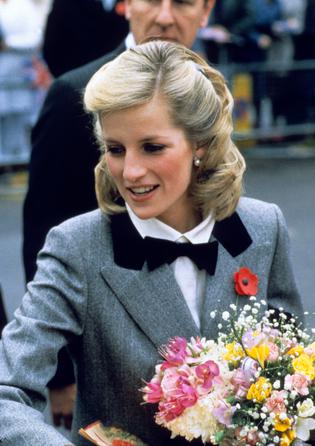 Some of the most memorable outfits of Diana, Princess of Wales, will go on show at her former home in Kensington Palace in February to begin a year of commemorations of the 20th anniversary of her death.
Dresses and blouses that are now owned by museums and private collectors all over the world are being lent to the Diana: Her Fashion Story exhibition, which has the blessing of the Palace's current occupants, her sons the Duke of Cambridge and Prince Harry.
One of the star exhibits among the 26 outfits on display will be an ink blue velvet gown worn when she danced with John Travolta at a White House gala dinner in 1985. The Victor Edelstein dress, which the Princess also wore for her last official portrait before her death in 1997, was one of 10 dresses auctioned for charity in New York two months before she died. Bought for 100,000 pounds by an American businesswoman, it then fetched 240,000 pounds when it was sold to a British collector in 2013.
READ: Why Princess Diana is Still Making Headlines
Other favourites will include the pale pink Emanuel blouse worn by the Princess for her official engagement portrait by Lord Snowdon in 1981, and several Catherine Walker suits that made up her "working wardrobe" in the 1990s.
The exhibition aims to show the evolution of the Princess' style and will explore her relationship with her favourite designers through some of their original sketches, created for her during the design process.
Only five of the outfits are owned by Historic Royal Palaces, the charity which looks after Kensington Palace. Others are coming from as far afield as the United States and Chile, where several are normally on display at a fashion museum. A blue tartan Emanuel suit, worn for an official visit to Venice in the 1980s, will go on display for the first time. The suit was only recently rediscovered and acquired by Historic Royal Palaces at auction.
Eleri Lynn, the curator of the exhibition, said: "Diana, Princess of Wales was one of the most photographed women in the world and every fashion choice she made was closely scrutinised.
"Our exhibition explores the story of a young woman who had to quickly learn the rules of royal and diplomatic dressing, who in the process put the spotlight on the British fashion industry and designers. We see her growing in confidence throughout her life, increasingly taking control of how she was represented, and intelligently communicating through her clothes."
A spokesman for the Duke of Cambridge and Prince Harry said they had been "kept informed of the plans". The two princes are expected to announce plans for other events celebrating their mother's life, which are likely to include a charity concert.
- The Daily Telegraph
Share this: