The Enduring Appeal of Princess Diana
The Princess' love of fashion was a delight when she was alive and, with a new exhibition coming, she is inspiring fresh generations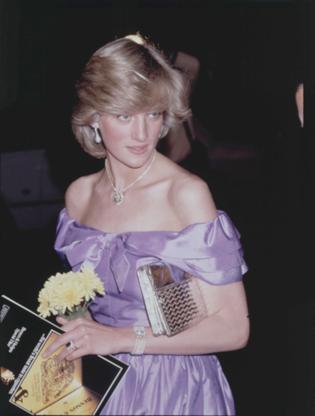 When the doors open to Kensington Palace's Princess Diana: Her Fashion Story exhibition next February, those lining up to peruse the collection on display will no doubt range from Hackney hipsters too young to remember her when she was alive to Home Counties ladies who grew up with "Lady Di" as their fashion barometer. Because while it might be almost 20 years since Diana, Princess of Wales died, her inimitable style is as popular and obsessed over as ever.
As a public figure who embodied glamour, intrigue, duty and mystery, Diana's wardrobe was one of her most powerful tools of communication. Her outfits for foreign tours were always carefully diplomatic: in Japan in 1986, she chose a red polka dot dress to represent the country's rising sun motif; in Pakistan, she wore green, a customary colour of respect.
But it was in her choice of eveningwear that she really let go, and so enjoyed some of her most memorable fashion moments. After dark, the designer dresses she wore were often laced with attitude and not-so-subtle messaging. She could have invented the phrase "statement dressing" with her black, off-shoulder cocktail dress by Christina Stambolian, which she wore to the Serpentine Gallery on the night that the Prince of Wales admitted to his infidelity in 1994.
Then there were her playful off-duty looks, which included jazzy jumpers for polo matches and an American football-style bomber jacket for days out with William and Harry. It's little wonder that Diana came to epitomise late-20th-century fashion, and was strategic in using it to her advantage.
"She was always very thoughtful about how her clothes would be interpreted, it was something that really mattered to her," remembers Anna Harvey, Vogue's former deputy editor, who helped the Princess to craft her image after they bumped into one another in the corridors of Vogue. Diana was looking for help after a royal blue suit she chose for her engagement announcement had been given a lukewarm reception.
"She was aware of her position and the fact that she was representing Great Britain. She was always very clever when it came to flattering people," says Harvey. "We all remember her as an elegant, beautiful woman who loved fashion. It would be no different now, I am sure. She would be an example to us all with what she wore and how she wore it."
READ MORE:
Why Princess Diana is Still Making Headlines
Why Royals Have to Be Fashionable
Dissecting Kate Middleton's Diplomatic Wardrobe
The new retrospective announced last week is not the first of its kind - in 2007, Kensington Palace hosted Diana: A Princess Remembered, and the current Fashion Rules exhibit includes some of Diana's clothes - but it will be one of the biggest ever. Among the 26 outfits on display will be iconic items, such as the navy blue Victor Edelstein gown that Diana famously wore to dance with John Travolta at the White House in 1985, through to less well-known items, such as an Emanuel Couture check dress worn on a trip to Venice, also in 1985.
Purchased by Historic Royal Palaces at an auction earlier this year, that dress is a neat example of the complex job that faces anyone trying to piece together a true retrospective of the way Diana dressed. It was bought in a posh second-hand shop, having been taken there by Susan Barrantes, the mother of Sarah Ferguson, who was dropping off a pile of unwanted clothes belonging to her daughter and Diana.
There is no definitive archive of the Princess's vast wardrobe. Instead, it is a kind of diaspora, spread across the world, after being dispatched to friends and charity shops or sold at various auctions over the years. The new exhibition will include items already owned by the palace, as well as pieces loaned from Chile's Museo de la Moda (which began its collection at the Christie's 1997 sale), collectors in the US and more.
One place where you will find a definitive deep-dive into Diana's style, though, is on Instagram, the social media platform where fashion-loving millennials love to share nostalgic shots of the Princess. The account Princess Diana Forever has amassed 130,000 followers with its constant stream of images.
Recent posts have included a coy-looking Diana in retro Seventies ski wear on the slopes during her time at Swiss finishing school; a starkly fresh portrait taken by fashion photographer Mario Testino in 1997, in which she wears a one-shouldered sparkling white dress by Japanese designer Hachi; and a quintessentially Eighties snap of the Princess in a frou-frou silk taffeta gown by Catherine Walker.
The account is followed by those who might be too young to distinctly remember Diana from when she was alive, but who are enamoured by the fashion legacy she left. "There's a certain generation that will never forget her and she will always be their ultimate Princess, while people in their twenties are aware of her but perhaps don't know quite so much about her," says Harvey.
Unlike many other women who are held up as style icons, there is not a single item or look that sums up Diana, but a plethora of moments and details; the luxe continental combination of blazers and denim that she turned to post-divorce could not be more different from the flimsy floral dresses that defined her early years, yet she made both her own.
READ MORE:
The Fashion Secrets Behind The Crown
Inside The Queen's Royal Wardrobe
90 Years of The Queen's Royal Style
Diana's effect on fashion was instant. As early as 1983, just two years after her marriage to Prince Charles, she was credited with helping to create a "jobs boom" in Ireland, where workers were "flat out" trying to meet demand for Clarks' "Princess Di" shoes.
The term Sloane Ranger wouldn't have become so memorable without Diana as its poster girl; she appeared on the cover of The Official Sloane Ranger Handbook in pearls and ruffled blouses that quickly became must-haves. Later, Diana made household names of Parisian couturiers such as Ungaro and homegrown designers such as Catherine Walker, always balancing patriotism with the allure of glamour.
It is this eclectic style and enduring appeal that recently prompted the collaboration between fashion retailer ASOS and Sharmadean Reid, the founder of the trendy WAH nails, on a collection in tribute to Diana's looks, reimagining everything from the little black dresses she favoured for less formal evening events to the cycling shorts and sweatshirts that she wore to her gym at the Chelsea Harbour Club.
"Princess Diana stood for a lot of the things that girls feel are important," says Reid. "You often saw her out jogging or picking her kids up from school. Ultimately, I think Diana was the epitome of the modern woman. She could wear uptown and downtown style and always looked amazing."
Those who followed Diana's fashion evolution in "real-time" remain as captivated by her as ever. "I've been fascinated with her style since she wore the ruffle-neck blouses in the Eighties. She was daring, fun, smart and posh," says Stacey Duguid, acting executive fashion editor at Porter magazine. "I kept scrapbooks of her as a child - I still have them. To this day, I remember how I felt watching her on the television as she walked down the aisle at her wedding."
While most Diana fans suffice with old photos, Duguid had a real-life encounter with the Princess. "I served her when I worked in Harvey Nichols in 1995. She was a size 10 on top and a size 8 on the bottom, and was super-tall. I remember handing her a mid-blue Cheap n' Chic Moschino suit. She pulled on the jacket, cropped with a small peplum, and the skirt was pencil, fitted, ending just above the knee. It was my most memorable fashion moment, which is saying something, considering I've worked in fashion for 20 years."
- The Sunday Telegraph
Share this: