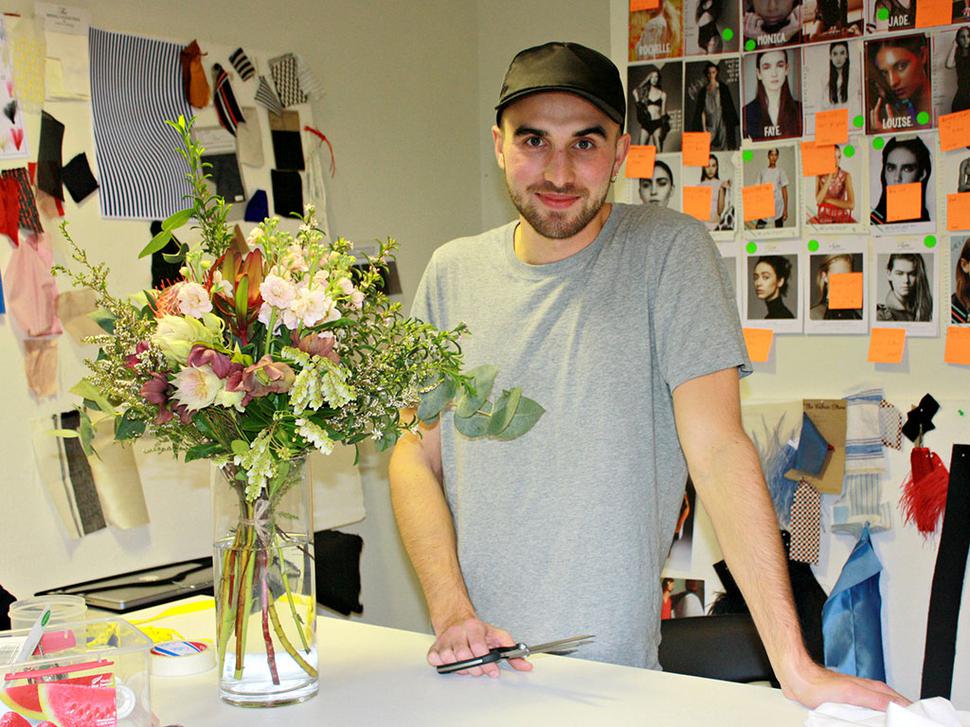 Project Runway Winner Sean Kelly's Debut Show
The New Zealander will make his New Zealand Fashion Week debut tonight
Thursday Aug. 27, 2015
He's the Kiwi who won over Project Runway stars Heidi Klum and Tim Gunn to take out season 13 of the popular show. Heidi still raves about the dress Sean Kelly memorably created, with dye built into the seams so that it turned from white to multi-coloured when "rain" fell from the ceiling.
"He is a great designer — a beautiful human being," she told Viva earlier this year.
"He's very technically gifted, and had some great ideas. I mean, he had some of the best designs I feel like I've seen over the last 12 years of doing Project Runway. His 'Rain Walk' dress was incredible. When a designer comes up with something that is new, when a model walks down, it gives me goosebumps, my hair stands up and I'm like, wow!"
Tonight, all eyes will be on Sean once again, to see what he brings to the runway at New Zealand Fashion Week. He admits to feeling the pressure, not just here but from overseas, too. "There's a lot of spotlight on me internationally as well, the whole production of the show — everyone wants to know what I am doing next."
Luckily, he says, he lives for high-pressure situations — it's at these times that he produces his best work.
What to expect tonight? It will be a 25-piece collection, the biggest he has ever put together. The show will run in two halves. The first will see a more commercial collection Sean plans to sell online before hopefully picking up stockists overseas, while the second half will be made up of standout show pieces.
"With intricate detailing and one off-pieces, one garment has taken four weeks to make, it's all hand embroidered. So there's quite a dynamic mix you are going to see in the collection."
The 25-year-old says the more elaborate garments will be made for private orders. He envisages the Sean Kelly brand sitting in what he describes as a new pocket of retail. "I like to call it mid-luxury, not luxury, because luxury is meant to be exclusive and limited to only a few. But since the recession, a pocket of the industry has emerged, with brands such as Phillip Lim and Acne creating really high quality material, at prices that are attainable. Not everyone can afford it but there's a higher percentage of people that can."
His debut collection, which he has been working on for three months, is based around the artist's muse, and tells a story that will get more extravagant as the runway show goes on.
"Often it is a servant or a mistress that becomes iconic and adored through a painting — a common person who was accidently turned into an idol, like the Girl With a Pearl Earring or Mona Lisa. These people often become icons."
There will also be an installation with reflective mirror artwork set up on the runway created by Auckland-based spatial artist Angus Muir, much like the newly opened Len Lye Centre in Sean's hometown of New Plymouth.
Overseas, Sean has worked for Danish designer Henrik Vibskov, whose fashion shows are based around massive installations, which Sean says is often his favourite part of a presentation. "I am interested in spatial design as well as fine art and sculpture, It's not just the clothes that I am interested in, it's the story, the feel, the atmosphere, the music that also helps to complement the clothes."
The team behind tonight's show is what Sean describes as a "dream team", with Matt Benns from Stephen Marr heading up hair and Kiekie Stanners from M.A.C directing the makeup. Over the weekend he shot his lookbook with photographer James K. Lowe.
After he presents the collection tonight, Sean will be jetting off to New York, where he is planning a casual off-schedule presentation during New York Fashion Week. Following that he will hold a showcase at Dallas Fashion Week, before returning to live in New York — and watch the finale of Project Runway season 14.
View more of our insider New Zealand Fashion Week coverage in association with Mercedes-Benz.
Share this: