3 New Labels You Need to Know About
Rachel Mills, Olivia Brown and La Tribe are three new brands to keep an eye out for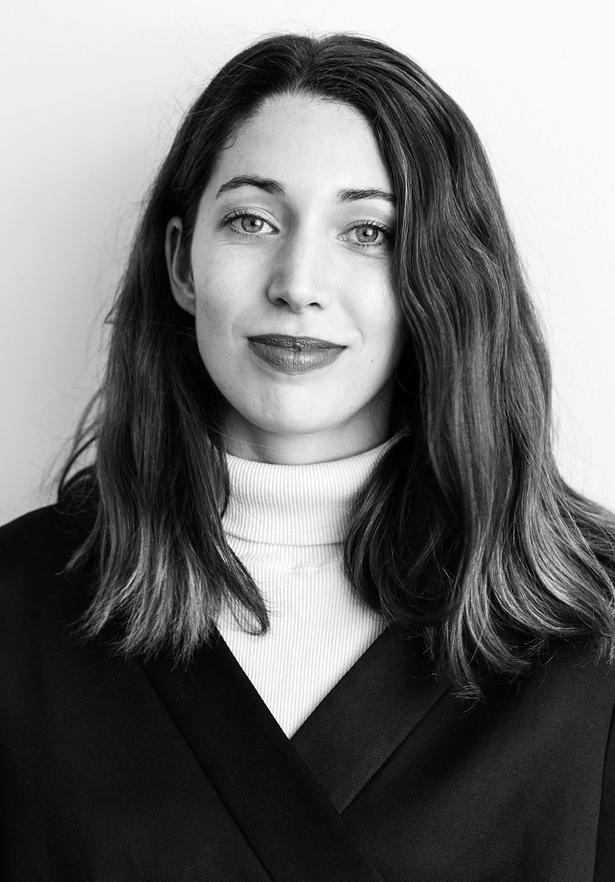 Tuesday Oct. 13, 2015
RACHEL MILLS
It's a self-assured, intelligent approach that Rachel Mills takes when creating pieces for her brand. As opposed to the relaxed mood some designers in New Zealand have come to fall back on, Rachel creates subtly structured pieces with a point of difference — high-waisted pants are slightly frayed at the hem, dresses and button-down shirts have utilitarian pockets at the front — all of which are designed to slip seamlessly into an existing wardrobe.
Born and raised in Auckland, Rachel started sewing and making her own clothes at a young age, so was well-versed in the craft before even leaving high school. After studying fashion design at AUT, Rachel gained experience in some of our leading workrooms, including Lonely and Karen Walker, before starting her own label.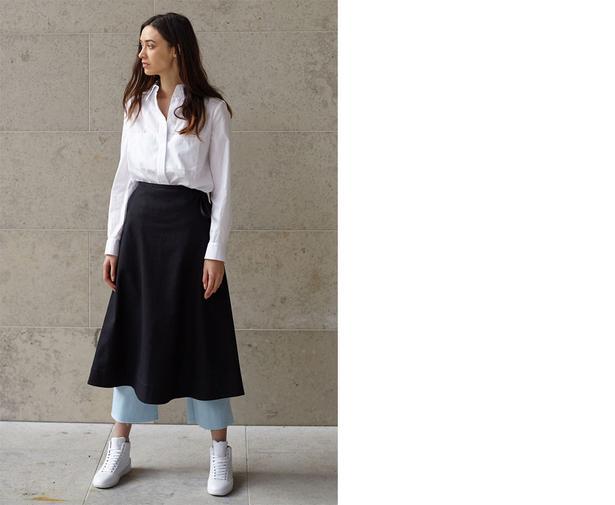 "As a patternmaker by trade, the most important thing to me is the fit of the garment," says Rachel. "With that in mind, I always begin with the silhouette and fabric, allowing these to work in with one another."
For her debut collection, aptly titled Ichi, Rachel studied the intricacies of the Japanese kimono and created a collection focused on the art of wrapping and tying: mini and midi skirts are fastened at the hip, crop tops and dresses tie at the shoulders and jackets wrap across the front of the body. The range of colours is simple: forest green, powder blue and neutrals.
"The closure of a garment is something I take into account very early on, as I like to incorporate this into the design, rather than as an afterthought."
This is perhaps the tell-tale sign of a Rachel Mills design, and is one that she hopes the wearer will understand. "I think there's a lot of skill involved in having something that makes your work easily recognisable as a designer, and you know you've hit the mark when someone can pick something up and identify it as your work. That's where I want to be."
• Debut collection available from February 2016, pre-order from rachelmills.co.nz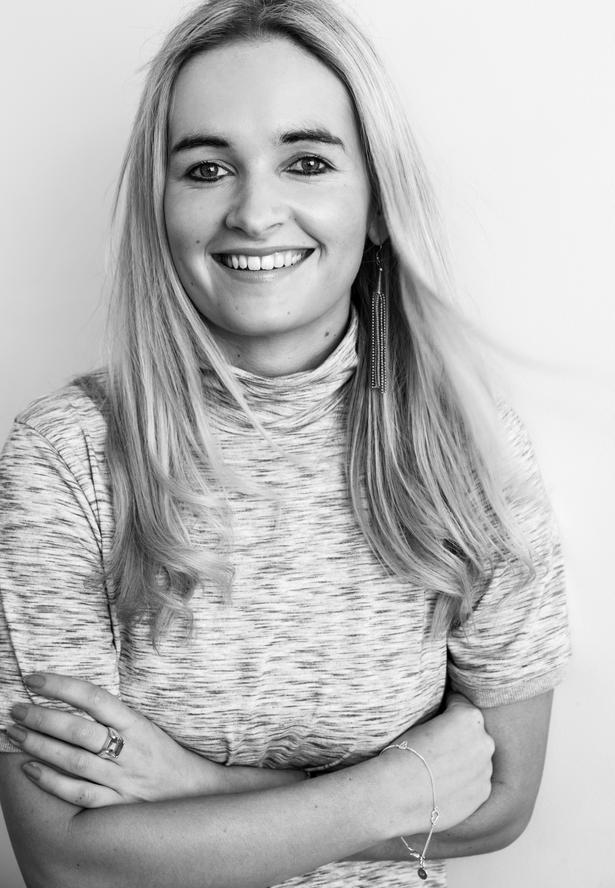 Olivia Brown. Picture / Guy Coombes.
OLIVIA BROWN
They're the secret style weapon of every fashion insider: comfortable, versatile and flattering, whether worn on their own or underneath pretty much anything you have in your wardrobe. The skivvy, turtleneck, polo neck — whatever you like to call it — is possibly fashion's most humble garment, with Olivia Brown giving it a modern, fashionable update.
An interest in the turtle's versatility led the Auckland-based designer to establish a namesake label three months ago, with small collections focusing on variations of the knitwear favourite. "I love turtlenecks because you can literally wear them under every outfit! They have a sense of gawkiness to them which I like, and add an easy layer to any outfit."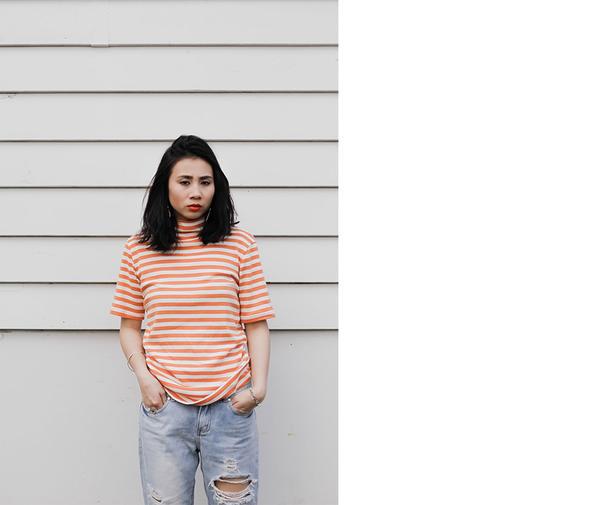 Olivia grew up in Christchurch, studying at Otago Polytechnic for two years before attending AUT's fashion school in 2014 for her graduate year. Her end of year collection was shown as part of AUT's popular Rookie show, which sparked her label. Inspired by the film Village of the Damned, each outfit in the collection featured a turtleneck. "I started making them in every colourway and had people asking for them, and it went from there."
Since graduating Olivia has worked in production for a top local designer, dealing with offshore production and grading patterns. Three months ago she started selling her small collection of sweaters, each handmade in Auckland, and in true DIY, Instagram-era style, "borrowed friends" to model them. For summer, she has made short-sleeved sweaters and sweater dresses, in gold or silver Lurex, grey marle and orange stripes.
As for her goals for the brand, Olivia says for now she plans to keep it small. "My goal is to keep it 100 per cent New Zealand made," she explains, "I will see where it goes; keep it small and steady and just have fun with it! I want to make knits girls want to wear, and can wear effortlessly."
• Shop the summer collection at oliviabrown.co.nz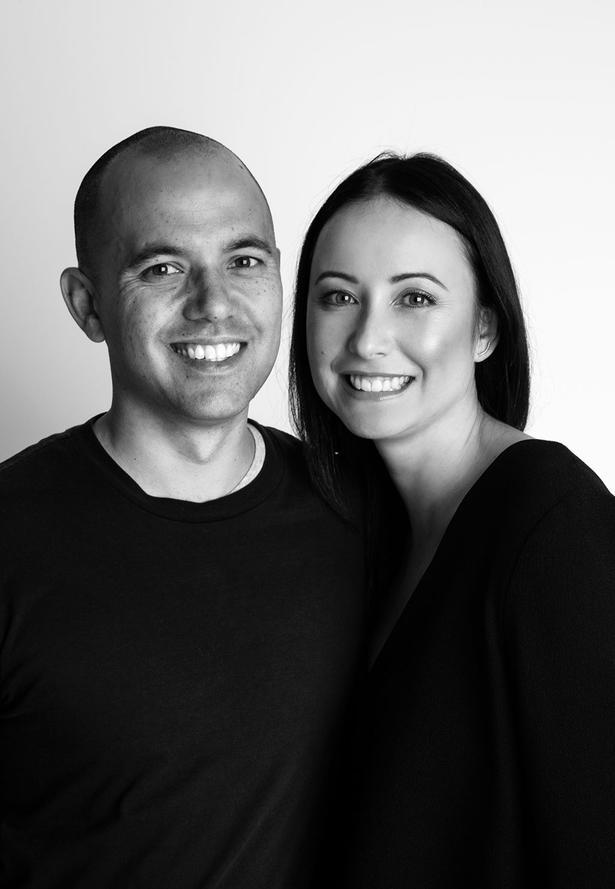 Co-founders of La Tribe, Dane Winter and Emma Bidois. Picture / Guy Coombes.
LA TRIBE
Comfortable, practical, flat yet sexy shoes. That's the intention behind new footwear brand La Tribe, with an ultra-wearable first collection launched just in time for summer.
Co-founders Dane Winter and Emma Bidois know what people want to wear on their feet like the back of their hand. For the past nine years, Dane has sold popular Brazilian brand Havaianas around New Zealand and into some of the Pacific Islands. With Emma, he recently took over the NZ distribution rights, continuing to sell the flip-flops alongside their new shoe line.
The couple say they are not trying to reinvent the wheel, but are all about making practical footwear that people will reach for time and time again — much like the beloved Jandal.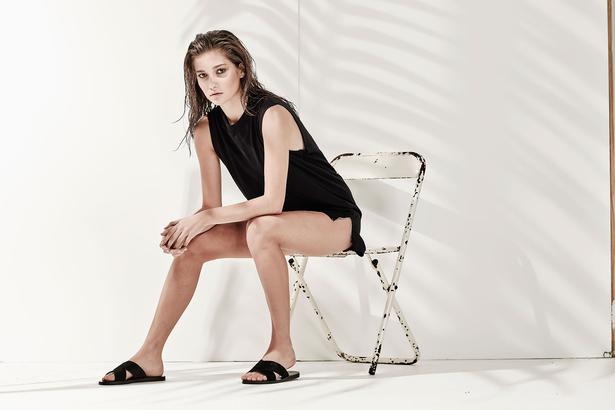 "It's for the everyday girl that just wants a nice comfy pair of shoes but to still feel sexy — and it's really hard to get comfy-sexy," says Emma, who jokes that another reason they decided to make stylish flats is because they're the same height. "He will be like 'love, can you not wear those heels?'" "Nah babe I don't care," Dane chirps in, "Pharrell's wife is way taller than him!"
Both grew up in the beachside town of Mount Maunganui, with Dane's parents opening the cult surf shop Island Style in the 70s. His Dad would make leather sandals by hand out the back of the store, so a passion for shoes is in his blood. The label's name draws on the idea of the great people they surround themselves with, and who help drive them to success.
The debut release is made up of two womenswear styles, while the next range for autumn/winter, available in February, will offer 10 including loafers, pointed flats, boots and more.
• Shop the debut release at latribe.co.nz
See these new designers and more at the Viva Sessions runway show on Thursday October 22. Tickets are just $29 from iTicket, and include gourmet canapes, a drink on arrival and a stylish goodie bag.
Share this: