Meet Rachel Riley, Prince George's Favourite Designer
English designer Rachel Riley's clothes have already put Prince George on best-dressed lists. She shares why her childrenswear appeals to the royals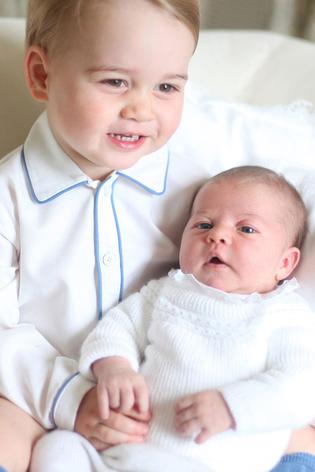 Childrenswear designer Rachel Riley is recalling the moment she realised Prince George was wearing her sailing boat dungarees on his first official engagement in Australia. She was on a business trip in Los Angeles at the time and turned on the TV.
"I knew the Duchess had some of our clothes, although we didn't know if they would be worn. I don't think I could ever have anticipated the response," she says.
Her Knightsbridge and Marylebone stores received more than 100 calls, the dungarees sold out immediately and, two years later, the smocked style, $134, remains one of Riley's most popular items. Since then, Prince George has worn the British designer for most of his official outings, including the portraits to commemorate Princess Charlotte's birth and the Queen's 90th birthday — helping the 3-year-old win a coveted spot on GQ's list of the world's best-dressed men and Riley's sales jump 12 per cent year on year.
Riley believes her 20-year-old label appeals to the royals because it is built on timeless classic shapes in strong colours and archive style prints. For Princess Charlotte's christening last year, the newborn was dressed in Queen Victoria's christening gown and her brother in a Rachel Riley red and white short suit that was nearly identical to something his father had once worn 30 years ago.
"While I don't wish to mimic period drama, I do think my clothes are traditional and that is perhaps the appeal for the Duchess of Cambridge," Riley says.
"My clothes are better suited for formal-occasion wear, which is what people come to us for. They're not going to date in photos in years to come."
Like George, Charlotte is always dressed in classic childrenswear that will look timeless in the family album — notably print florals and pastel shades. So far, Kate Middleton has relied on a raft of Spanish labels, such as La Coqueta and Pepa and Co — both of which have also enjoyed bumper sales as a result of the royal patronage.
While the Princess has yet to be decked out in Rachel Riley, style watchers are predicting that during the forthcoming Canadian tour the youngster may well sport the brand's $170 Rose dress and bloomers.
So who is the designer behind the brand that is making the young royals style leaders before their fifth birthdays? Tall, slim, with dark hair, creamy skin, it's not the biggest surprise that 53-year-old Riley was once a model.
After reading social anthropology at Cambridge, she spent seven years modelling in Paris, Tokyo and New York, during which time she met her French photographer husband, Daniel Jouanneau, before settling in the Loire valley in 1989. They had three children (two boys and a girl, now 27, 26 and 24) in quick succession and it was then that Riley started designing children's clothes.
"I loved nothing more than making my children gorgeous things to wear. People are more forgiving of a tantrum if children look cute while doing it," she says. "I did a needlework and dress-making course and my time as a model made me realise that I wanted to work in fashion in some capacity, but I hadn't yet figured out how at that point."
This was many years before the childrenswear market was worth the staggering $10 billion it is today, according to Euromonitor International. Before baby-boomer grandparents or parents would spend eye-watering sums of money dressing their offspring in mini-me fashion.
"Up until that point you only had high-end kids clothes that were formal and restrictive," Riley says. "Or the supermarket which, back then, made quite ugly clothes. I wanted to do something that was stylish, practical and comfortable. I also feel quite strongly about children wearing child-appropriate clothing."
Two main things feed into her aesthetic: the kitsch, feelgood era of the 50s and the craft element of childrenswear. "Did you know that in the 40s and 50s, girls dresses were made from men's shirts when the collars had worn down? They would reuse the fabric from the front and back of the shirt, so it might be a very masculine fabric like a stripe or check, but then embroider roses around the collar, or bunny rabbits."
And while her clothes might be too saccharine and retro for some — Janet Street-Porter once described Prince George as wearing a big girl's blouse — Riley says there is nothing too precious about her clothes. "I always encourage my customers to buy cotton pieces that are machine washable and can be passed down, which justifies the price."
Riley is much too discreet to reveal what pieces the royal youngsters have packed for their first trip abroad together.
"It's an official engagement and they are representing their country, so I imagine something red, white and blue might feature," she speculates. "But Canada is also known as the great outdoors, so I'm sure there will be some casual pieces."
— The Daily Telegraph 
Share this: