Raf Simons' Calvin Klein Debut
At Calvin Klein, designer Raf Simons helps an American brand find its way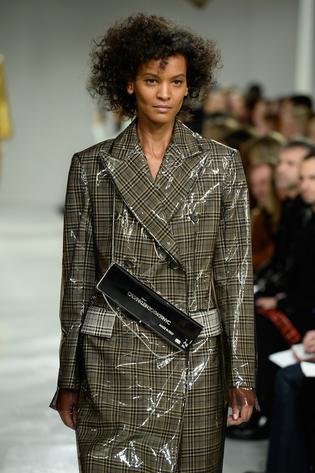 Calvin Klein is renewed. The nearly 50-year-old American brand famous for jeans and underwear looks youthful - but not immature - sharp and relevant.
Raf Simons, the brand's new chief creative officer, has situated the label in the center of a cultural conversation - not simply one focused on fashion but one that includes the arts, politics and national identity.
So much can bubble up when an outsider takes a look at America - its reality, the cliches and the mythology - and allows all of those contradictory and complimentary notions to churn through his imagination. That's what Simons did for his debut men's and women's collections at Calvin Klein. And the result was a captivating presentation that avoided rehashing the corrosive political anger of the day and instead explored the melancholy our politics has stirred up.
Artful, contemplative and pointed, Simons's collection for Fall 2017 used fashion - Western shirts, heirloom quilts, sharp tailoring, blue jeans - as a rich vocabulary for nuanced storytelling. For unwinding a narrative about America as an ideal, rather than a place. But Simons also excelled at a designer's most fundamental - most difficult - job: He created desirable, inventive clothes.
Last summer's announcement that Simons would take the helm at Calvin Klein was greeted with great enthusiasm by a fashion industry hungering for something new and dynamic in New York. Simons had a track record for creativity and reinvention both at his own menswear label and as creative director at Jil Sander and later, Christian Dior. His reputation as a minimalist with an affinity for street culture and a love for the visual arts seemed a perfect fit at an American brand, founded in 1968, that transformed blue jeans and underwear into sexual foreplay, stirred outrage from shopping malls to Capitol Hill when it sexualized youth culture and delighted the eye with its red carpet creations.
Simons' Friday morning show was set in the heart of the Garment District of New York, where the grit and grime are reminders of the grueling reality of fashion. As a measure of his star-wattage, he attracted a more international audience than most designers here, luring editors from Europe as well as this city.
Other designers came out, too. Narciso Rodriguez, who worked at Calvin Klein during the 1990s, was there for Simons' big day, along with Diane von Furstenberg, the president of the Council of Fashion Designers of America. Former models Lauren Hutton and Brooke Shields sat side by side during the show. And Shields chuckled when a model walked by wearing a pair of jeans with a patch emblazoned with a silhouette of Shields from her famous advertisement for the brand - the one in which she declared that nothing came between her and her Calvins.
But the collection was not a look back as much as it was a meditation on how this moment in time tracks with our historical understanding of what America means.
The clothes tapped into the large-type tropes of Americana. There were oversized parkas lined with heirloom-style quilts, big leather bomber jackets with rose appliqués, Western style shirts in deep indigo denim, slim dark-washed jeans, glen plaid banker blazers with pronounced shoulders, marching band shirts and brightly colored trousers with racer stripes down the side.
Overcoats were sealed in clear protective plastic - recalling a 1970s crushed velvet sofa with its custom plastic slipcover. And sheath dresses were little more than layers of clear plastic stuffed with feathers. One model even wore an American flag skirt, its golden fringe streaming from beneath a trim overcoat.
The models were noticeably diverse - a parade of young men and women of all shades with long, flowing hair, spiral curls and tight kinks.
"It is the coming together of different characters and different individuals, just like America itself," wrote Simons in his show notes. "It is the unique beauty and emotion of America."
This is a newcomers' America - the beautiful, charming, delightful bits of this country. The romance of the beautiful mosaic. It used to take a while before a new arrival got to the Rust Belt underbelly, to the lost souls, to the dystopian darkness, to the continued segregation. But that view comes faster now. Perhaps it even comes first.
As the models walked, David Bowie played through the speakers, and he made a sorrowful declaration: This Is Not America.
"A little piece of you
"The little peace in me
"Will die (This is not a miracle)
"For this is not America
"Blossom fails to bloom this season
"Promise not to stare
"Too long (This is not America)
"For this is not the miracle"
What exactly is it that Simons has created? The memory of America? He commissioned the Los Angeles-based artist Sterling Ruby to create an installation - a mise-en-scene for his show. The results were metal buckets and sheets of faded denim hanging from the ceiling alongside old cheerleader pom-poms and other detritus from a star-spangled America.
Simons celebrated an America that is beautiful, that is mesmerising and that is in question.
- The Washington Post
Share this: