Raf Simons' New York Debut
How Raf Simons let fresh air into the echo chamber of New York men's fashion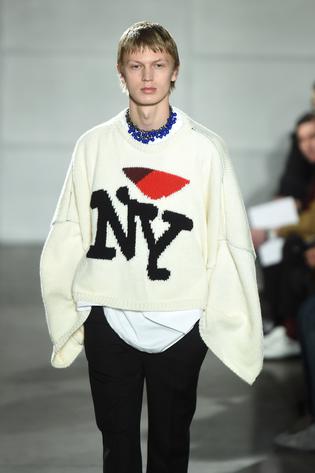 Young men who are thrilled by sportswear that expresses the energy of electronic music or contemporary art owe a lot to Raf Simons. Men who like to subvert hierarchies and test boundaries should be pleased to meet him. Guys who enjoy the respect they command in their oversized down jackets or shirts - tip your hat to Simons.
And anyone simply grateful for clothing choices that now stretch far beyond suits, chinos, jeans and hoodies should hail the designer as one of their fashion saviors.
The Belgian designer, 49, has been exceptionally influential in the realm of menswear - admired by a host of young acolytes for applying the swirl of youthful street culture to luxury fashion.
Simons, who was recently appointed creative director at Calvin Klein, presented his signature menswear collection in New York for the first time last week, during the city's four days of menswear shows.
Simons traditionally unveils his menswear in Paris, where he is one of many provocative and creative voices. in New York, where so much menswear is defined by fancy track jackets, sweatpants, bomber jackets and hoodies, he was an especially fresh and welcome voice from outside the Seventh Avenue vacuum.
READ: Looking Back on 20 Years of Fashion Shows
He presented his collection at the Gagosian Gallery in Chelsea - essentially a plain white box. He usually prefers that his guests stand casually, instead of perching in assigned seats, as his models parade and dart and strut around the room. That is, after all, how we typically glimpse our fellow travelers - rushing from one place to another.
For his debut here, however, there was a bit more formality; his guests were seated on benches. His models wore broad shoulder coats with notched lapels, their waists belted with lengths of shiny emergency tape emblazoned with phrases: "Walk With Me," "I you" and, of course "I New York." But the symbol Simons used had a bit more angular geometry than your typical heart, suggesting love leavened with a bit of experience and melancholy.
The models had strands of beads draped high around their neck, which gave them a kind of glamour. Their loose-fitting trousers puddled over their chunky shoes. Thick, hand-knit arm warmers reached from wrist to elbow. And the sweaters - oversize, chunky hand knits - were cropped at midriff-revealing proportions and layered over long shirts.
The script style of the various phrases called to mind the famous "INY" logo, and his supersize work shirts reminded one of all the clock-punching workmen who fill the subway cars that roll into the city before dawn. The high gloss of his black overcoats evoked the gilded class - men who slide into dark chauffeured cars on their way to clubby charity dinners or home after a day of moving other people's money around for profit: Wall Street's version of heavy lifting.
For those who have a long view of Simons' work, which was first seen in the late 1990s, there was a sense that while his fall 2017 collection was well within his vocabulary, it was also more mature - less connected to his youngest of young fans. That would seem just fine. There are so many designers eager to tread where he has already been.
READ: One-on-one with Raf Simons
Simons' clothes have a level of sophistication that often goes missing when designers aim to disrupt traditional menswear and seek to reflect streetwise cool. Simons offers up calm assurance. He may be upending expectations, but don't worry - he already has something intriguing and satisfying with which to replace them.
In bringing his collection to New York, Simons added a jolt of energy to the city's menswear shows, which over the past two years have struggled to successfully promote designers whose work could nudge fashion in new directions and entice customers into stores.
Many of the designers showing in New York tend to have a pack mentality. Their work is pleasantly wearable, but there are few surprises or distinctive voices. The clothes are stuck between the cliches of a Brooklyn hipster, Harlem hip-hop kid and gender-blurring dandy. It has been challenging for them to shake off those tropes, because they seem to be talking to themselves.
Simons, the Belgian-born designer who has worked in both Milan and Paris, arrived in New York with his own set of assumptions and expectations. They blended with his new surrounding to spark new, interesting ideas.
There was nothing in the collection that was overtly political. But at a time when our nation is pulling in the welcome mat and slamming shut its front door, Simons's presentation, in the heart of New York's creative economy, served as a reminder that different perspectives not only delight the eye, but can be good for an entire industry.
- The Washington Post
Share this: