Runway Report: Raf Simons Men's Spring/Summer 2018
Designer Raf Simons knows that men will want to dress for a 'Blade Runner' dystopia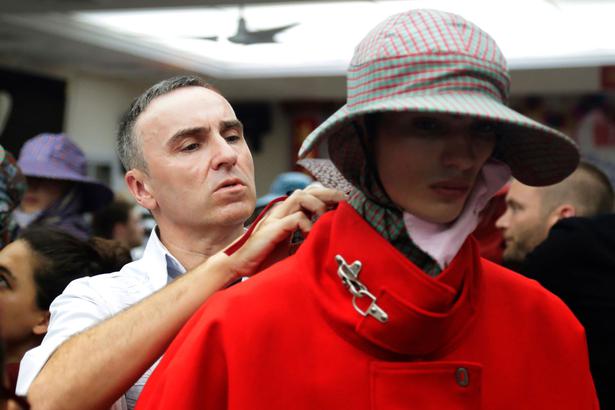 Thursday July 13, 2017
Raf Simons put on his spring/summer 2018 menswear show in an open-air market tucked under the clanking roar of the Manhattan Bridge in New York City. It was nearly 10 o'clock on a humid summer night when his show began, and the regular vendors had finished their long day, but the stink of fish was inescapable. To enhance the authenticity, aides dumped buckets of smelly water onto the cement walkway just before the first models appeared.
The menswear shows began here on Monday, but the four-day schedule is light on designers who have the name or reputation to stir any anticipation — the promise of something different or intriguing in the offing. There is talent here. But it often fails to communicate its full potential — or much of anything at all.
Rather than showing his signature collection, Robert Geller debuted his new line, Gustav von Aschenbach, named after the lead character from A Death in Venice. It's a pleasant mix of loosefitting trousers and jackets in rich shades of cobalt blue and red, gray and black. It is fine.
And that might have been enough a generation ago, but men's fashion — and the folks who wear it — have changed significantly in that time. The men who follow these designers are not old-school garmentos obsessed with whether a sport jacket has one-button or two and fretting about whether a standard six-inch drop still applies to their suit-buying customers. Menswear has its bloggers and influencers, and a fleet of devoted groupies who wear cropped tops, metallic varsity jackets, sparkling brooches, limited edition sneakers, fur stoles — in June — and a vast array of natty millinery. The Council of Fashion Designers of America, which organises the shows, tapped rap/EDM musician Young Paris as a fashion ambassador for the week. Cadillac is a major sponsor, and there are countless after-parties.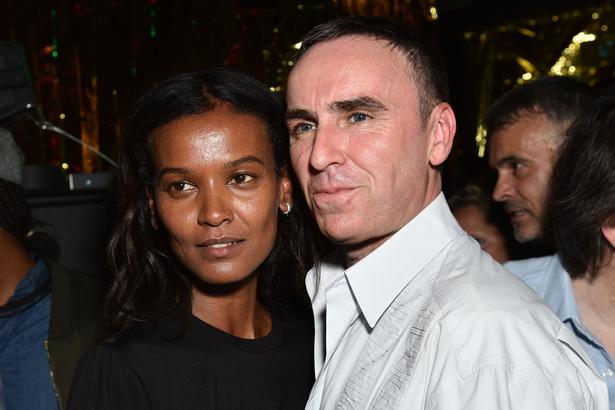 Menswear here doesn't have the social sweep and the financial stakes of womenswear. But there is earnest delight in it. That's something worth nurturing.
Simons offers a fully realised vision of how he sees a man connecting to this moment. He aligns his clothes with a larger story of music, art and emotion. Mostly, he makes his menswear feel important, not as a bunch of garments to buy, but as part of a cultural conversation that has taken a dark and dismaying turn.
Often, you couldn't even see the model until you were practically face to face. It wasn't just intimate, it was abrupt, like bumping into strangers — or "replicants", as some of their name tags declared — on a crowded Blade Runner street. The perspective was so close that it was distorted. You saw bits and pieces of them: a sharp jaw, a scarf, a collar, a broken umbrella. Is that a woman? Yes, I think so.
His models moved briskly, each slightly hidden under an open umbrella. Tailoring swirling around their body, oversize sweaters hanging off their torso, man-skirts draping around the hips. Glossy rain coats. Full trousers. Blurred screen prints on tunics, wide hat framing sharp cheekbones. Shiny, knee-high galoshes splashing through fetid water.
Simons made you feel something with his oversize tailoring, murky colour palette and olfactory overload in this neon-splashed and water-splattered landscape of seemingly perpetual night. He didn't exactly offer up a dystopian vision, but it was certainly unsettling. Fashion, after all, reflects the times. We get the designs we need, or at least the ones that we deserve.
Earlier in the day, to a soundtrack of blistering drums and cacophonous jazz, models at the N. Hoolywood show evoked a distorted version of classic Americana. The Japanese designer Daisuke Obana offered an outsider's vision of a preppy optimism with oversize Ivy League suits, elongated varsity jackets, sherbet-coloured cardigans and crisp white shirts. But he did so against a musical backdrop bursting with rage and chaos.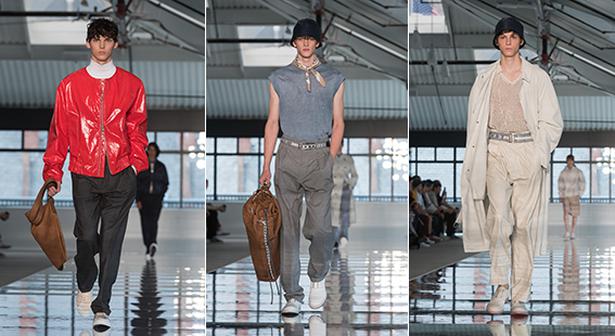 Designers William Watson and Vincent Oshin filled their Death to Tennis presentation with models styled with elaborate pompadours preening for their own iPhones and live-streaming the experience. The ode to peacocks, which included feather prints, had models standing in front of mirrors, torn between admiring their reflection in real time or capturing it in a selfie.
And if the term "intersectionality" wasn't already well on its way from a thoughtful way of looking at civil rights and social justice to hipster jargon, Nicholas Elliott hastened that passage by inscribing it on a sweatshirt in his N-P-Elliott collection.
Fashion remains enamoured with gender fluidity and in many ways that has led to greater diversity. But it has also meant that a lot of designers are putting out bad fashion under the guise of gender neutrality. A multicoloured geometric print catsuit is problematic no matter whether the model wearing it identifies as he, she or they.
There's so much to chew on culturally and to be stunned by politically that there was something soothing and restful about the Boss collection. Hugo Boss is known for its tailoring, and this collection, shown in the Fulton Market Building at South Street Seaport, never strayed too far from that template even as it incorporated nautical references and Bermuda shorts with a distractingly floppy swish.
There were no great revelations here. No searing creativity. But still. White track pants, white pullover, white wind coat. Who wouldn't be pleased to slip that on, climb aboard a sailboat and drift toward the sunset. . . and away from it all?
— The Washington Post
Share this: