The Life-Changing Reality Trip
Working alongside underpaid factory workers in Asia was eye-opening for Anna Lee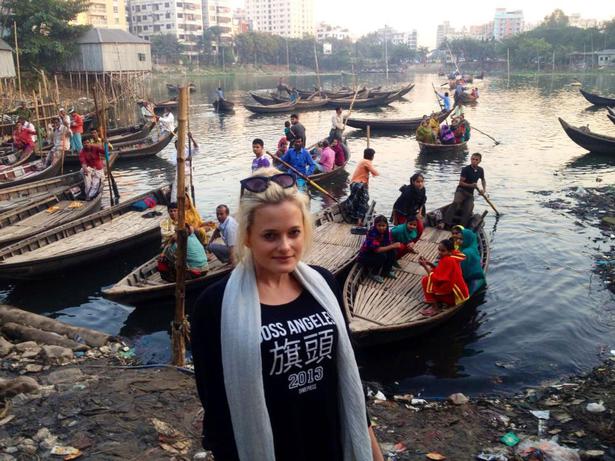 Wednesday June 24, 2015
Two years ago, I signed on to feature in the documentary series Reality Trip. Little did I know that this small scribble on a trivial stack of A4 would change my life.
On the 10-hour trip to Asia, I dreamed of lounging on white beaches and exploring luxury shops. But beyond the smokescreen of Manila's slick inner city, our first stop, I discovered something far different: Tondo.
One of the most densely populated places on the planet, it is a slum community, where 25,000 people live in extreme poverty on a functioning dumpsite. Every day, they sift through two million tonnes of toxic waste and rubbish looking for items they can sell. Barefoot, filthy and exhausted, they return at the end of each day to their homes — 2m by 2m dwellings made of cardboard and tin.
It was the first stop on a six-week journey across the Philippines, Sri Lanka and Bangladesh with my four castmates and a film crew as we explored parts of the developing world, learning first-hand where the products we so mindlessly consume come from.
In Tondo I struggled to do the nauseating work, even armed with industrial grade gumboots and rubber gloves. I dry retched from the stench wafting from miles of trash, sweltering and drenched in flies and maggots.
Our next visit was to the tea fields of Sri Lanka. Here, women labour relentlessly trying to scrape by, while others in Bangladesh and India spend their lives plucking cotton to make our clothing.
They are paid small change for their punishing work; global brands that earn millions greedily pocket the rest. It made me think twice about labels that read "Made In India", but don't declare that nearly 300,000 suicides by Indian cotton farmers have occurred in the past 10 years because of the intolerable nature of the work.
In garment factories in Bangladesh, the air thick with dust, I found workers hunched over machines, relentlessly spinning, heaving and sweating. Most are paid less than half of what the average worker needs to provide their family with shelter, food and education. These people can afford to eat only half the recommended volume of calories a day. It's not the pretty picture painted in advertising, but a colossal global concern that countless companies appear desperate to conceal.
Visiting the vacant site of the deadliest structural failure in modern history — six months after the collapse of the illegally constructed Rana Plaza garment factory in which more than 3360 people were crushed — I witnessed devastation, little clean-up and next to no compensation for the families.
Cradling distraught mothers metres from where their daughters had spent their final moments, I wondered how on Earth the clothing that brings me so much joy could leave others fighting for their lives, trapped in a cycle of slave labour just 11,000km away.
In Bangladesh, we were caught in a riot on city streets as thousands of underpaid workers rallied in a desperate plea to earn a basic living wage, just some of the 1.2 billion around the globe living in unrelenting poverty.
We think nothing of handing over plastic in exchange for a slice of fast fashion happiness, because it's easy to forget that the low prices we pay are directly linked to low wages, poor working conditions and the suffering of those who made them. But the industries exploiting their workers will not stop unless consumers use their power to stand up for those not born privileged enough to have other options.
Is the suffering of exploited labourers really worth the cut price products we consume?
After witnessing the reality of the lives of those who make everyday products and discovering the conditions in which they work, I have never been so sure that it's not.

• Reality Trip, Mondays, 9.30pm on TV3.
Share this: