Reese Witherspoon Wears NZ Fashion
From Kowtow to Karen Walker and Lonely Hearts, Reese Witherspoon is loving New Zealand fashion while in town filming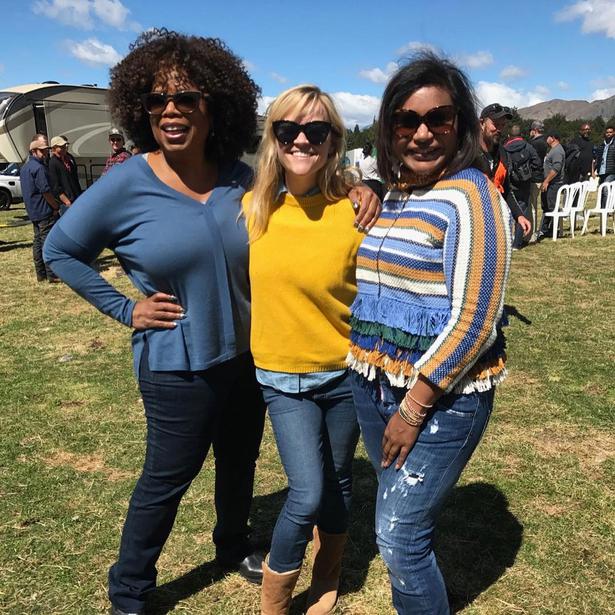 Thursday Feb. 16, 2017
Reese Witherspoon has been shopping up large while in New Zealand filming new Disney film A Wrinkle in Time. 
On Monday, the actress visited Wanaka boutique 47 Frocks, buying pieces from several local designers. One purchase was Kowtow's 'Out of Sight' crew neck sweater, which Reese was snapped wearing when her co-star Oprah Winfrey posted a photo to Instagram of the pair with fellow co-star Mindy Kaling.
Kowtow designer Gosia Piatek was at work with her team in Wellington when she heard that the star had worn one of her designs. 
"We all got around the computer and screamed. I was like, 'Wow Reese is wearing our jumper ... and Oprah is touching it!'."
Gosia, who is based between Wellington and London, didn't know Reese was in the country. "New Zealand is turning into a bit of a Hollywood isn't it?" she commented.
Since Reese was snapped in the sweater Gosia says sales of the top and matching yellow scarf have increased. 
"I think the yellow colour really suits her, it really stands out, so it was obvious that it was one of ours," says Gosia. "It was nice to see that she went into a store and purchased it - she chose to pick that out; we didn't send it to her."
Reese also purchased pieces from other local brands, including Deadly Ponies' 'Poucher' bag and a 'Pom Pom' purse. She told 47 Frocks' owner Brydon Smallbone that they were for her 17-year-old look-alike daughter Ava.
She also bought the new season Karen Walker 'Lugubrious' dress, a Lonely Hearts bodysuit and a pair of Sol Sana boots. 
Store manager Linda Spove said that she didn't try anything on during her half hour in the shop. The actress gave very little away about what she was doing here and was very jetlagged. "She was shopping with either her mum or her manager, who actually fell asleep in the store on a couch," said Linda.
Reese also visited the Wanaka boutique of local brand Perriam, buying another merino sweater.
Reese's co-star, actress, comedian, writer, and producer Mindy Kaling, has also fallen for New Zealand's shopping, writing on Twitter earlier this week, "This isn't a good time to tell you I have abandoned my rewrite for New Zealand shopping". She also posted an Instagram photo following a visit to Cookie Time's Cookie Muncher Cookie Bar.
Expect to see more New Zealand fashion on Reese - and hopefully Mindy and Oprah too.
Share this: