Reggae's Influence on Fashion
We look at the meaning behind reggae's favourite colours and its influence on fashion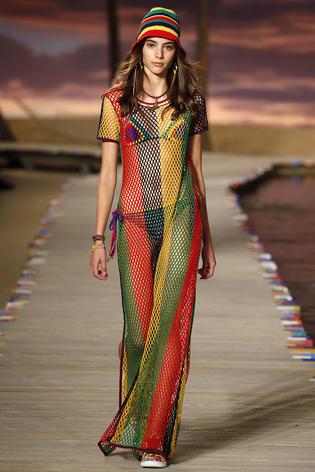 Fashion's often misguided points of reference are not new. What some designers might view as a source of inspiration for a collection might seem bad taste to others. Take for example the polarising Amy Winehouse inspiration at Jean Paul Gaultier for his spring 2012 haute couture collection, six months after her death. Or closer to home, Stolen Girlfriend's Club winter 2011 collection where model's walked out wearing T-shirts emblazoned with the slogan "Belong to the Stolen Generation", a term used to describe the children of Australian Aboriginal and Torres Strait Islander descent who were unjustly removed from their families by the Australian government and church missions between the turn of the century through to the 70s (the T-shirts were later withdrawn from production).
Then there's the use of Rastafari colours in fashion over the years. For some it's a chance to celebrate what are seemingly universal beliefs. The colour green recalls the importance of the land, yellow representing peace and hope, and red symbolic of strength. This is its most simplistic view of course, because to really understand why these colours exist and how it's influenced fashion and music, you'd have to look at its origins through Rastafari culture, its philosophies and how it goes beyond the dreadlock/ganja smoking connotations it's so often associated with.
From adhering to a strict diet of natural foods (the body is a temple) to the constant battle against colonialist oppression and preserving African culture, the meaning behind those colours run deep. The fourth colour often omitted in pop cultural references is black, symbolic of the people who started the Rastafari movement and their quest to return to their roots in Africa, particularly Ethiopia (the country's flag is red, green and yellow) where the movement's messiah Halie Selassie originated. Its message of unity among people of African descent comes at a time where discourse around this issue is rife, where the untimely death of Trayvon Martin in 2012 instigated the Black Lives Matter movement and the fight against racial profiling continues.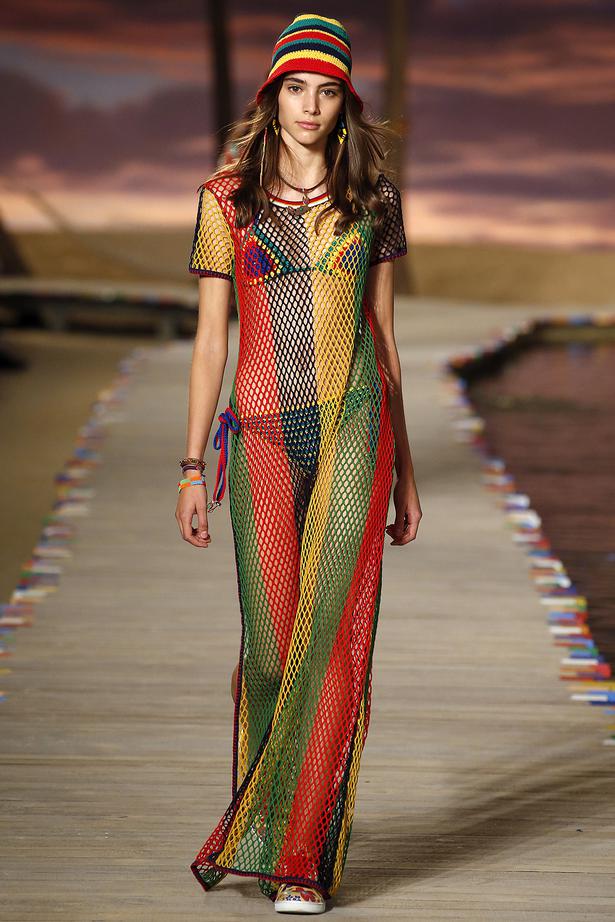 Reggae music's connection with the Rasta world is of course thanks largely to its poster boy Bob Marley. The artist, whose songs often infused Rasta teachings and messages, often wore Rasta stripes to further enhance his message, eventually becoming synonymous with the reggae sound.
For singer-songwriter and activist Erykah Badu, an appreciation of Rasta culture and its spiritual clean living ethos has influenced her own personal style, particularly during the Baduizm album era of the late 90s.
Artists like Rihanna have worn the ubiquitous coloured stripes in recent years, signifying mostly her love of Bob Marley (the singer was part of a Grammy tribute to Marley in 2012) and her Caribbean roots. Notorious for her love of smoking marijuana, the dancehall infused 2010 track Rude Boy saw the Barbadian singer wearing a pair of tasselled hot pants in Rasta stripes.
Which leads us back to fashion and the never-ending quest to find inspiration from even the most taboo of subjects. Today those Rasta colours can be found everywhere, from the sidewalk junk stores on the boardwalks of Venice Beach to a thousand dollar Rasta-coloured clutch on Matchesfashion.com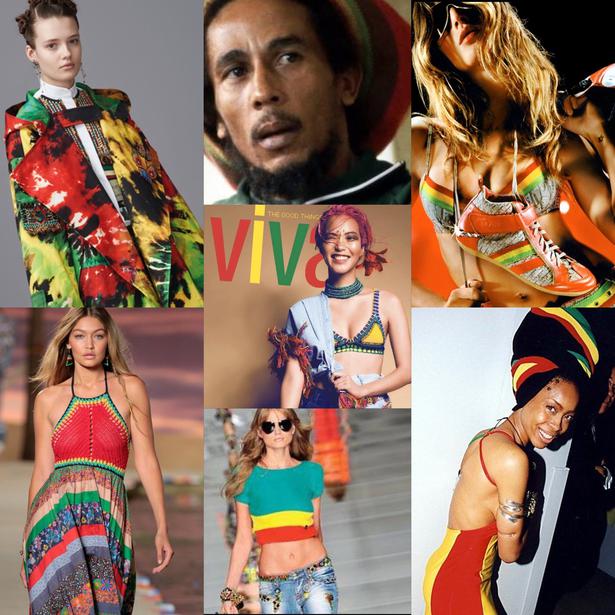 For some the colours are a celebration of reggae roots, as many will be proudly displaying at the Raggamuffin festival in Auckland tomorrow. In a world that's constantly trying to keep up with itself, it's also a simple message that's intrinsic to countless beliefs around the world, the need for peace, harmony and "one love". It also relates to the increasing interest today from millennials who are interested in clean eating, living mindfully, and standing by a cause (even if it is only through hashtags and Instagram posts).
Work by Rihanna featuring Drake (2016).
When Tommy Hilfiger sent his models walking down the runway clad in Rasta stripes for his spring 2016 collection last year (which Rihanna is also wearing in her new music video with Drake for Work) it not only celebrated Bob Marley and the Caribbean, but served as a reminder of the power of fashion's ability to tap into a wider discourse around why such colours exist and the varied meanings it represents for different communities and individuals today. Rastas, pop stars and fashion designers included.
Share this: