Remembering Elio Fiorucci, the Man Who Brought Us Stretch Jeans
The splashy Italian designer has died, aged 80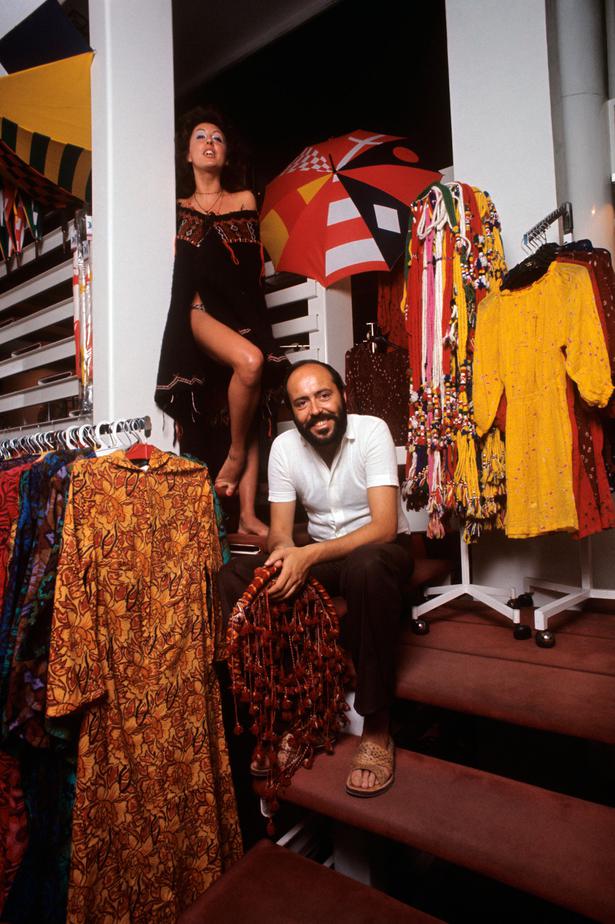 Friday July 24, 2015
Elio Fiorucci, the Italian fashion designer who has died aged 80, rose to fame with colourful, splashy clothing which became a staple of the late 1970s disco scene.
In its heyday the Fiorucci label, with its logo featuring a pair of debauched cherubs wearing Lolita sunglasses, was as cool as it got. Whether it was his acid-yellow overalls and satin glitter-fringed cowboy shirts, or his tight-fitting stretch "safety" jeans (available in everything from fluorescent corduroy to transparent plastic) and little angel T-shirts, Fiorucci designs were just the thing to be seen in at such venues as Studio 54 in New York.
Indeed the nightclub's "grand opening" in 1977 was masterminded by the Fiorucci design team and when the label celebrated its 15th anniversary party there in 1983, Madonna jumped out of the birthday cake.
"He wears the finest clothes, the best designers, heaven knows," sang Sister Sledge on their 1979 disco anthem The Greatest Dancer: "Ooo, from his head down to his toes/ Halston, Gucci, Fiorucci, he looks like a still/ That man is dressed to kill."
Fiorucci stores were fun, too. Its flagship on Manhattan's East 59th Street near Bloomingdale's was known as the "daytime Studio 54" not only because it had its own resident DJ, but because of all the clubbers who met there to drink (free) espresso and trade gossip before the evening got going.
Jackie Onassis, Cher, Lauren Bacall and Elizabeth Taylor shopped there - as did Terence Conran and Marc Jacobs. Andy Warhol was a regular and launched Interview magazine at the store in 1980. The New York drag artiste Joey Arias (who then wore his hair punk-style) was the store manager and occasional star of Fiorucci's "live" window displays - which also featured such crowd-pleasing attractions as a model reclining in a zebra-striped bathtub, reading smutty paperbacks and blowing bubbles at passers-by.
When business was slow the management would select two of the best-looking young employees, dress them up in outlandish outfits, hand them Fiorucci shopping bags and tell them to walk around the streets of Manhattan, talking excitedly about how they had just been shopping at the most amazing store. In Fiorucci: The Book (1980), Eve Babitz described one such pair: "One is wearing fake snakeskin cowboy boots dyed pale yellow, pale yellow cotton shorts with little strawberries embroidered on them... and... a demure little Swiss-girl smocked cotton blouse in palest aqua. Her colleague is wearing an outfit of scarlet zebra-skin fabric that looks like it's made out of reconstituted plastic wrappers... Both girls wear the exact same shade of lipstick: Fresh Blood."
What Fiorucci achieved, Eve Babitz summarised, was "to capture a kind of international ideal of teenage promise and bottle it".
Most of Fiorucci's clothes were so minuscule (he seldom sold clothes larger than a woman's size 10) that they suited only the leanest wearers, but Fiorucci dismissed criticism, claiming: "To manufacture only small sizes is doing a favour for humanity. I prevent ugly girls from showing off their bad figures."
Things went wrong in the 1980s, however, when Fiorucci ran into distribution problems; his fashions fell out of favour and he was forced to shut his flagship store in New York. The company went into administration in 1989 and although it was rescued by the Italian jeans company Carrera (who sold it on to a Japanese company), in 1996 as part of a plea bargain, Fiorucci pleaded guilty to charges of bankruptcy fraud and falsifying company reports to increase the value of the company to Carrera at the expense of his creditors. He was sentenced by an Italian court to a suspended prison term of 22 months.
After that, however, Fiorucci's fortunes revived somewhat, and in 2004 he founded a new brand called Love Therapy which is still successful today.
Elio Fiorucci was born in Milan on June 10 1935. His father ran a shoe shop, where Elio began work after leaving school aged 14. "I was the ugly duckling," he recalled. "I couldn't bear [school's] constrictions, its arid atmosphere. I was a great disappointment to my father."His flair for spotting trends became apparent in 1962, however, when he came up with the idea of making galoshes in bright primary colours and persuaded a local fashion magazine to do a feature on them. They caused a sensation and soon sold out.
Five years later, in 1967, Fiorucci opened his own shop on Galleria Passarella in Milan, where he began by selling fashions by designers such as Ossie Clark and Zandra Rhodes, before developing his own designs, combining the playful spirit of Carnaby Street fashion with Italian taste and tailoring. Stores on the King's Road in London and in New York followed.
The clothes at Fiorucci were essentially restyled 1960s basics. Cowboy boots were made in gold Lurex, with higher heels. Button-down shirts were produced in DayGlo colours. But it was jeans that established Fiorucci on the international fashion scene. His were similar to Levi's except they were skin-tight, sexy, brightly coloured and often made of vinyl. By the late 1970s he was selling more than 3 million pairs a year. In 1982, when Dupont invented Lycra, Fiorucci mixed it with denim, giving birth to the first stretch jeans.
Many of the ideas came from a cadre of 30 or so stylists and trendspotters, most of them Milanese and some as young as 16, whose job was to fly around the world, see what people were wearing on the streets and in clubs and report back on the latest trends.
Among other things Fiorucci introduced the monokini and thong from Brazil, causing controversy with the photographs of scantily-clad models used to advertise them. Glass beads from New Mexico, Afghan coats and leopard-skin prints were other hits.
In an interview to mark his 80th birthday in June this year, Fiorucci looked back on his life: "At just six years old I lived through the trauma of the Second World War, with the bombings that shook Milan and people who were dying without knowing why. But I was lucky to live during a fascinating period such as the 1960s ... a moment of great social change, when young people were thinking of liberty, of peace."Elio Fiorucci was married twice and had three daughters, but both marriages were dissolved.
Elio Fiorucci, born June 10 1935, died July 20 2015
— The Daily Telegraph
Share this: