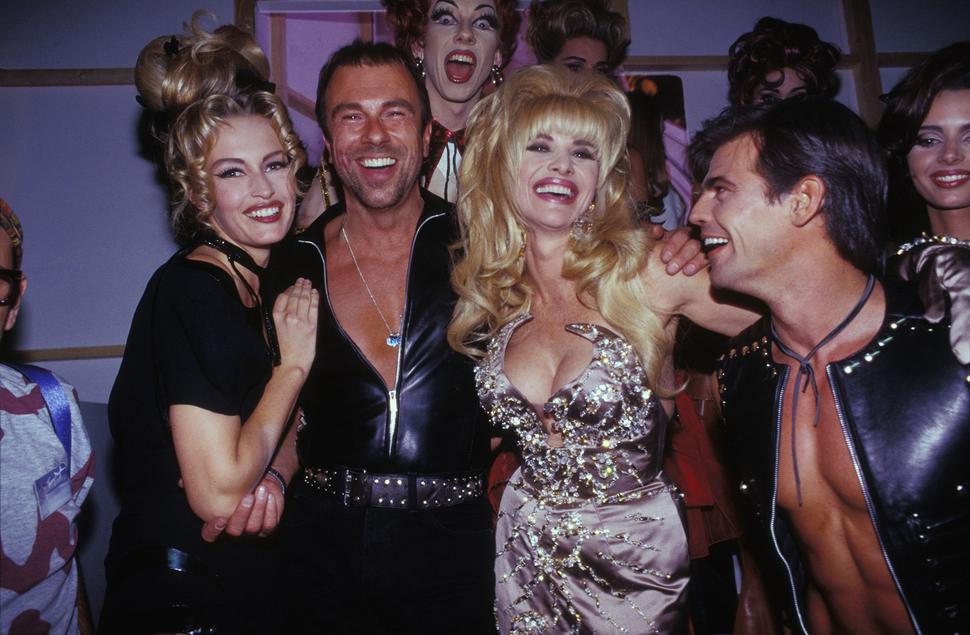 Remembering The Audacious Legacy Of French Fashion Designer Thierry Mugler
The designer who passed away this week, aged 73, was a showman of fashion whose fantastical designs charmed and outraged pundits
Wednesday Jan. 26, 2022
French designer Thierry Mugler, who has died aged 73, was the unpredictable genius of avant-garde French fashion; his extravagant, futuristic designs reflected his background in the theatre and his childhood love of film.
A former ballet dancer from Strasbourg, Mugler founded his fashion house in 1974 and, for the next 25 years, charmed, amazed and outraged in almost equal measure with sculptural, glamorous (and mostly impossible to wear) collections which aimed to "bring out the goddess within" every woman.
Mugler virtually invented the "runway extravaganza" - fashion as showmanship. Themes over the years included valkyries, catwomen, insect-women, angels, Amazons, dragon empresses, "cyberbitches" and biker chicks.
In 1989 his models sashayed down the catwalk in corsets welded from chrome and Plexiglas into Harley handlebars.
There were guest appearances by the sublime (Cyd Charisse and Carmen Dell'Orefice) and the ridiculous (the drag queen Lypsinka and gay porn star Jeff Stryker).
Other shows featured Africans dragging tigers on chains, three-breasted women, vampirettes wearing red-fingered black gloves and marching Stalinistas.
As one critic put it: "No Mugler show was complete without either marabou-clad Snow Queens being whisked down the runway in a husky-drawn sledge; Jerry Hall as Dietrich in diamante-spattered nude chiffon and fun fur; or Pat Cleveland ascending to heaven as the Virgin Mary."
READ: Remembering Andre Leon Talley, Fashion's Arbiter Of Glamour
Mugler believed that "elegance is courage and audacity" and was involved in every aspect of the production, "from the heels to the lashes, the storyboard to the music and sound effects. It was done like a movie," he explained.
Above and beyond the showmanship he was credited with virtually inventing 1980s power dressing. His skirt suit designs, sculpted around a woman's curves (if she did not have any, Mugler would simulate them with clever cutting), became a must-have for the upwardly mobile career woman of that decade.
Skirts, sometimes split to the thigh, were tight, slinky, and stopped above the knee. Jackets featured sharp shoulders and corseting on the waist. Set off with a pair of Thierry Mugler stilettos, the effect could be devastating — S&M dominatrix meets the boardroom.
WATCH: Thierry's designs  in George Michael's music video Too Funky (1992)
His catwalk extravaganzas were variously attacked as racist, fascist, sexist and fetishistic, and there was certainly something of the night about Mugler himself. He was famously photographed on his knees at the feet of a PVC-catsuited Jerry Hall, and once said that he saw a striking similarity between certain insects and women — because they were both vulnerable while being armoured predators.
The Somali model Iman declared that Mugler creations should be worn with an "at your own risk" sign, "because, baby, you will attract the bad, the naughty and the dangerous". (Iman's husband, David Bowie, wore Mugler designs throughout his career, in his music videos, live shows and television appearances.)
Yet, in otherwise dull fashion weeks, a ticket to a Mugler show was a must. Whatever else they may have been, they were never boring.
He was born Manfred Thierry Mugler in Strasbourg, France, on December 21 1948. His father was a doctor, "very tall, very Germanic and severe". His mother was a passionate follower of fashion — with red nails and red hair "just like Rita Hayworth".
But Thierry grew up a lonely, unhappy child: "Strasbourg was like East Berlin in those days. I didn't like my parents. They were so passionately in love that they had no time for me. It caused them to quarrel endlessly and they finally divorced when my father was 73."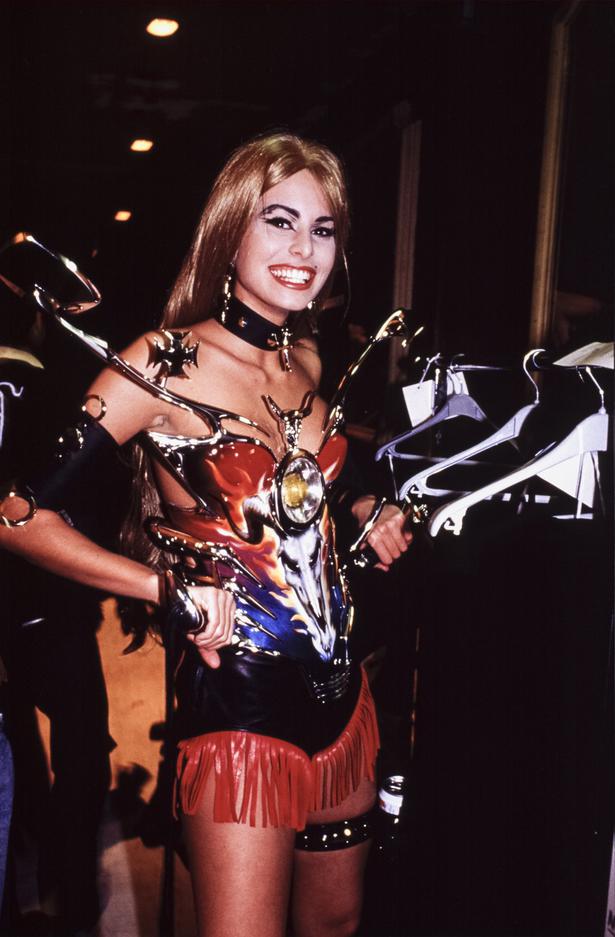 Model Niki Taylor backstage for the spring 1992 show. Photo / Getty Images

Thierry found refuge in staging imaginary theatrical productions for which he designed elaborate costumes and sets, and in visits to a cheap cinema behind Strasbourg railway station that specialised in Hollywood B-movies, old screen classics and potboilers from Rome's Cinecitta: "I was a five-movies-a-day kid," he recalled.

It was his primary school teacher who suggested ballet as an outlet. His mother finally took him to a dance school out of desperation when he was nine and he threw himself into it completely. By the time he was 14 he had joined the corps de ballet at the Rhine National Opera, and left home to share a room with another dancer. At the same time he attended the Ecole des Arts Décoratifs in Strasbourg.

In his spare time Mugler would make clothes for himself or customise flea-market bargains: "I had a medieval period, a Flash Gordon period, a superheroes period, a Renaissance period — but always very futuristic," he recalled. He dyed his hair and grew it long. And he was frequently beaten up.

READ: Influential Louis Vuitton Menswear Designer Virgil Abloh Dies Of Cancer

When Thierry was nearly 20 Maurice Béjart tried to recruit him for his ballet, but Thierry shocked even himself by turning the offer down. Béjart's company was based in Brussels, but it was 1968 and Mugler wanted to live somewhere more in tune with the times.

He moved to Paris, where he found that his clothes and outrageous looks began to attract a different kind of attention, earning applause from patrons at the Café de Flore. Paris, he recalled, "opened the door to paradise... I finally realised that I wasn't a freak and that there were others like me."

For the next few years Mugler belatedly threw himself into the Sixties scene. In London he worked as a designer and hung out in out in boutiques including Granny Takes a Trip, Mr Freedom and Biba. He studied traditional Kathakali dance in India and was initiated into the Hindu faith, taking the name Ravi. For a time he lived on the corner of Haight-Ashbury streets in San Francisco.

The early 1970s found him on a houseboat in Amsterdam, where he began freelancing for fashion companies all over Europe before starting his own label in 1974.

From the start, Mugler bucked the trend. When everyone else was doing droopy, floaty florals, Mugler, inspired by 1930s Hollywood costumiers like Edith Head and Adrian, went for film noir tailored suits, trenchcoats and little black dresses.
Championed by French Elle, along with Montana, Miyake and De Castelbajac, he became part of the group known as the "Jeunes Createurs".
By the early 1990s, however, as power-dressing gave way to grunge and minimalism, showmen such as Mugler were beginning to look dated, though he created the black dress worn by Demi Moore in Indecent Proposal (1993). In any case Mugler himself was beginning to move on.
In 1992 he launched his first perfume, Angel, in partnership with Clarins, which also bought a share in his fashion empire. In characteristic Mugler style, Angel broke all the rules. A blue fragrance with distinctive chocolate-caramel tones and a striking star-shaped bottle, it became one of the top-selling perfumes in the world, frequently ousting Chanel No 5 as the best-selling fragrance in France.
It was Mugler himself who introduced a new, synthetic ingredient, veltol, which brings the "chocolatey" note to the scent.
By 1997 Clarins had bought Mugler out of his business completely. Two years earlier he had celebrated his 20th year with a Busby Berkeley-style televised production featuring dancing boys wearing crystal-studded codpieces, and celebrities such as Cyd Charisse, Jerry Hall, David Bowie, Diana Ross and Ivana Trump alongside the world's leading catwalk models.
But in 2000 he bowed out of couture; the fashion line bearing his name became unviable and was closed down completely three years later.
Mugler continued to concentrate on the perfumes and on his second love, photography. He had published his first photography book in 1988, Thierry Mugler, Photographe and this was followed by a monograph in 1999 entitled Fashion Fetish Fantasy, a collection of photographs of his catwalk creations. He also directed short films, advertising films and video clips.
He found a new outlet for his design energies in costumes for musical comedies, concerts, operas and the theatre, working with such artists as Robert Altman, George Michael and the Cirque du Soleil. In 2009 he created 58 costumes and did the choreography for Beyoncé's I Am... World Tour.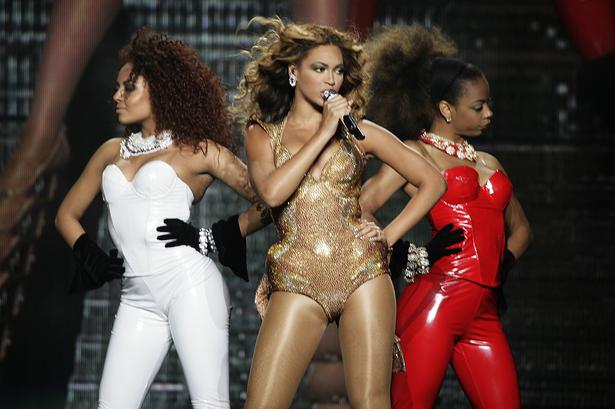 When he took a bow at the end of his 1980s catwalk shows, Mugler, a tall man with close-cropped hair, had the spare, well-toned body of a former ballet dancer. As he approached his sixties, however, he took up bodybuilding, and when Sheryl Garratt interviewed him for The Daily Telegraph in 2009 she found a "man mountain", resembling "the Incredible Hulk or Schwarzenegger at his most-pumped peak".
READ: Celebrated Fashion Designer Alber Elbaz Has Died At The Age of 59
Mugler's impressive physique, coupled with his tattoos, would have made him quite intimidating, she observed, were it not for "his gruff good humour and eyes that sparkle with mischief and life".
Despite retiring from his brand in 2003, he re-emerged in 2019 as "House of Mugler" with a "wet couture dress" for his friend Kim Kardashian to wear at a Met Gala. Mugler, who was openly gay, became somewhat reclusive in later life, returning to his first name, Manfred.
Thierry Mugler, born December 21, 1948, died January 23, 2022.
The Daily Telegraph
Share this: