About Last Night: Rena Owen's Custom Zambesi Gown For The 'Whina' Premiere
Viva cover star Rena Owen lights up the red carpet for the world premiere in a dress combining Victorian drama and 1940s glamour — with a Zambesi edge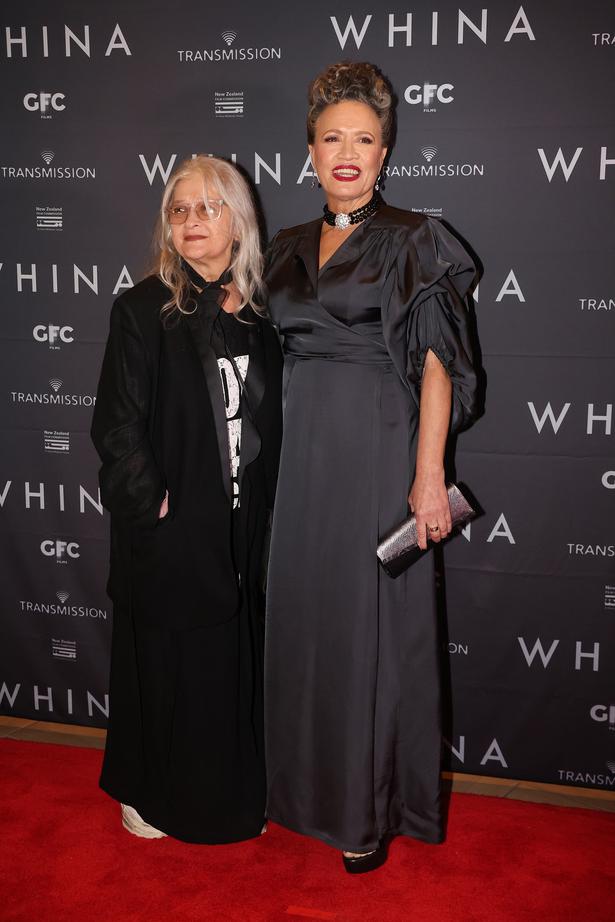 Thursday June 16, 2022
The life of trailblazing activist, kuia and Te Whaea o te Motu (Mother of the Nation) Dame Whina Cooper has been immortalised in a new film directed by James Napier Robertson and Paula Whetu Jones featuring a star-studded cast including Miriama McDowell, Tioreore Ngatai-Melbourne, James Rolleston, Vinnie Bennett and acting legend Rena Owen, the latter returning last week from her LA base to attend the premiere and a series of promotional opportunities for the film.
Taking place at the Westfield Newmarket's luxury Event Cinema precinct, the premiere started with red-carpet arrivals that included the film's stars, family and friends; a powhiri, cocktails and a screening of the film which follows the journey of Whina from childhood into the landmark protest led by Whina in 1975, where the hikoi travelled from Northland to Wellington to ask the government to halt further losses of Māori land.
Fresh off the back of her Viva cover story interviewed by writer Shilo Kino, photographed by Derek Henderson and styled by Viva fashion director Dan Ahwa, Rena joined forces with Dan to seek out a red-carpet look from one of our most established fashion brands, Zambesi, with the resulting collaboration a fortuitous meeting. 
Inspired by one of Zambesi's most memorable fashion shows at New Zealand Fashion Week in 2005, held at what was once the iconic St James theatre on Queen Street, the particular dress that inspired Rena's updated version from the premiere was a peach-coloured wrap gown worn by local model Veronica Crockford-Pound. The process of revisiting the style for label co-founder Liz Findlay was an opportunity to celebrate a timeless silhouette from Zambei's treasured archives and to dress one of New Zealand's acting greats. 
"I had discussions with Dan and we both agreed this would be a perfect silhouette for Rena," says Liz. "It reminded me of old Hollywood glamour, with the adaption of a new bespoke sleeve giving the gown a red carpet relevance. We created the gown using a smoky grey viscose satin which is complementary to Rena's beautiful skin tone and hair colour."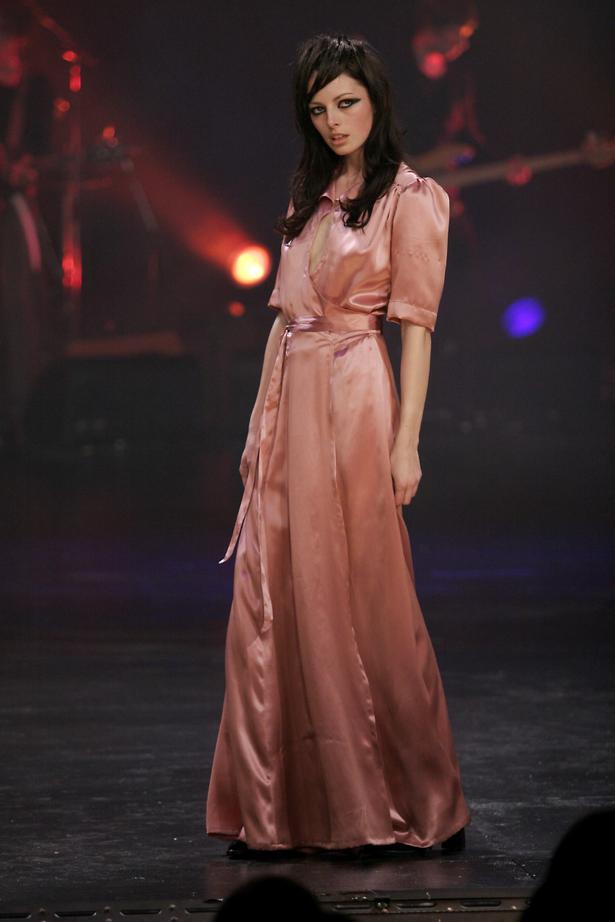 "Rena arrived from LA last Wednesday and we had an initial fitting that morning, then proceeded to make the necessary adjustments over several days at our Zambesi HQ, with the final fitting taking place this past Monday."
READ: Rena Owen Is The Mother Of The Nation
As with many of Zambesi's collections, the focus on the wearer is a vital part in its design ethos, and while not an immediate red-carpet label, Liz recognises the value of working with Aoteroa's creative luminaries, having worked with and dressed a wide range of high-profile homegrown talent over the years including Lorde, Ladi 6, Karl Urban, Taika Waititi, Stan Walker and more. "What makes a Zambesi red-carpet moment special is that whoever you are dressing feels confident and unique."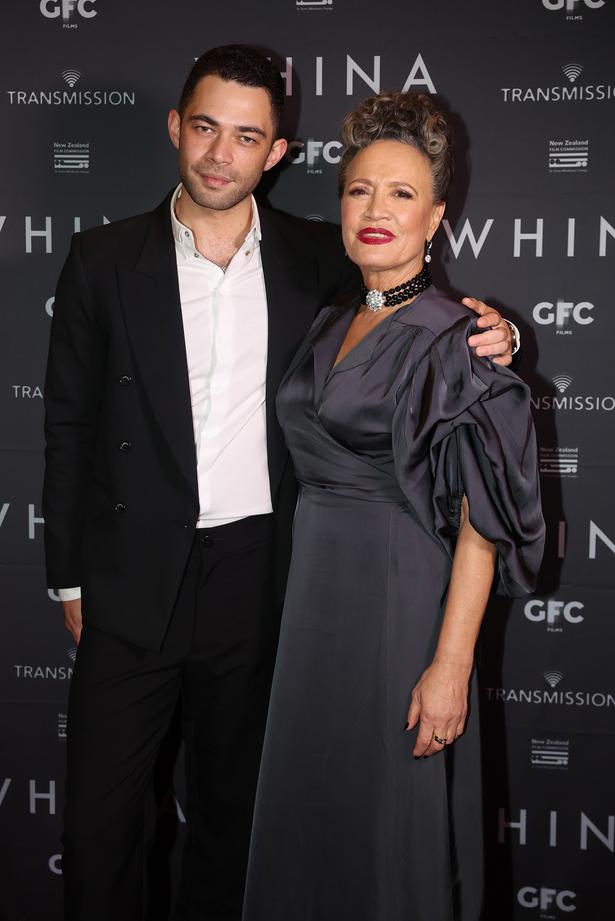 Adding to the look is a selection of Rena's personal jewellery, including a special choker that adds to the drama of the dress. "Rena has an eclectic collection of jewellery and chose a particular choker and earrings to accessorise the gown," says Liz. 
"Meeting and working with her has been a pleasure. She is a very genuine person, and I've loved getting to know her over the past week with an individual personal style, and we're so honoured to have dressed her for the premiere."
To complement the look, make-up artist Kate Smith worked closely with Rena on a high-drama 1940s up-do, a deep velvet burgundy lip and black lacquered nails.
Another connection to the brand is rising actor Vinnie Bennett who plays Whina's second husband Bill Cooper in the film. Vinnie is the current campaign star for the brand's autumn/winter 2022 collection photographed by Marissa Findlay, and who wore a black tailored suit from the brand's current collection at the premiere. 
Working alongside sister Sophie Findlay to cast Vinnie in the new campaign for both stills and video, the synergy is another example of the brand's celebration of creative excellence.
"Collaborating with Vinnie has been amazing, there is mutual respect and admiration so it's been a natural, easy process," say the pair who, along with menswear designer Dayne Johnston, have enjoyed working with the young actor on his red-carpet look.
"We've really loved working with him, he is sensitive and humble and looks great in the clothes. Dayne has done an incredible job styling him this season. Vinnie has become a friend to us all at Zambesi and we are proud to have such a talented actor as an ambassador of the brand. Vinnie gives a new dynamic to the feeling of the collection and freshness and hopefully, people feel inspired and intrigued when they see the images, there is a lot of storytelling in his eyes, one of our favourite Zambesi shoots!
"Vinnie is wearing the 'Fiction' double-breasted jacket with matching Forthright trousers and a Huntington shirt, all from our current winter collection," says Dayne.
"We put this look together with Vinnie, and it was important he felt comfortable for the premiere. The suiting has a wool/lycra mix and moves with the body. We love the feeling of the outfit: there's no tie, and the way the double-breasted jacket sits on the body is cool and effortless. The classic black suit with white shirt is a timeless look interpreted in our own unique Zambesi way."
Whina is in cinemas June 23.
Share this: