Rihanna Made These $13k Headphones Sell Out
And the other fashion news you might have missed this week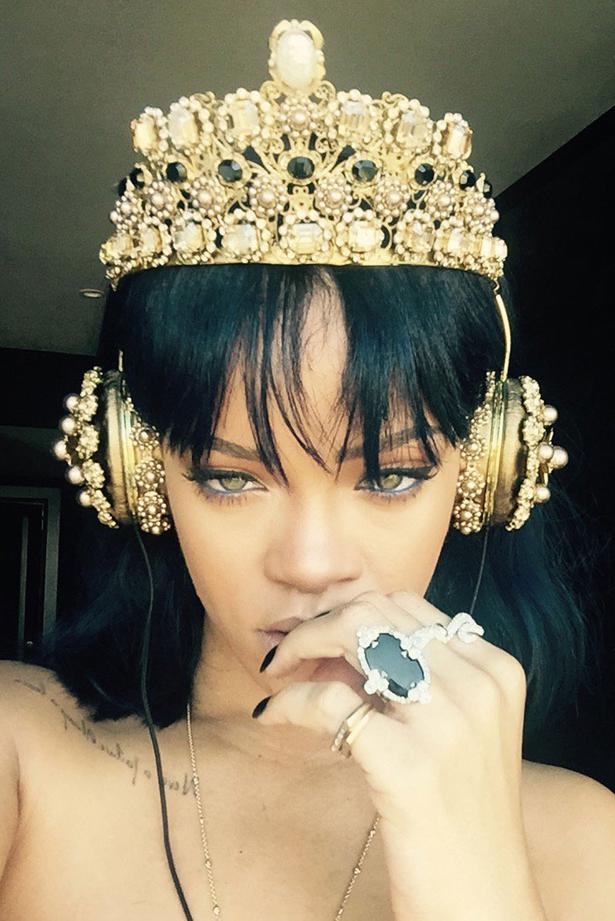 Wednesday Jan. 27, 2016
1. The ostentatious Dolce & Gabbana headphones Rihanna wore while listening to her upcoming album Anti have sold out — even with an eye-watering price tag of $13,677. The tech accessory, which is studded with Swarovski crystals and pearls, were debuted on Dolce & Gabbana's winter 2016 runway.
2. Tickets for Kanye West's next runway show, which is being held on the first day of New York Fashion Week in February, will be available to the public through Ticketmaster. Kanye will also be debuting his latest studio album Swish at the Yeezy Season 3 presentation at Madison Square Garden. Ticket prices have not yet been revealed.
3. Following on from Balmain's collection with H&M, the French brand has announced it will be releasing a children's collection in June this year. The 44-piece line will range in price from around $320 to $9280.
4. Zendaya, the new face for Covergirl, says women should own their personal swag. The singer and actress was named an emerging style icon by Harper's Bazaar after a string of red carpet appearances. She favours a unique look and promises to share beauty tips in her new role. This gets off to a high profile start with a new Covergirl campaign launching live in the United States during the screening of the Grammy Awards on February 15.
5. Rumours around who will take the helm at Dior, following Raf Simon's departure in October, continue to swirl, with reports Alexander McQueen designer Sarah Burton is in talks with the brand. Burton has been creative director of the British fashion house since Alexander McQueen's death in 2010, and famously designed the Duchess of Cambridge's wedding dress. 
6. Chinese New Year is turning into a growing marketing opportunity for western beauty businesses, with skincare companies targeting deals and good wishes to their Asian clients. M.A.C has a mini makeup collection out if you want to lacquer up for the Year of the Monkey. It features black eyeliner, gold eye-shadow and red lipstick.
Share this: