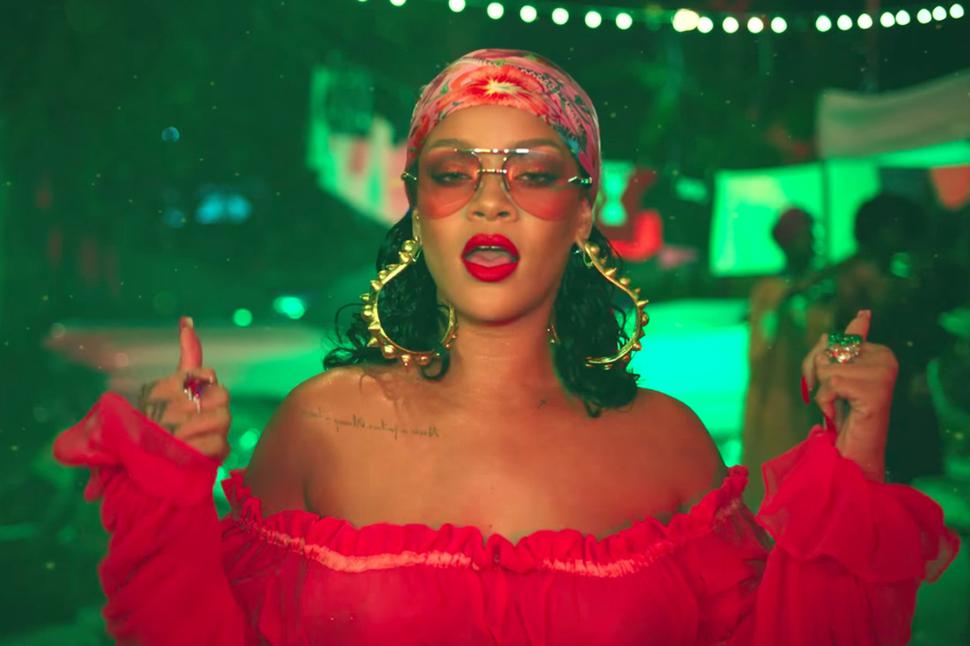 Rihanna's Most Iconic Music Video Fashion Moments
A chameleon whose style is hard to define, Robyn Rihanna Fenty adds her own flair to everything she wears
Wednesday Feb. 20, 2019
Rihanna is known for pushing the boundaries when it comes to her style on the red carpet and in her everyday life, and her music videos follow suit with iconic and unforgettable looks that over the years have cemented her status as a style icon.
READ: Watch & Listen: Models in Music Videos
She's an ultra-confident chameleon, and her style is hard to define — whether she wears a fully sheer robe and not much else like in Needed Me, a flouncy off-the-shoulder top and dress with glam accessories as she did in Wild Thoughts, or the grungy 90s-style denim 'n' Docs in the We Found Love video, she always makes it her own.
Each new music video racks up hundreds of millions of views, and she ushers in new trends with her ahead-of-the-curve dressing. It's hard to choose favourites from her videos because so many of them are iconic, but we've narrowed it down to a few of the best — now if she could just release another album…
PON DE REPLAY (2005)
Baby Ri-Ri! It's hard to believe she was only 17 when this came out, but here she is up in the club with her friends, and the music is just too quiet, damn it.
In this video, Rihanna demonstrates a classic mid-noughties sports luxe look, featuring the bread and butter of the era: the going out top and low-rise jeans.  A far cry from the Rihanna of today, but we still love her.
RUDE BOY (2010)
This dancehall-style tune is absolutely guaranteed to get the dance floor heaving, and in the video for Rude Boy, Rihanna plays a swaggering dancehall queen in several different looks with a backdrop of vibrant, Caribbean-inspired colours.
Directed by Melina Matsoukas, who is behind several of Rihanna's videos including Hard and We Found Love, the Rude Boy video comes as a fun progression from Rihanna's slick, black leather-wearing persona in Umbrella in 2007.
Harking back to her island roots, she wears fringed shorts striped with red, yellow and green; straddles a lion in matching graphic leggings and crop-top; goes HAM on a drum kit in a ruffled one-shouldered dress; and slinks around in full-body leotards.
WE FOUND LOVE (2011)
This video marks the start of Rihanna's more filmic style music clips, with a clear narrative following her fictional relationship with British model Dudley O'Shaughnessy and its (literally high) highs and lows.
Filmed in Ireland, it's an intense video with a heavily grungy mood that includes the clothing. Rihanna's wardrobe mixes eighties and nineties-style ensembles that include acid wash denim pieces, black Dr Martens, visible garter stockings peeping out from under tight miniskirts and tartan pieces thrown in for good measure.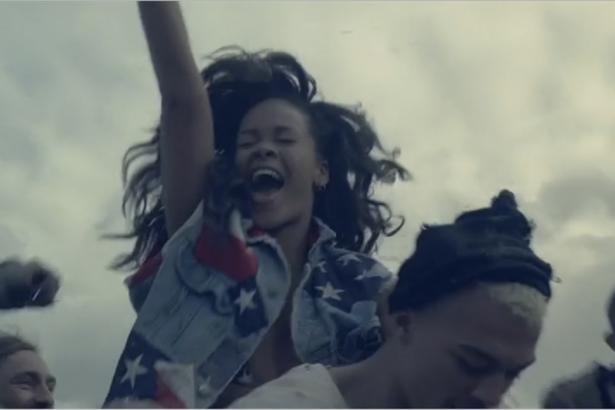 Her voluminous curls are alternately pinned up in a grungy chignon secured with a bandanna, and tumbling about her head as she and her onscreen beau careen around late-night takeaway shops, field raves and a derelict apartment.
POUR IT UP (2013)
While it's a little hard to talk about the clothes in this video with any sort of skew towards wearability, Pour it Up and its wardrobe is an anthem of sheer bravado and excess.
It's definitely one of Rihanna's most provocative looks from her music videos — between the jewelled bra paired with what one could barely call denim shorts as she sits on a golden throne draped with a fur coat; the full-body fishnet stocking with thigh-high boots, a black leather bikini and heavily embellished gold chain belt; and the fringed one-piece with backwards cap as she demonstrates her lyrics "strippers goin' up and down that pole", Rihanna cares not a hoot what anyone thinks of her as money rains around her.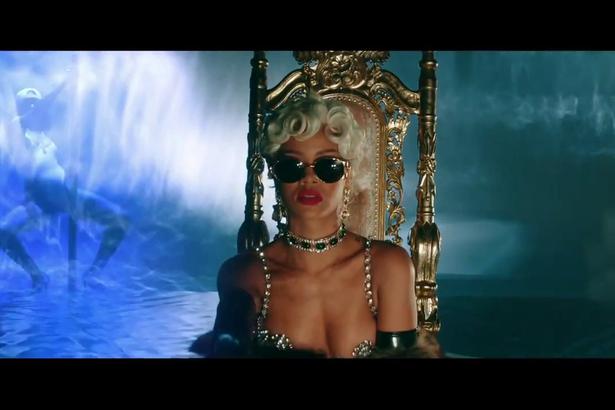 Oh, and let's not forget the jewels! Just a few months after the video came out, she wore the infamous "naked" dress to the CFDA Awards, cementing her position as a performer with no apologies about her body and a rock-solid confidence that is, honestly, inspirational.
BITCH BETTER HAVE MY MONEY (2015)
This seven-minute video is firmly in short film territory, with Ri-Ri fully embodying her bad gal persona as she kidnaps a rich housewife and holds her for ransom with her cohorts, played by the now Insta-famous Sanam and Sita Abellan, at her side.
Rihanna has quite a few outfit changes in this video, with most of them leaning towards throwback nineties grunge. A long pinstripe coat worn over a slogan T-shirt, miniskirt and thigh-high boots, is paired with a bandana (those are definitely back in fashion, by the way), and in the petrol station scene she clearly took a note out of Britney's denim look from the 2001 American Music Awards with a long indigo skirt and corset top under a furry jacket.
There are other, more costume-y looks, like the polka dot robe and lacy shower cap she wears as she and the gals wreak havoc in a motel room, or the bustier and Clueless-style furry coat combination on board the freight ship, but her nineties-style looks in this video are the most wearable.
WORK (2016)
Two videos were shot for this 'minimalist banger', as described by Rolling Stone. The first fully embraces the song's dancehall core, set in a bar called The Real Jerk where Rihanna returns to her Caribbean style in a sheer netting dress over a bikini, both in a yellow, red and green stripe.
Paired with a thick, bondage-style choker and a sleek black bob with black lipstick, she fully embraces her sensual side as she twerks and grinds across the dance floor. Steamy.
Beautiful in its simplicity, again Rihanna wears just one look in the second Work video as she and Drake move around a single pink room set. Her sheer pink tank top and denim skirt, paired with her waist-length hair and perfect makeup, are the perfect combination to let her natural beauty shine through.
WILD THOUGHTS (2017)
Leave it to Rihanna to break out the Balenciaga to go dancing on a balmy night out in Miami. Her first two looks in this video had us throwing away our bras and breaking out the headscarves as she alternately wore a sheer, floaty peasant-style top and dress, the former paired with green floral Balenciaga trousers, Karen Walker earrings and a Versace belt, the latter with jewelled calf-high sandals.
Her makeup, courtesy of Fenty Beauty, perfectly finished off each look with saturated tones complementing her outfits and scrunched curly bob.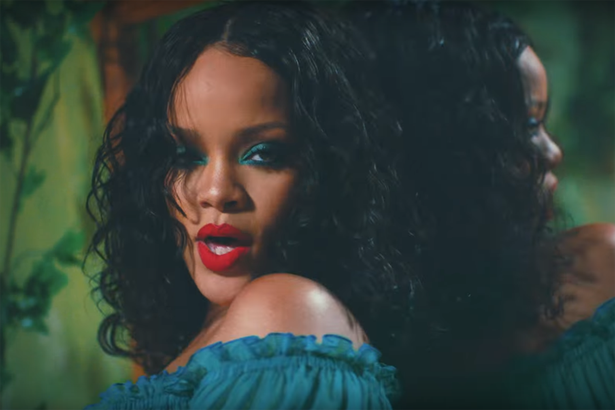 For her last look, she sticks with the off-the-shoulder neckline that suits her so well, but changes it up for an oversized yellow Matthew Adams Dolan top with matching trousers, proving once and for all that it's not what Rihanna wears, it's how she wears it.
Share this: