Roland Mouret's Evolution - From Sexy Bodycon Dresses To Dressing Royalty
Roland Mouret's famous Galaxy dress defined an era. Now, the Duchess of Sussex's confidante tells Caroline Leaper how his friends have inspired a new direction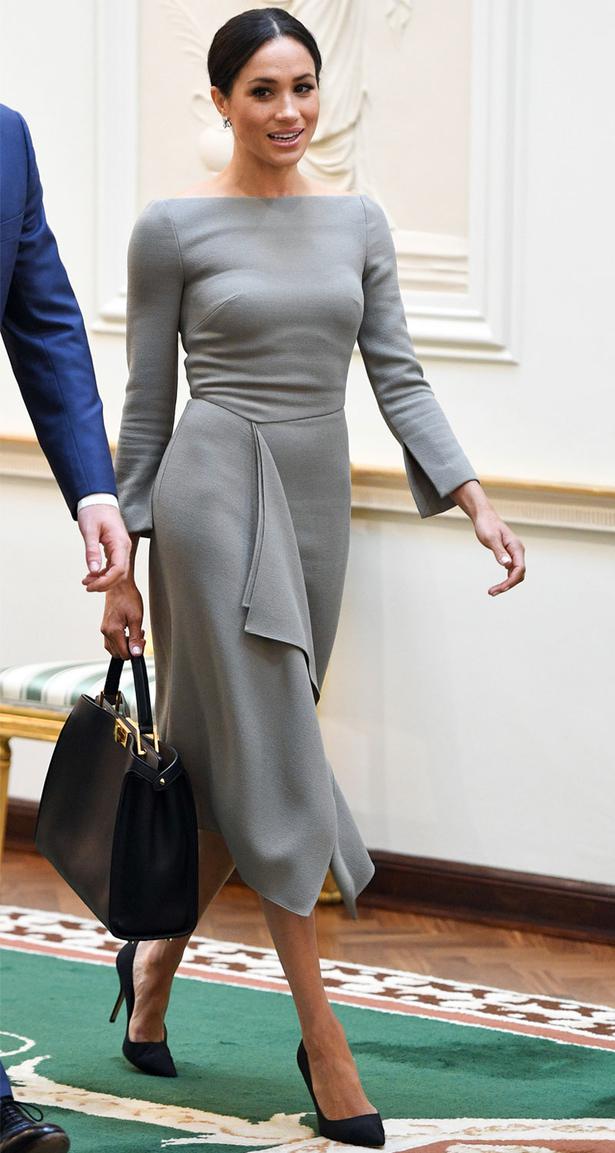 Sunday Sept. 23, 2018
What's sexy now? It's a question that Roland Mouret, the 57-year-old French designer, says has been bothering him.
"We have this spectrum, with a movement of modesty dressing at one end, then the Kardashians at the other, and everything else in between," he muses. "The woman, my customer, can be both of these on different days and I've been looking at the challenge of how to design for that."
READ: Makeup Bag: Meghan Markle's Favourite Beauty Products
Considering that his most famous creation (2005's bodycon Galaxy dress) became a symbol of that conspicuous, in-your-face type of sexy, it has been interesting to watch how Mouret has evolved his aesthetic in line with the times.
He has been, for two decades, the A-list's favourite man to turn to for a figure-skimming, cleavage-lifting, bottom-enhancing dress. His powers as a draper and a sculptor of fabric (funny, as his husband of seven years is the artist James Webster) have been celebrated since he showed his first collection during London Fashion Week in February 1998.
But after the Me Too movement, Mouret says, he's had a think about what those glamorous women might want now and how best to articulate the values of empowerment that he hopes his brand will stand for.
"I've chosen to deconstruct what I've learned about women in the last 20 years," he says of his approach to the spring 2019 collection. "I spend so much time with women in fittings, with all shapes and sizes, and I was very inspired by all the discussion around sexuality and identity. This collection is about giving women control and allowing them to establish what parts of their body they want to show, why and who for."
One of his crepe dresses on the catwalk had a cleavage-bearing slash at the front, but the designer says women will be able to choose an open or closed version, or one partly covered with lace, when it arrives in the shops.
READ: Why Royals Have to Be Fashionable
He's embraced the floatier silhouettes and easy separates that fashion is favouring at the moment — but the backs of those skirts are tightly fitted yet flattering. Brooches, emblazoned with feminist slogans designed in collaboration with artist Mehrnoosh Khadivi, are supposed to encourage layering, and the choice to conceal or reveal.
"I have always wanted to guarantee that you can't take a bad picture in my clothes," he says of the reason so many women rate his designs as a protective armour. "But you have to also understand your body from 360 degrees and what you do and don't like about yourself. As soon as you know that, you can find a favourite designer. You decide that this person's work stands for the same things that you do and makes you feel confident."
Mouret's show took place on the roof of London's National Theatre on Sunday, just two hours after his protégé of sorts, Victoria Beckham, presented her 10th anniversary collection.
Back in 2008 Beckham (who owned a Galaxy dress in almost every colour) asked Mouret for advice about launching a line of her own. The designer, down on his luck at the time and near bankruptcy, says he simply helped her to find a pattern cutter.
"I think it is important that she has come to London to show and to see if her products stand up here. Standing in New York is one thing, but standing in London is different, it's harder. I'm proud for her," he says now.
Mouret insists that he doesn't have a single muse ("I like women with a voice, not women who are names"), however, his friendship with the Duchess of Sussex, has kept him in the headlines. A rumour that she was going to appear on his front row spread like wildfire.
READ: Inside The Queen's Royal Wardrobe
The last dress Meghan wore as a single woman was an origami-fronted power number of his. In her old life, she routinely turned to his flirty cocktail dresses at Hollywood dinners. Now she wears his sensible sheaths to official engagements.
Until about 11.58am on the day of the royal wedding, Mouret was considered a front-runner to have designed the bride's dress. He was ruled out when he arrived at St George's Chapel to take a seat in the congregation. He was there for friendship, not for work.
Mouret is uncharacteristically coy when you ask him about it. "Oooh, it's personal," he panics. "It's my relationship with my friend. But I treat her the same, I have the same relationship with every woman who is a client. The moment someone wears my clothes, for the price I sell them at, they should expect the opportunity of a private moment with me. From the customer in the shop, to celebrities, to royalty, I deliver the same service."
The Duchess of Cambridge is also a fan. "I never imagined I would be dressing royalty, no. Twenty years ago, designing in my kitchen, I would have said never. Everything can happen in your life; it's about the work and the decisions you take."
Mouret didn't start his own label until he was 36. After leaving his home in rural Lourdes for Paris aged 21, he spent over a decade partying and working as a model and art director, before moving to London, initially working as a video director. When he decided to pursue design (with no formal training) in 1997, London Fashion Week was not the talent hotbed it is now.
While his contemporaries, Hussein Chalayan and Lee Alexander McQueen, were pushing the envelope in an avant-garde direction, Mouret's work stood out for its razor-sharp cuts and its wearability. "My generation created the fact that London became internationally respected and the generation after us, like Erdem and Christopher Kane, pushed it even further," he considers. "I think we, all designers, have taken the fact that we had earned this recognition for granted. The standard hasn't gone down, but we should be the ones who are setting the agenda."
READ: Dissecting Kate Middleton's Diplomatic Wardrobe
Being "popular" or "commercial" can be considered dirty words in fashion, laced with the implication of unoriginality. It's something that Mouret, likely because of the runaway success and subsequent saturation of the Galaxy dress, has a sensitive relationship with.
"Being commercially successful is not a concept I wanted to reject in my life, because so many designers do, and then they fail. My success is all down to women, the clients. You want them to say 'yeah, I'll try that skirt' and not be intimidated by it. If my style doesn't work for those in the top layer of the fashion world, whatever, that's not my people."
His people are the loyal clients who return to shop with him again and again. Like the Duchess, they can treat him as a confidante and trust him to give an honest opinion.
On Sunday, his front row was full of them."Straight after the show we have drinks for the customers and friends who have come to see the collection," he says. "They try things on, just me and them, for four hours. Then I meet my team in the pub, we get p-----, and none of us will work for two days after. But first I must spend time with my ladies. It is all for them, you see."
— Telegraph
Share this: