Rosti Recipe with Lentils, Spinach and Yoghurt
Try these homemade crunchy rosti with an Indian touch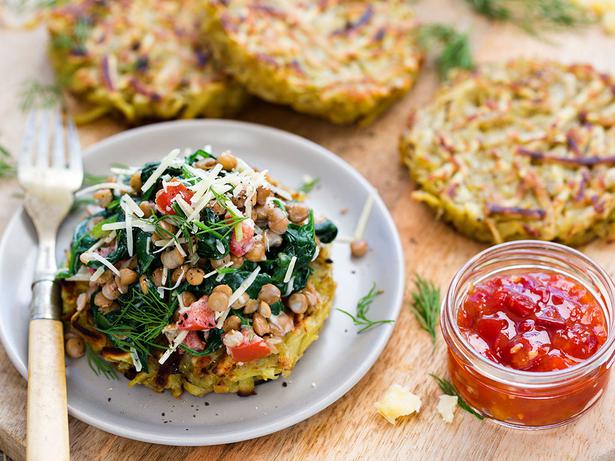 Thursday March 26, 2015
ROSTI WITH LENTILS, SPINACH AND YOGHURT
Serves 4
• 3 medium potatoes, peeled and grated
• 2 kumara, peeled and grated
• 1 tsp salt
• 1 Tbsp curry powder
• Knob butter
• 1 Tbsp olive oil
• 120g spinach
• 2 cups cooked lentils, warm
• 2 tomatoes, chopped small
• ¼ cup chopped dill
• ¼ cup yoghurt
• Zest of ½ lemon
• ½ cup grated parmesan
• Salt and freshly ground pepper
• Extra parmesan to garnish
1. Place grated potato and kumara in a clean tea towel. Gather the tea towel up and squeeze to remove any starchy juice. Place in a bowl and add the salt and curry powder.
2. Heat butter and oil in a pan to a medium heat. Place a handful of potato mix in the pan. You can use a cookie cutter here to give it a more even shape, if you wish. Cook for 5 minutes until the vegetables have softened, then flip and cook for a further 5 minutes. Cook the remaining mixture as above.
3. Place spinach in a bowl and microwave for 1 minute to wilt. Add lentils, tomatoes, dill, yoghurt, lemon and parmesan, and salt and pepper to taste.
4. Serve hot rosti topped with the warm salad and extra parmesan.

View more from Viva's Insiders' Guide to London brought to you by Toni&Guy. 
Share this: