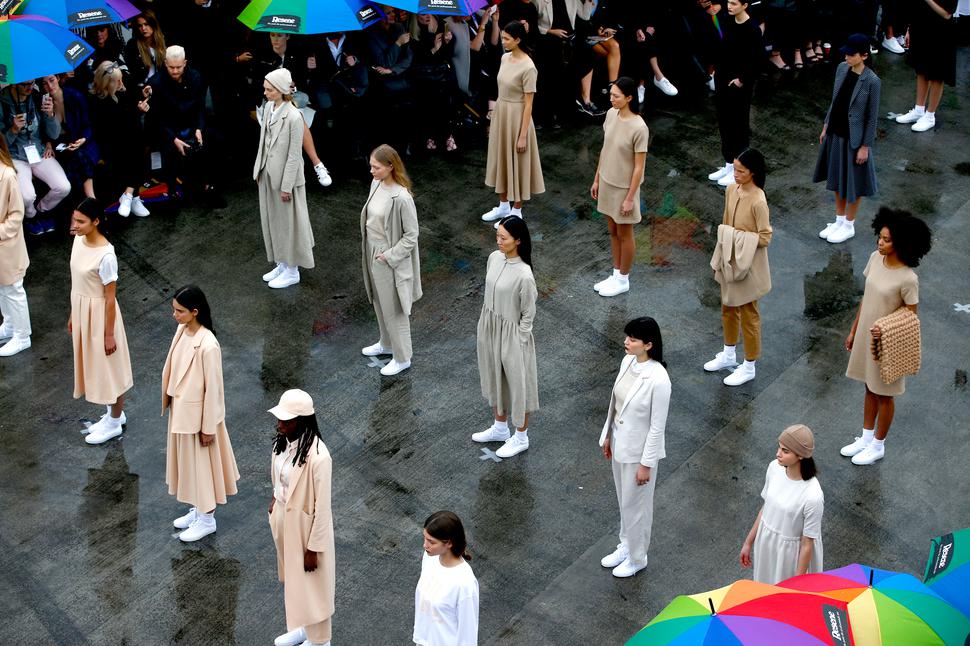 Favourite Runway Moments from some of NZFW's Top Models
Models reflect on the week that was
Wednesday Sept. 2, 2015
It's been a mere few days since the close of New Zealand Fashion Week — funny that, it feels like a lifetime ago. Now all the collections have been shown and it's all done and dusted, it's a good time to go through all the imagery, gather our thoughts and reflect on the week that was. We've wrangled a bunch of New Zealand Fashion Week's top models and asked them to share with us their favourite runway moments from the event:
Ngahuia Williams, Red 11: "I always have so many amazing moments each year, from a model perspective and agent as well. I get chills seeing some of my new faces on the runway for the first time. I loved Stolen's show, and Twenty-seven Names was cool, I liked walking in the rain! Zambesi is great, always."
Ella Corbin, Red 11: "I loved the Trelise Cooper show, always! She does the most exciting shows. Zambesi is always fun too!"
Derya, Red 11: "I enjoyed seeing all the lovely backstage organisers etc... And [Viva fashion editor] Dan Ahwa of course."
Ella Verberne, Clyne: "My favourite fashion week moment was at the Ruby show — it was such a fun show to partake in — light-hearted and amusing, from the cute paisley and printed numbers to the impromptu club ravers who took to the runway during the finale. A unique twist was that the clothes could be purchased straight after."
Emma Boyd, Clyne: "The second weddings show (the one on the weekend) — I got to walk with the cutest little girl in the finale and people commented that she looked like a mini version of me, haha! Also Kate Sylvester's Romeo 4 Juliet show, because I loved the clothing, and the hair and makeup made me feel really pretty and confident."
Katie Braatvedt, Clyne: "My favourite show was Harman Grubisa. I was wearing a pale pink leather skirt and this soft shaggy sheepskin fur and the whole thing felt really luxe and strong — it was really fun getting into that character."
Tessa, Unique: "It was so busy, it has become a bit of a blur, but my favourite moments are always having fun with all the friends, models and backstage crew backstage at shows"
Danielle Hayes, Unique: "My fave runway moment would have been the last Designer Selection Show, my parents came. It was a first for them, they enjoyed the show and atmosphere. I wasn't at all nervous about it, I was just happy that they got to see me doing me."
Katie Holcroft, 62: "I'd definitely have to say opening and closing the Zambesi show was a huge highlight, but also walking in the Sean Kelly show. Mirrors were placed along the runway and we were all told to walk organically around them, no girl had the exact same path which was really fun and different from a modelling perspective."
Coco, 62: "Probably be wearing a full silver metallic morph suit for the Nick Von K show because it was the most challenging show I've ever done — not being able to see clearly in high stilettos, but was so cool to see how visually spectacular the show looked when it came together."
Sophia Frankish, 62: "My favourite moment from the NZFW shows I did would have to be the Stolen Girlfriends Club show. The highlight was the confetti canon exploding and walking through the confetti while everyone was clapping. It was so unique and exciting! "
Mary, RPD: "Closing the Trelise Cooper show with the golden sequin dress, because it made me look like I was coated in shiny gold glitter."
Share this: