Why Ruth Negga is Fashion's Latest Crush
Actress Ruth Negga shot to fame following her performance in the interracial marriage drama Loving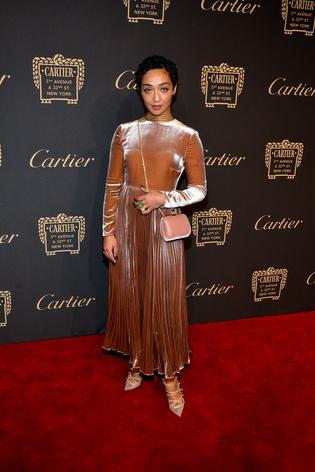 First, the noise. After a decade of restrained, subtle excellence, Ruth Negga is suddenly everywhere. She appeared gamine-iconic on the front of the January issue of American Vogue, photographed by Mario Testino, a huge deal for a little-known, 35-year-old Ethiopian-Irish actor. Now she's on the cover of another fashion bible, W, which shows her and Natalie Portman leaning in, seemingly a moment before kissing. "A rare, powerful talent," Natalie called Ruth.
At the Golden Globes, she headed the best-dressed lists, wearing a Louis Vuitton gown made from thousands of hand-sewn gold and silver paillettes. More satisfying for her was being name-checked that evening by Meryl Streep in her excoriating, Trump-skewering defence of diversity in Hollywood.
READ: Louis Vuitton Collaborates with Supreme
What you probably haven't seen — and must, first chance you get — is what inspired this fuss. Her new film, Loving, is the real-life story of Mildred (Ruth) and Richard Loving (Joel Edgerton), an interracial couple threatened with prison in 1950s Virginia because of their decision to get married. The case went all the way to the Supreme Court and would become a landmark judgment in US civil rights, although one that was only fully appreciated after Mildred died in 2008.
And Ruth's time in the spotlight is only just beginning: she's up for a Bafta in the rising star category and an Oscar for actress in a leading role; these add to her Golden Globe nomination. When you think of awards-buzz performances, it is typically the showy, exuberant ones that catch the eye and grab the lapels. Ruth's portrayal of Mildred Loving is nothing like that. It is quiet, even wordless for large chunks.
Emotion is created with weary eyes, pursed lips and a slow, long-suffering gait. Proper acting, in other words.
"It's a thrilling and invigorating thing to discard language in a way, almost completely," Ruth explains. "First of all, some things can be really overwrought and overwritten and if it's a realistic story, that's just not the way humans exist: long monologues and quick, sharp banter.
"Then we have the ability to lie verbally but it's much harder to get our bodies to lie, because there's a truth there. We are constantly communicating with our bodies subconsciously and I find that absolutely fascinating. There's a lovely tension that can happen in a silence."
She stops speaking as if to prove her point. "Loving was a very special film," she continues eventually.
"There are films that really, really land on you and mark you and I think this is one of those films for me."
Ruth has gone above and beyond to support a film that lacks the firepower of other Oscar contenders: it was made for just US$9 million by director Jeff Nichols, who is acclaimed but defiantly indie. "You hope that you don't let the film down — that's the worry," she says. "It's a responsibility, because essentially you're communicating to the world why they should see this film and that they should see this film. So you want to serve it in the best possible way."
Being picked out by Meryl Streep is "still surreal", she admits, but it feels like these are career-changing moments: overwhelmingly positive, though also clearly discombobulating.
She has worked steadily since she graduated in 2003, winning effusive reviews in film, theatre and television without ever looking set to become a household name. There has been modest interest in her private life — since 2009, she has dated actor Dominic Cooper — but mostly she has avoided talking about it and diffused much of the clamour. So does what's happening now feel "brilliant" crazy? Or "strange" crazy?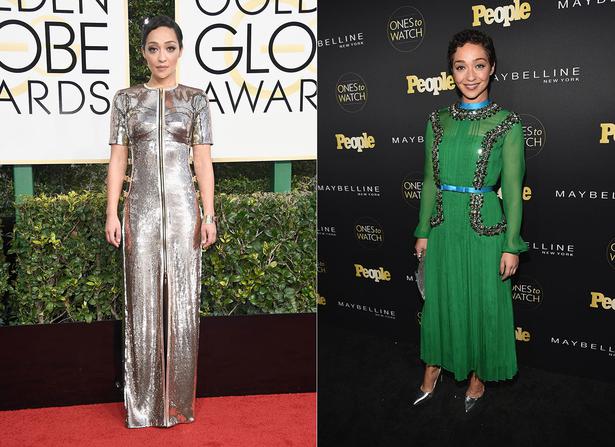 "It's both those things," she says with a laugh. "I don't think it's just one kind of crazy. You become an actor — some people do, not everybody — to hide and disappear and I worry sometimes, 'Gosh, doing this circuit, as they call it, is very much presenting yourself to the world', and that can be a little intimidating for actors who basically like to hide."
I thought most actors wanted to be the centre of attention, I say. "Shyness and a peacock-ness — they are not mutually exclusive," she replies.
When Ruth signed up for drama school at Trinity College in Dublin aged 18, she'd never done any performing at all: no school plays, no terrible teenage bands, nothing. What made her think that she would be any good? "I didn't know I'd be good at it," she says. "I just knew I wanted to do it."
Her inspiration was Kate Bush on Top of the Pops, David Bowie walking down the steps in the 1986 musical-fantasy film Labyrinth. "But it wasn't a lightning-bolt moment," she says. "It feels vocational for many actors. Some not, but for some it feels there's a need, a calling. And people might think that maybe sounds a bit wanky, but why should it? Why shouldn't it be like that?"
Where did that drive come from? "Who knows?" she shoots back.
Ruth was born in January 1982 in Addis Ababa, Ethiopia; her father was a doctor at the Black Lion hospital in the capital and her Irish mother, Norra, was a nurse. Ethiopia was a mess then: a civil war raged between the Soviet-backed Derg government and rebel groups and divisions were exacerbated by the droughts that led to the famine of 1983-1985. Ruth and her mother left for Limerick when she was 4. Her father was supposed to join them, but died in a car accident.
"I didn't go back to Ethiopia until I was 18 and I haven't been back in a very long time," she says. "But it's a very familiar culture to me; I grew up eating Ethiopian food and listening to Ethiopian music and reading Ethiopian history, so it's part of me."
She was raised by her mother, who never remarried, and has no siblings, but a large extended family. "When you lose a parent it's not about coming to terms with it," she says. "I resent the idea that there are stages of grief. It's a very peculiar and unhelpful notion: that you come to terms with something. It's ever-shifting and most human emotions are shifting.
"So I do remember. When a child loses a parent it's a very confusing time, but then I don't think it's something one comes to terms with. One learns to live a life without your father being present."
In recent years, Ruth has analysed the impact of her father's death in therapy. "Grief to me is something we tentatively explore because it's a terrifying thing and there's a weird embarrassment that people feel about it. I'm glad that is something that's changing now. It isn't something to be embarrassed by. And it's something that is not very straightforward. You have to try and sort of negotiate that every day."
Ruth and her mother moved to London when she was 11. A lack of opportunities in rural Limerick seems to have been behind the decision: "I was a kid in the 1980s and there was loads of Irish emigration, that's the history of our country — we haemorrhaged people." She didn't much enjoy school.
"I was very impatient because I wanted it to be over," she explains. "It's not that I have a problem with authority, but I remember thinking, 'I don't really want to be spoken to by teachers in that manner. What's their problem?' I kind of resented that."
But don't you now spend your life being ordered around by directors, I say. "Yeah, it's kind of ironic," she laughs, "because you're being told what to do by someone and it's a rigorous schedule. But I think there was the glamour of being, I don't know, a band of gypsies on tour."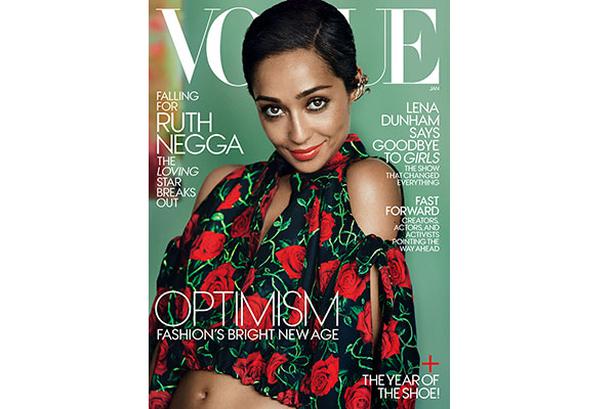 It would certainly be hard to accuse Ruth of lacking range. Alongside poised, dignified Mildred Loving, her main gig right now is Tulip O'Hare, a formidable, sassy gun for hire in Preacher. She was introduced to the show last year by killing a man using an ear of corn and then fashioning a DIY bazooka on a kitchen table, with the help of two children who think it's a craft project.
"That's the whole point isn't it?" she says. "If I was playing the same part and characters, I'd bore myself senseless and the audience too — I'm not that interesting, to be honest."
Preacher, which was developed by comic actor Seth Rogen and his Superbad co-writer Evan Goldberg, involved Ruth having to sign a contract — pre-screen test — for a potential commitment of seven years.
The decision was made easier by the fact that Dominic happened to be cast opposite her as the male lead, Jesse Custer. The pair met when they were both in Nicholas Hytner's production of Racine's Phedre at the National and they have worked professionally a few times since then.
"People don't believe me, but strangely we just keep kind of going up for the same things," Ruth insists. "It's really weird. For a while we would joke that we got each other the job and I think we have to stop that because people are actually taking us seriously."
Still, with the long location shoots required for a TV series, Ruth admits she is relieved to be doing it with Dominic. "It's perfect because you're working with your best friend," she says. "No one likes to hear actors moan about the lonesomeness of a shoot, but it can be quite lonesome actually.
Maybe if you're staying in a hotel and it's not like you've got friends to call around because you're in the desert in the middle of nowhere. Sometimes, it can leave you feeling quite adrift, so one also has to be very careful about keeping your sanity."
We are speaking just before the Oscar announcement, but I ask how she'd feel if she was nominated. "Oh my God, it would be huge," she replies. "I'm not expecting anything and I don't think you should. Awards are funny. So it's all subjective, but of course the Oscars are the pinnacle of this awards season and I'd love it. And I'd love it for our film and most of all, oh God, for Richard and Mildred. They are the essence of what we should aspire to be as humans."
As it turns out, in contrast to the past two years where the four acting categories have been an all-white club, she find herself on shortlists with a record number of black actors: six from four different films. This, no doubt, will be a relief. "Sometimes it gets a bit tedious being asked about these things, because I can't be a spokesperson for an entire group of people," she tells me. "It's just like when people call films 'black films' and you're thinking, 'Why?'
They are not just for black people, you know. Our film is not about black America, it's about America. White and black America. You know, we're all in this together."
— The Observer
• Loving will be released in New Zealand on March 16.
Share this: