Saint Laurent Is Trying Too Hard to Be Sexy, and It's Just Not Working
Robin Givhan on why Saint Laurent's latest creative directior Anthony Vaccarello is trying too hard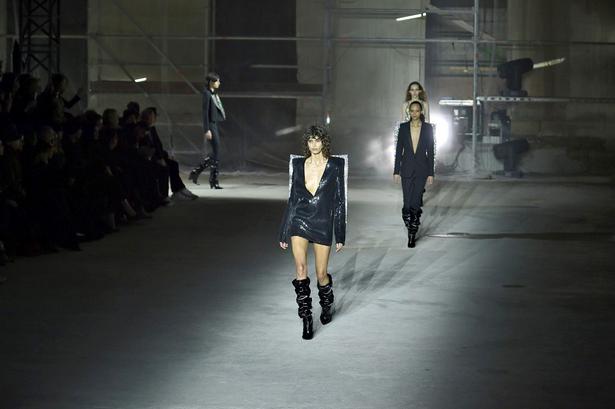 Thursday March 2, 2017
The day - rainy, cold, and about as ugly as a day can manage to be in Paris - began with Yves Saint Laurent, and it ended with Saint Laurent as well. In the afternoon: a vibrant memory of the designer's extraordinary past. In the evening: a blurry vision of its future.
Designers began debuting their fall 2017 collections here Tuesday, and one of the first was Vera Wang, who showed hers after being named a "chevalier" of the Legion of Honour and declaring herself a Francophile who was deeply inspired by Saint Laurent. Wang, an American, had the red-ribboned medal pinned to her black dress by Gerard Araud, the French ambassador to the U.S., in a ceremony at the Musée de l'Armée.
Champagne was passed and congratulations offered from the likes of Alber Elbaz and Donna Karan. But there was head-scratching, too. Wang's early professional life was centered around American brands, at Vogue and then Ralph Lauren. And she began her design career with elegant and spare bridal gowns that combined American simplicity with matrimonial grandeur.
But Wang traced her love for fashion to Paris and, in many ways, to Saint Laurent. Oh, the memories of crisp shirt dress, a pea coat and gray trousers! So, perhaps that affection was enough for an award. It was Saint Laurent, after all, and he is fashion's own Moby Dick. So much flows from his work.
Today, the iconic, influential French brand is in the midst of its own transformation, still making the shift from the subversive street style of former creative director Hedi Slimane to the sexy perversity of Anthony Vaccarello. He showed his fall collection outside the company's under-construction headquarters, in a courtyard surrounded by scaffolding and tarp. No, it was not an unseasonably balmy evening. It was seasonably cold and windy and rainy. But there were blankets! Saint Laurent ones, in black. Snuggle up close to la Catherine Deneuve, seated in the front row, and all is well.
This incarnation of Saint Laurent is mostly about sex. Not music or art or the upending of social mores. Sex. Sex is complicated, however, and there is much to explore on this subject. But so far, Vaccarello has only gotten to the part about super short dresses and leather.
The show began in an intriguing manner. The first models wore leather dresses with a rawness about them - like the pelts had been torn instead of cut. But then, oh my. The mini-dresses that followed were paired with enormous long sleeves or gauntlets. They looked a bit like wings. But they did not look good.
Then came easy trousers and bomber jackets and nubby sweaters. Then it was back to sex. The jewel-tone dresses had fan-like protuberances attached to them. The models had difficult walking in the knee-high boots with their cone-like heels, which made it virtually impossible for the women to exude confidence, which made it impossible for them to look sexy.
The finale was filled with black dresses and jackets shot through with crystals. And the very last dress, with its broad shoulders, was covered in sparkles and was a true head-turner. So despite the many disappointments, one walked out into the rain with the last image being a positive and striking one.
Sex is always a fine inspiration for fashion. Sex is good. But it's made better when mixed with a bit of mystery, surprise, delight and, of course, finesse.
- The Washington Post
Share this: