Pasties, Leather and Lace at Saint Laurent
Pasties on the runway at Saint Laurent? But wait, there's a history here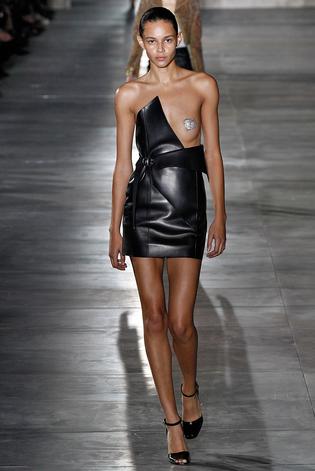 As the spring 2017 collections begin in Paris, there are about 90 shows on the official fashion week calendar, most of them from names so deeply embedded in fashion history that they are familiar to the most casual observer: Dior, Chanel, Hermès and so on. But far from being a place where fashion is static, this is a city where fashion shifts and swirls in tumultuous, mesmerizing waves. Which is how we get to the subject of a single silver, sparkling pastie. A pastie with historical significance and Instagram appeal.
The pastie was on the runway at Saint Laurent where the designer Anthony Vaccarello debuted as its new creative director, following in the footsteps of Hedi Slimane who left the house earlier this year after imprinting it with his rock 'n' roll, vintage sensibility.
Vacarrello, who is in his 30s, worked as the creative director for Versus - the younger iteration of the famed Versace label - as well as the head of his own eponymous brand. Above all else, Vaccarello is known for creating sexy clothes. And in his re-imagining of Saint Laurent, he combined his love for the short skirt, the revealing top and the high slit, with the house's legacy for youthful subversiveness and its most iconic garment: the women's tuxedo or le smoking.
READ: 8 Things to Know About Anthony Vaccarello
The results were silhouettes that recalled the linebacker shoulders of the 1980s merged with the modern era's love for oversized silhouettes and an affection for a kind of beauty that registers as off-kilter, unorthodox or just plain jarring.
In his wider shoulder silhouette, the sleeves seem to set too far off the body - as if the dress were several sizes too big. The result is a neckline that is wide and deep and gives the illusion of a model with the V-shaped torso of an Olympic swimmer. Vaccarello took the idea of these oversize sleeves and played a game of free-association in which a single sleeve was attached to a bustier or worn like some bedazzled accessory with a tank top.
The clothes looked rich but it's hard to say that they were all beautiful, because in some ways beauty is something that is soothing to the eye, and this collection was focused on upheaval. It was, after all, presented in the building, still mid-renovation, that will eventually serve as Saint Laurent headquarters. Indeed an enormous crane, from which a giant YSL sign dangled, greeted guests as they arrived.
The show also included tuxedo dresses and beaten-up denim. As well as shoes set atop YSL heels. Oh, and there were visible nipples.
They were visible because Vaccarello wrapped black lace around the models' torsos to create a series of sexy, moody tops that were gleefully seductive. You know the drill: the body is beautiful, nothing to be ashamed about, blah, blah, blah. Designers love a little peek-a-boo.
But there is more. Yves Saint Laurent, the man himself, toyed with the allure and shock of the nude female body. One of the most famous fashion images, shot in black and white by photographer Helmut Newton in 1975 for French Vogue, shows a Saint Laurent model in a tuxedo posing alongside another woman - her bare body wrapped in shadowy light. The woman in the tuxedo, with her hair slicked back, imitating a masculine identity, stands in a position of power. The other woman, in nothing more than a decorously feminine hat and a pair of high heels, is in a more passive posture.
The image is captivating and speaks to the nature of gender, power and cultural assumptions. Vaccarello's runway presentation recalled that image with his riffs on the tuxedo, the half-constructed stone colonnade that served as the show's backdrop and his bold presentation of the female body.
The silver pastie was worn with a kind of black leather, Amazonian sleeveless sheath that cut across the body at an angle. But it spoke of titillation more than aloof swagger. It seemed more of a shout-out to social media than an anti-social stance.
READ: Meet the Front Row Millennials
As a fashion trope, it called to mind the collection that designer Tom Ford created when he helmed Saint Laurent back in the early 2000s, for which he painted the models' nipples purple. Later, Ford crafted an evening gown that made use of multi-colored pasties - a gown that the performer Rihanna later wore to a New York fundraiser. (Rihanna, by the way, will be presenting her Fenty collection here Wednesday evening. Pasties are not expected on the runway. But then, this is Paris, so who knows?)
The pastie also sent the mind reeling to an especially disastrous Ungaro show in 2009 for which the troubled actress Lindsay Lohan served as a creative consultant.
The point here is that pasties have a bit of a history in fashion - some of it interesting, and some of it just plain awful. But none of it really does right by the legacy of Saint Laurent, who was not out to tease but to shock, empower and enlighten.
Vaccarello might have been better served to have simply shown a bare breast beautifully captured in chiaroscuro. More artful. A greater test for Twitter.
There was a knowing tawdriness about Vaccarello's vision of Saint Laurent. A purposeful lack of respectability. True, the clothes he showed on the runway were certainly not easy to wear. But not all fashion has to be. The industry should be inclusive of all body types - that's just good business. But not every designer has to dress every woman.
Still, Vaccarello has something to say about women, sex, power - black leather and lace - that, perhaps, has far broader appeal that his mini-dresses and detached sleeves. And that is: female sexuality is powerful, but it isn't subversive at all.
- The Washington Post
Share this: