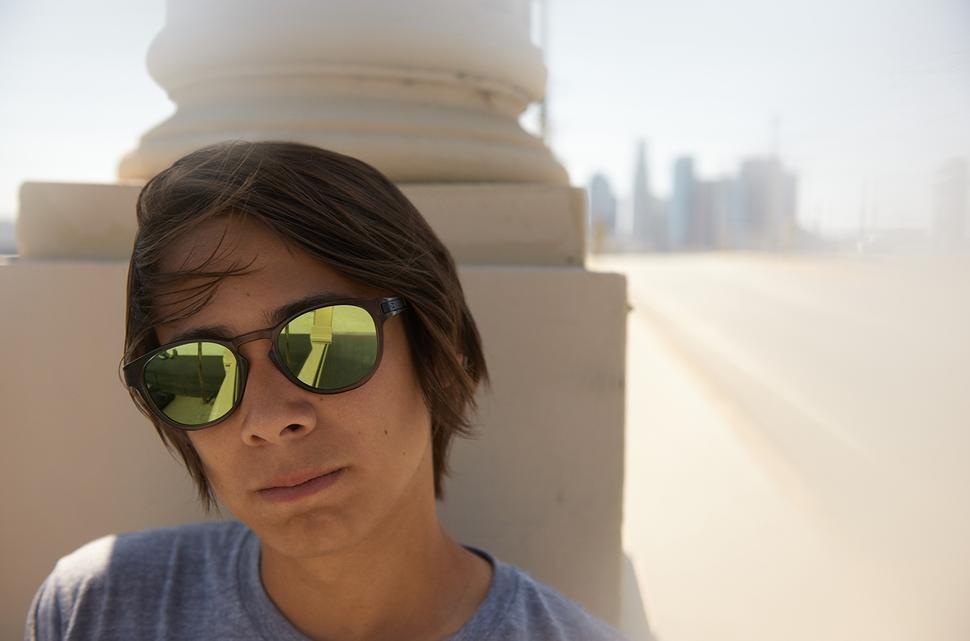 An Interesting Man: Skate King Sean Malto
Skateboarding superstar Sean Malto on skating, style and travelling the world
Monday Sept. 28, 2015
Surf, street and skate culture and its influence in fashion is well documented, and those worlds have collided even further with the distinctive Russian flavour of Gosha Rubchinskiy Soviet sportswear and the cult following of Palace Skateboards - its first London boutique in Soho looks like it could sit comfortably wedged in-between the luxury boutiques on Sloane St.
And while it's been argued that brands like these run the risk of losing cool points by not balancing the fashion aspects with their street culture, it's the leaders in these sports fields who are the true ambassadors. Case in point, world skateboarding champion Sean Malto. The 26-year-old Kansas native has collaborated with Oakley on a new line of sunglasses that combines the world of skateboarding and fashion. The project also sees Malto collaborating with three other creatives/skate stars: Curren Caples, Eric Koston and photographer Atiba Jefferson.
"Coming together with Oakley has been pretty amazing. They've got such a wealth of resources at their disposal. They're big, but they have stayed really creative and have constantly pushed the limits," says Malto . "That's the first thing I noticed when I took the tour of the Oakley building. The level of research and care that goes into the R&D really stuck with me. Having Oakley's wealth of knowledge and resources at my disposal during the Latch design process was awesome."

Do you have a personal favourite style from the new range?
I've been rocking the Matte Olive Ink frame with Emerald Iridium lenses. They are my favourite right now.
How involved were you and the other pro-skaters with this new collection?
A lot, especially in the beginning, bringing our ideas and storyboards together. There were three or four stages of samples with different revisions before we felt we had nailed it.
Winning the 2011 Street League Skateboarding Championship would have been a major moment for you in your career. What other memorable moments have you had so far and how important is winning to you?
Winning contests is great and all, but having fun has always been priority number one for me. Getting to work with Ty Evans on Pretty Sweet is up there for sure. Being part of a video that shows a collection of years of work is a much different experience than winning a two-hour contest.
What is your relationship with fashion and how does it represent you and get your message across with your day-to-day life?
I just wear what's comfortable to me. Personal style is a huge part of what makes a skateboarder who they are. Not just what they're wearing, but how they move, trick selection, things like that.
Tell me a little about your relationship with Escapist and how important that relationship has been to you so far.
Ever since I was a little kid, Escapist was the shop that put on the demos and contests. They've single-handedly made skateboarding what it is in Kansas City. They were the ones who sent out my "sponsor me" tapes to companies back in the day. They had a big part in showing me the way to where I am now. I feel really lucky and honoured to be in a position to help keep that legacy going.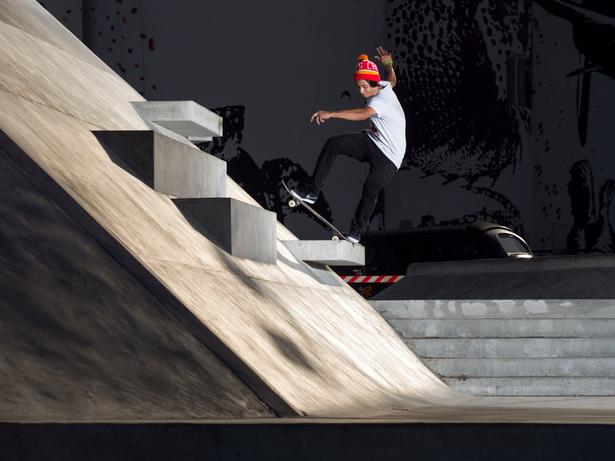 Your other collaborations include the Saint Archer Brewing Co and Incase to name a few. What are you like to work with as a creative collaborator and what do you enjoy the most during that process from design to final product?
It's always a thrill to see a project go from concept to reality. I constantly see things that could be improved upon. I tend to nit-pick different aspects of design projects, but it's all about getting it right in the end.
Where are some of your favourite places to skate?
Kansas City, of course. China is up there too. There's not a lot to do other than skate when we're there, so it keeps me focused. Australia is super fun as well, both for its spots and non-skating aspects. I love getting off a plane in December and walking into summer weather.
You hail from Kansas City. If I was to spend 24 hours with you in Kansas City, where would you take me?
Barbecue. Ours is the best in the world. Joe's Kansas City Bar-B-Que is incredible. Quay Coffee is right around the corner from me. There's a spot called Slabs that's really fun and isn't a bust. Barney Allis Plaza is rad too. We'd definitely spend some time at Escapist. There's a bunch of fun dive bars in an area called Westport. We'd hit Arrowhead Stadium for a Chiefs game. If you can wait a few months, I'm opening a little donut shop with a full bar in Westport. It'll be called Donut Lounge.
What do you love about what you do?
As a pro, there's no set rules or times. There's no clocking in or clocking out. At the same time, you get out of it whatever you put into it. Those who work the hardest will reap the most benefits.
What's the best piece of advice you have ever been given?
Don't put a governor on fun! Atiba [Jefferson] told me this one.
What advice would you give to a young skateboarder coming through the ranks?
Have fun with it. Make sure you keep enjoying skating for what it is and do not take yourself too seriously.
What are you reading right now?
I'm in the middle of a book called Zen Golf. It's just as much about golf as it is about clearing your mind and getting into a better mental place. I think it could help skating as well.
What was the last album/song you downloaded?
The Future. Atiba [Jefferson] turned me on to it.
Your favourite holiday destination?
Australia in the winter time is always nice, because it's summer there. That is definitely my favourite. I'm not just saying that because we are going there. It's so cold where I'm from in Kansas in the winter. Getting off the plane into summer in December is incredible. And how can you not love Australia. So much fun.
Have you ever been to New Zealand?
I have. We went a few years ago. It was only five days, but really fun!
What can your fans look forward to seeing from you next?
I've been injured for a bit, so I'm looking forward to getting back out there on a skateboard and making the kids happy.
Share this: