Secrets Of A Royal Wedding Dress Designer
Sassi Holford — whose gown impressed the Queen — takes an educated guess at what Meghan might wear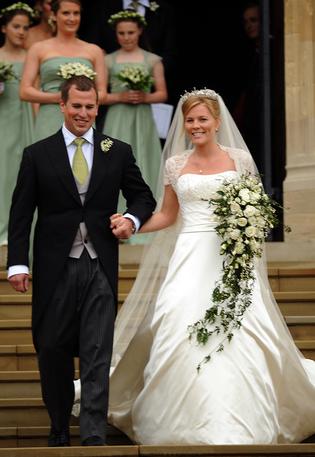 When wedding dress designers and buyers from around the world gathered to showcase their new collections at London Bridal Week last month, there was just one hot topic of conversation: who might have scooped the commission of the year — designing Meghan Markle's dress.
Sassi Holford, a designer from Taunton who has been at the epicentre of London's bridal industry for more than 37 years, is perhaps most qualified to advise whichever lucky designer Markle has enlisted.
READ: Royal Wedding Prep: 10 Must-Watch Films
Next month will mark a decade since Holford had her own royal wedding "moment", when she created the gown worn by Autumn Kelly as she married Peter Phillips, the Princess Royal's son, at St George's Chapel, Windsor — the same venue where Prince Harry and his fiancée will marry on May 19. "The great thing about getting married at Windsor," she says, "is that where the bride actually gets ready is just like a family home.
"You could forget that you were in this monumental, historic English building. It was just a normal family, and I was just getting a bride ready for her wedding day. It was so lovely to see; there was no pomp behind the scenes."
READ: Meghan Markle's Favourite Beauty Products
Holford says that, 10 years ago, the hype around a royal wedding was just as palpable. But, she acknowledges, with social media in its infancy, there was significantly less pressure on Kelly, a former management consultant, in the run-up to her big day than there will be on 36-year-old Markle.
"Autumn was shopping around and had looked at a few places, but luckily she came to me for an appointment," Holford says, casually describing how the commission came to be.
READ: Time to Brush Up on Wedding Etiquette
"She simply said, 'these are the sorts of things I like, and this is where I'm getting married' — and that was the brief. From there, I put the twist on the dress, incorporated elements that I knew she liked, and it was the same process of fittings and discussions as I would have with anyone else," she adds.
There was, however, one additional step that Holford had never been required to take with any other client: getting the Queen's feedback. It is understood that every royal bride-to-be has shown Her Majesty the designs for their dress ahead of the wedding; something that Markle will have to factor into her countdown, too — and possibly twice.
For, if reports are to be believed, she is planning to wear two dresses for the different parts of her wedding day, just as the Duchess of Cambridge changed out of her long-sleeved lace gown, by Sarah Burton for McQueen, into an ivory satin dress by the same designer for the evening reception.
"The Queen doesn't need to approve the dress, but it's lovely if she does," Holford explains. "There isn't a protocol in place, but it's considered polite for the bride to ask. Autumn told me that the Queen had seen the dress and that she approved. It was only three days before the wedding that this happened, so I was relieved — if she hadn't liked it, I'm not sure that I could have done a lot about it!"
READ: How To Make Your Own Version of Prince Harry & Meghan Markle's Royal Wedding Cake
In choosing St George's Chapel, Holford says Markle will have several practicalities to consider when designing her dress. Just as the Duchess of Cambridge's venue, Westminster Abbey, demanded a substantial skirt and train to hold court, Markle won't be able to go for a slinky silhouette, even if that is her preferred style.
"She's going to need something sizeable going on around the hemline," Holford confirms. "Even though St George's Chapel is within the walls of Windsor, it is still the size of a cathedral. I think she likes straight dresses, but if she goes for something like that then I think it will have quite a bit coming out the back, because you need it for the width of the aisle and the height of the room.
"With Kate Middleton, it was pretty predictable what she was going to wear; I could tell you down to the lace sleeves and the V-neck, because of her style and the considerations with the role she was marrying into. But even with 37 years of knowledge about bridal, I could not tell you what Meghan is going to wear," she adds, excitedly. "She could pull off anything."
READ: Meet The New Grown-Up Royal Style Stars
Holford is hoping that Markle will push the envelope across all elements of the wedding, as this will push the entire bridal industry in exciting new directions and set trends for the foreseeable future.
"Meghan is likely to put an edgy twist on her bridal look. I think she will respect the family and traditions but bring some Hollywood glamour. She and Harry are not scared to do what they believe in. They're going to do it how they want to do it, and I think it's good to see our young royals moving with the times."
READ: How To Nail Autumnal Wedding Attire
Holford treasures the memories of her own royal wedding experience, and hopes that Markle's chosen designer will also get to experience the humour and humility of the Royal family behind closed doors.
"I carried the back of Autumn's dress as we were leaving for the chapel, but when we got to the bottom of the stairs the Queen and Prince Philip were standing there," Holford says, recalling her favourite part of the wedding. "It was their first look at the bride and it was such an intimate moment that I tried to hide behind the skirt so they didn't see me. I didn't want to intrude!
READ: How to Dress like a Princess
"They were all doubled over laughing and it just broke everyone's nerves. There are moments at all weddings that you remember and that make it unique, but that, for me, was the first time I realised how extraordinary it all was."
— The Sunday Telegraph.
Share this: