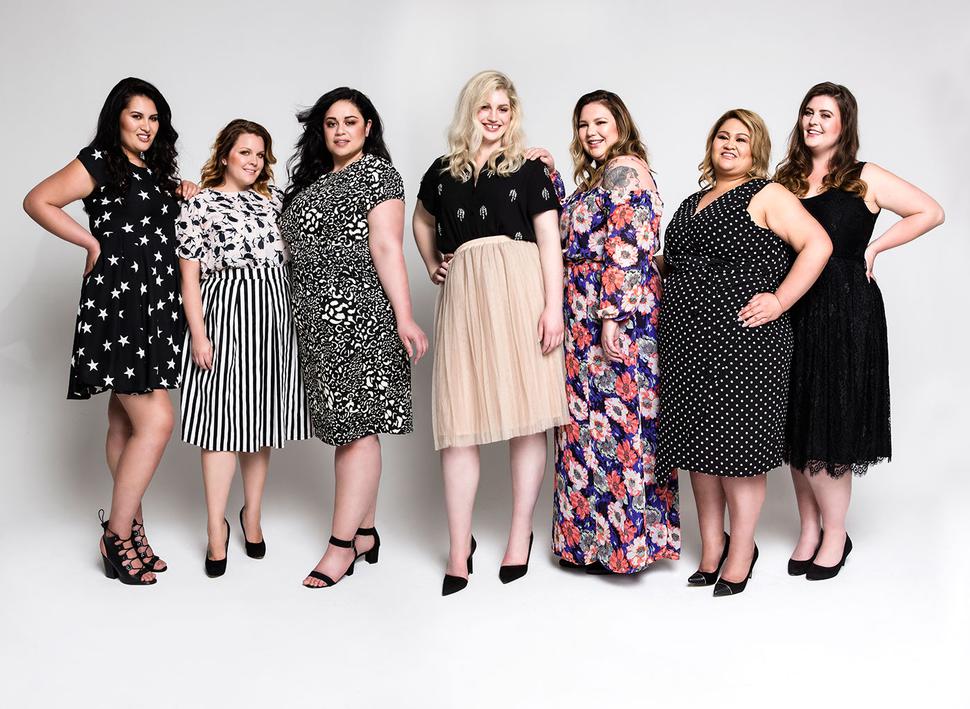 Sera Lilly's New Line for Curves
Designer Sera Lilly is back with a new line and hopes to change attitudes towards 'plus size' in the process
Wednesday Oct. 21, 2015
Stylish clothing that fits, makes women feel good about themselves and flatters a range of body shapes: that should be the premise of fashion — but often is not, when options stop at a size 12. Designer Sera Lilly is hoping to change that with her new line Sera Lilly Curve.
This is not the all-too-familiar defensive cry of "real women have curves", rather, Sera is wanting to celebrate and focus on offering stylish options for women sizes 14 to 24 who might feel they are forgotten by fashion. The first Curve collection features everything from an office-appropriate printed shirt dress to a glamorous sequin cape blazer.
"For some reason, people think that if you're curvier, you don't want to wear patterns, bold colours, or anything remotely fitted or on-trend. You are 'bigger', therefore you shouldn't stand out. Think the oversize, draped, dark, tent-type scenario that generally makes you look bigger than you are," says Sera.
The label reflects her passion for promoting wellbeing and healthy self-esteem, having launched the popular Facebook page FAT2FITNZ in 2013 to share her journey. She had a lot of followers ask about the clothes she wore, and saw a gap in the market. Sera launched style blog Kiwicurves last year.
Her previous namesake label Sera embraced diversity, dressing a variety of women and hosting a street casting for her last NZ Fashion Week show. But she says affordability and accessibility are important too. "When I had my label Sera Lilly, I remember how difficult and painful it was for curvier young women — especially around ball season time," explains Sera.
What defines the phrase "plus size", when the average NZ woman is size 12-14?
Honestly, I am over "plus size". It's such a loaded and negative term, especially in the fashion industry. What it really says is that if you don't fit a designer's "ideal body shape", then you are oversized and we don't want to dress you. This is so negative and damaging for young girls and women. What is more important is to have a healthy relationship with food and exercise and not to be hung up on the number we see on scales or on a garment. We should stop focusing on weight and size and focus on health and wellbeing.
What makes Sera Lilly Curve stand out from other plus-size labels?
I'd like to think it's our focus on trend-driven ranges and styles. In the past, curvier girls have been forgotten as it's always been assumed that they don't follow the trends — and that because they are curvier, they couldn't possibly look good wearing current fashion. I think it's also a combination of my experience in the fashion industry and being curvier myself. I understand the fits and I have always believed that any woman can look good, no matter what her shape or size. And also I believe it is a well-priced but good-quality range.
You have talked about accessibility for everyone, around price points and sizing. Why is this mass appeal so important?
Because we all come in different shapes and sizes and we all deserve the opportunity to look and feel good, no matter what our income. Many of us — especially Mums — don't have a lot of disposable income, so it's important to have affordable options.
The plus-size market is potentially hugely lucrative, but there seems to be a gap here in NZ with few truly fashionable labels — why do you think this is?
Not really sure, but I know from experience that the fashion business is not easy. And maybe there's a lack of understanding about what curvy girls want.
How does your approach to design differ for Curve, compared to when you had Sera Lilly? Obviously there's the sizing, but what do you need to take into consideration when designing for sizes 14+?
Because I am curvy I know what parts of my body I feel insecure about, and I can design accordingly. And of course to make sure the cut flatters the body shape and the lengths are appropriate.
Explain your #iammorethananumber social media campaign — what is the story behind it, and why did you launch it?
I just want to inspire people to believe in themselves and to be comfortable with their bodies. This helps build self-esteem. The messages are constantly that to be happy, you have to be skinny. That skinny is the ideal. And we wonder why so many girls have eating disorders. You should feel comfortable in your own skin. Eat well. Exercise regularly. Be strong and healthy. We are more than a number on a scale or the clothing size we wear. So we encourage women to hashtag and join the body-love movement.
How important has social media been for you in developing a community of women — with Sera Lilly Curve, your Kiwi curves blog and Fat2FitNZ?
It's been a really important and supportive environment. I'm very interactive and honest with all my followers. This direct connection has helped me learn what they are missing in terms of fashion, and also what they want. So far, through our forums and Facebook pages, we have nearly 70,000 followers. They can see me wearing the clothing and discussing issues that only curvy women struggle with when shopping for clothes.
Tell me about the women who feature in your campaign — how did you discover them?
We had a nationwide casting and the only criteria was that they were to be size 14 or over. They are all brilliant and simply gorgeous!
What do you hope women feel when they wear your clothes?
I want women to feel beautiful, sexy and fabulous. It's about feeling good and in love with the body you have. Life is too short; if you have curves, flaunt them.
Favourite pieces from the first range?
The sequined capelet. I love it! I don't like exposing my arms that much. This capelet is perfect because it looks like a jacket but you have room and movement.
• Shop the collection at seralillycurve.com
Share this: