Shaun Johnson Debuts New Clothing Line
League player Shaun Johnson has taken his love of fashion to the next level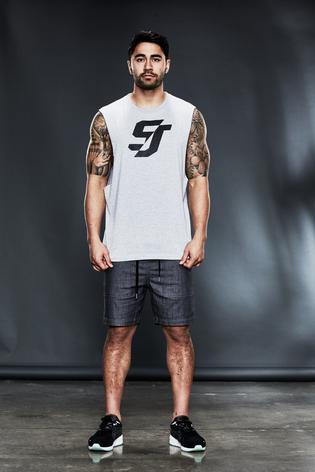 When David Beckham stepped out for dinner with wife Victoria in 1998 wearing a Gucci sarong, it signalled his arrival as a fashion plate, connecting the worlds of sport and fashion into one attractive and marketable package. Suddenly the potential for fashion brands to reach a wider demographic seemed promising, as both brand and athlete benefited from a mutual admiration that went farther than their respective demographics. 
Today, high performance athletes such as Le Bron James, Serena and Venus Williams and Lewis Hamilton are examples of how sports and fashion can successfully cross-pollinate into lucrative territory.
Closer to home, the likes of Silver Fern Maria Tutaia and former All Black Dan Carter have explored fashionable opportunities outside of their sporting commitments, featuring on magazine covers and fronting campaigns and shows for various brands.
The latest New Zealand sportstar to join the ranks is Vodafone Warriors league player Shaun Johnson, who has launched his own clothing line SJ Shaun Johnson. His style credentials were cemented earlier this year, when he swapped his jersey for a double-breasted wool coat for the cover of Viva's menswear special.
"I've always liked clothes and fashion, and I never thought I'd grace the cover of a fashion magazine," recalls Shaun. "It was cool to step outside the box and try new things and to wear different things, so it was definitely a good experience."
The 26-year old launched the clothing line with friend and sportswear distributor Harley Anderson of Performance Distribution Ltd and former Huffer co-founder Dan Buckley who took into account Shaun's wardrobe and sense of style. The collection consists of sportswear-inspired separates, including denim shorts, button-up shirts, T-shirts and singlets featuring the SJ logo.
"We wanted to keep it simple so I looked at his wardrobe as a starting point," says Dan. "Most of my design acumen is based on streetwear and that's where Shaun wants to be too, however there are unique twists with the construction work to make it special."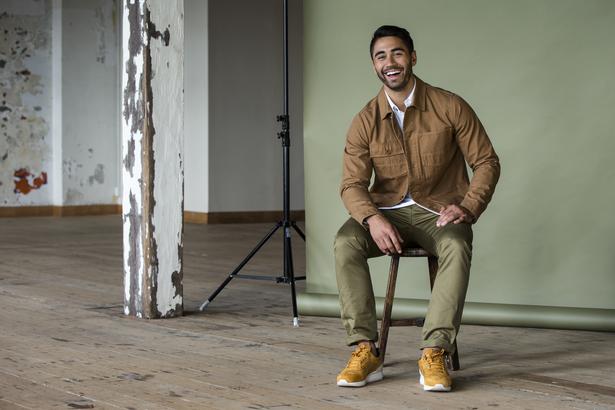 Shaun Johnson for Viva, March 2016. Picture / Guy Coombes.

Dan's experience as one of the country's top streetwear designers stems from his early days as an avid skateboarder. "I'm interested in league a lot more now that Shaun's in my world."

Having co-founded one of the country's top streetwear labels Huffer, Dan left in 2011 and launched streetwear label Thing Thing, a business he eventually stepped away from six months ago to relocate with his young family to Mt Maunganui. It's a move that Dan says gives him flexibility to focus on a community lifestyle and pursue other projects like SJ.

"When this came up I thought it was a great opportunity to work with Shaun because he's a great guy and has a really good appreciation for design," he says. "My mate Drew Gregory, who is the creative director at Thing Thing, designed a special SJ logo for Shaun's own line of caps with New Era. They proved to be popular and Shaun loved it so much he decided it was worth expanding the idea into a collection of clothing. So I met with Shaun and looked through his wardrobe, took notes and did some sketches and it all evolved from there."

The logo is a strong design point for the collection and cleverly includes the number seven (Shaun's jersey number), albeit in a subtle way.

"What I love about the logo is that it's a very strong design," says Shaun. "A lot of people call me SJ and then you have the number seven smack bang in the middle. People have associated the number seven with me over my career so to have it in there is very cool."

WATCH: Behind the scenes with Shaun Johnson

To support the new label, which has already secured four stockists (Culture Kings in Australia, Threads Store in Auckland, Stencil in Christchurch and Ballantynes in Christchurch and Timaru), Shaun and Harley spent some time over the past weekend at an in-store launch at the Contemporary Lounge department in Ballantynes Christchurch.

There to raise funds for the Kaikoura Earthquake Appeal, fans got the chance to meet their hero up close as Shaun took photos and signed autographs for two hours. An auction also took place as fans bid for a special lunch with Shaun and a signed Warriors Jersey, with Ballantynes donating $5000 and 20 per cent of sales of the SJ collection to the appeal.

It's an extension of Shaun's philanthropy and support for causes that are important to him, having also spoken out against cyber bullying earlier this year.

Along with Shaun's own strong social media following and fan base, the response since the collection debut two weeks ago has been promising, with Dan already making a start on a winter delivery for next February.

"For this current collection, we've narrowed the edit to 10 pieces with each style available in two or three colour options," says Dan. "I've been making clothing for about 20 years, so I had a good handle of what we were trying to achieve together with Harley, who then secured some good retailers."

The collaboration between the trio is also key to the label's promising start.

"The best thing about all of us is that we're all willing to listen and work together to put out what we see and what we think the direction we want to head in is," says Shaun. "We've made a few mistakes here and there, but we've been on the same page with them all, so it's been good. There've been some highlights for me this year in terms of footy, but with this range and seeing it grow from when it was just a discussion a year ago to being in stores now is definitely something that I'm proud of. It's an unreal feeling."

See the full debut collection from Shaun Johnson at shop.shaunjohnson.co 

Share this:
More Fashion / Features & Profiles