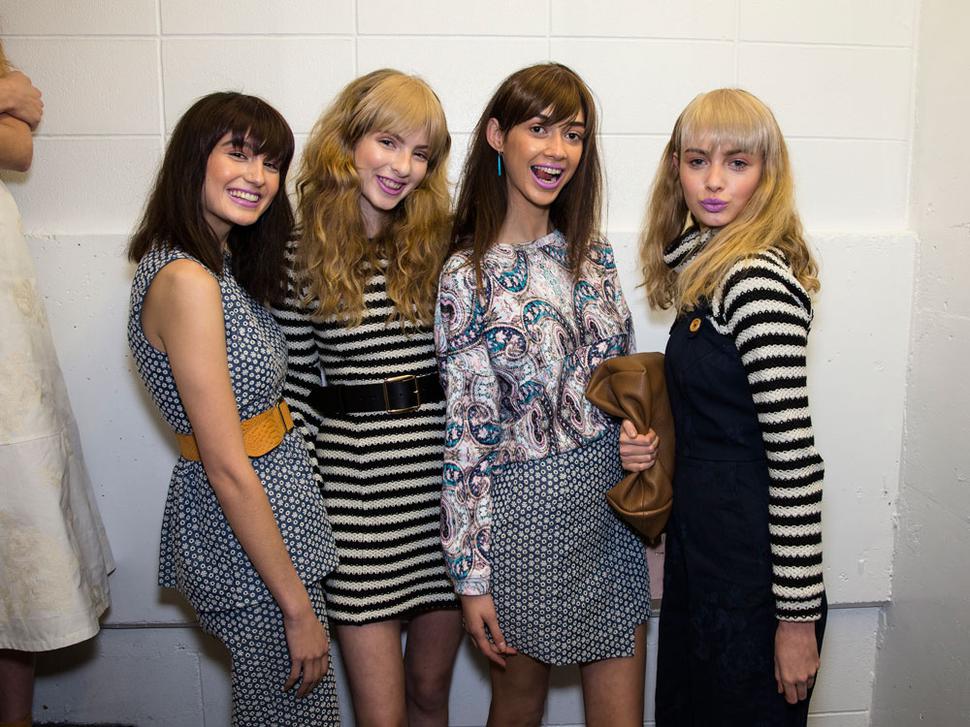 Show Report: Ruby at NZFW 2015
Off-duty ballerina was the idea behind the new collection
Friday Aug. 28, 2015
Who: Ruby
What: A large crowd of showgoers packed into a Wilson car parking lot on Cross St near K Rd, emptied of cars. Models walked the square shaped catwalk showcasing the new collection Tonight, Tonight — which could be shopped directly after the show, with a pop-up 'shop' in the middle.
The collection had all the hallmarks of the fun and effortlessly confident label, with designer Deanna Didovich inspired by a photograph by Erwin Blumenfeld of Russian-born ballerina Alexandra Danilova. There were blush pink coats, a frilled lace playsuit and ballet inspired silhouettes; a stand out black dress laced up at the front with the model's underwear peeking out from underneath.
Set up in the middle of the runway was a powder pink shrink-wrapped square space, opened up after the show to host a pop-up store, complete with changing rooms, hanging shoe stand and till. The next day, the collection was available to buy from Ruby stores around the country.
Unexpected moment... when the music awkwardly went silent at the end of the show and performer Chris Parker and three dancers from the dance group Dynamotion walked out holding keys and pretending to look for their cars. They acted oblivious to the crowd for a few moments before strutting the runway and breaking into a zealous dance routine to Beyonce's Run The World (Girls), with the crowd cheering on.
Not so much: The carpark space had clearly been set-up to have more of an after party, but couldn't be fully enjoyed by many as fashion week delegates raced back straight after the show to the next show at the Viaduct Events Centre — you could tell everyone wanted to stay on and celebrate and take in the fun energy.
Beauty: The ideas was to create an "off duty-ballerina" look; hair was worn out and mimicked the effortless look of the waves from an undone bun, with skin looking fresh and glowy, with a soft lavender colour on the lips.
Music: Club bangers that were turned up so loud that the music thumped in your chest and tingled the hairs on your body.

Runway track list:
Tonight Tonight – Smashing Pumpkins.
Won't Get Fooled Again – Pussy Riot (The Who Cover).
I Can't Stop Being Foolish – The Mint Chicks.
Keri Baby – A. G. Cook.
Shepherd – Tommy Genesis.
Ready, Steady, Go – The Meices
Share this: