Show Report: Sean Kelly at NZFW 2015
See how the Project Runway winner's NZFW debut played out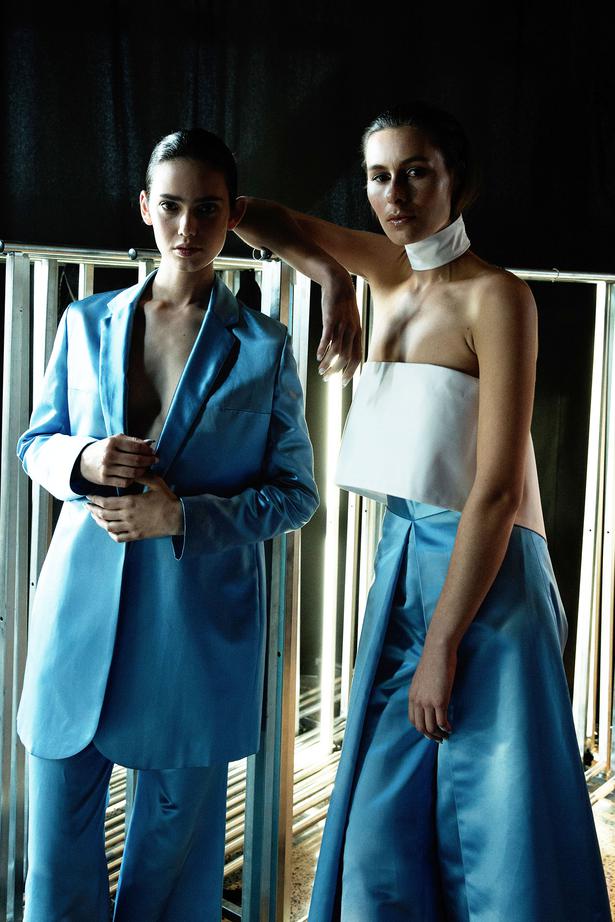 Thursday Aug. 27, 2015
Who: Sean Kelly
What: Project Runway season 13 winner Sean Kelly returns home to showcase his debut collection after his win, made up of 25 pieces. It's the biggest the designer has ever put together. 
Mood: Buzzing. There was much talk about Kelly right up until show time, so the pressure was on to deliver.
We liked: The staging of the show was unique with a forest of glass panels designed by Auckland-based spatial artist Angus Muir snaking down the runway as models navigated through them, with each model stopping at a designated panel and facing it to see their reflections on the way back. It was a well-choreographed show and great to see a designer think about the runway given its limitations.
The collection itself was ambitious and accomplished, focusing primarily on red carpet looks that will no doubt do well within the US, a market the young designer is focusing on.
Dresses embedded with ostrich feathers, high waisted black dinner pants and a tailored black oversized blazer-cum-dress provided a sleek approach to cocktail dressing that was inspired.
From one reality TV show star to another, model Yaya Deng who was a finalist on Australian TV show The Face, closed the show wearing a intricately beaded netted dress with nothing else on except for a red G-string and red stilettos. Risqué as it may seem, Kelly managed to pull it off well without it looking vulgar.
Some looks were recognizable territory that could be attributed to the school of Raf Simons at Dior, whose influence on some designers has, admittedly, been extensive of late. An amalgamation of ideas from the satin neck chokers and strapless tops with wings (Dior Spring 2013), the oversized cotton smock dress (Dior Spring 2015) and the thumping Paris club music of Bug Noticed by French Fries (Dior Fall 2014) and Kill 100 by Graeme Park and Mark Knight (Dior Spring 2013) as a collective, felt familiar.
However, this is Kelly's first proper outing, and the guy has done well to put on an otherwise slick production in comparison to some of the other shows during the week, with a collection that is perhaps beyond his years. We look forward to seeing more.
We didn't like: Difficult to see how some of the dresses were meant to fall and move without the aid of some very visible titty tape.
Music: Thumping club tracks. 
Beauty: Three different looks keyed by M.A.C Senior artist Kiekie Stanners and hair keyed by Matt Benns of Stephen Marr Salon. Read beauty editor Janetta Mackay's notes.
Share this: