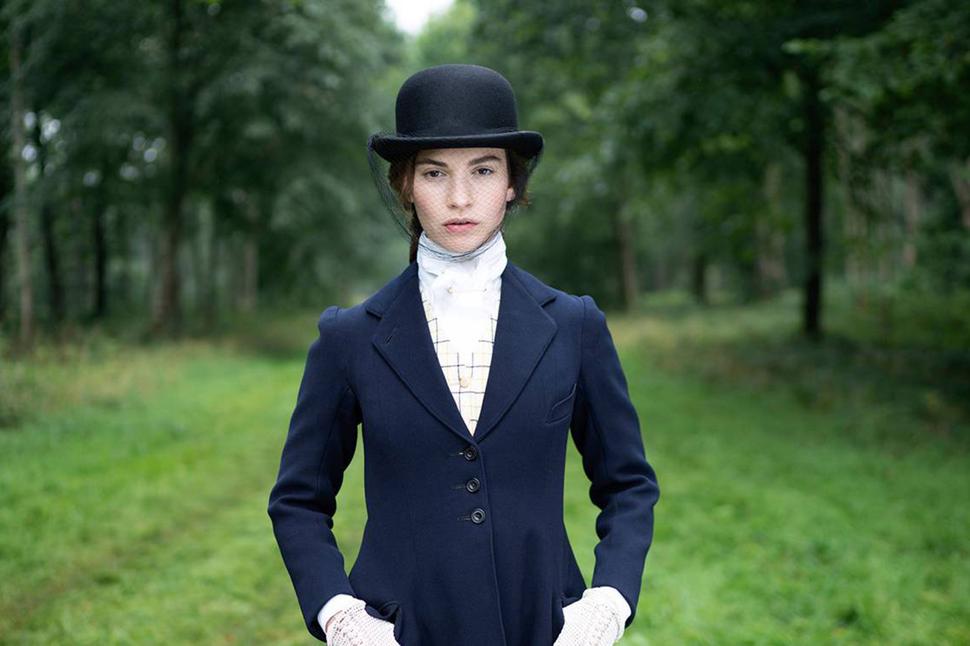 Costume Designer Sinead Kidao's Modern Mitford Style Is Delightfully Audacious
A fashionable new TV adaptation of Nancy Mitford's 'The Pursuit of Love' brings the 75-year-old novel sharply into today
Sunday May 23, 2021
Alongside Lily James and Dominic West (yes, it's that production), the other star of The Pursuit of Love, the rompy new BBC adaptation of Nancy Mitford's novel, are the costumes, of which there are 1200.
Linda Radlett (James' character) alone has 65 costume changes. Mitford adored fashion, and she would have found the costumes in the new adaptation hugely diverting.
Published in 1945, Pursuit is the first in her trilogy about the aristocratic Radletts, who were loosely based on Mitford's own dysfunctional family.
Despite the truly bleak ghastliness of Lord Alconleigh, the Radlett patriarch (played by West), it is tremendously humorous and stylish.
READ: New Netflix Series 'Worn Stories' Celebrates The Nostalgic Power Of Clothing
Emily Mortimer, who appears as The Bolter and also directed and adapted it for a modern audience, had strong views on how the clothes should look.
Her best move was to hire Sinead Kidao, a costume designer who brings reservoirs of verve to the task, as well as a love of Mitford. Result: costumes that are easy on the eye but also complementary to the plot, filling in the narrative gaps that open up when a novel is transferred to film.
They also help make a 75-year-old novel with salty views appear newly relevant. Here's how:

1. The miniseries dives deep into the Bright Young Things of the period — the influencers of their day. Kidao dug through thousands of photographs in the archives of society photographers such as Bassano and Lafayette, Cecil Beaton and the National Portrait Gallery, looking for the most characterful individuals. "We leaned into the most idiosyncratic and unexpected looks," she says. "Sometimes you would look at how someone had styled themselves and think 'is that really
the 1930s?"'
2. It puts the Hot Priest in hot pants. For Kidao's first interview with Mortimer, she showed her a picture of Beaton from 1932, wearing a pair of very short shorts. "I think that's probably what got me the job," Kidao says. "The photograph gave us licence to have Andrew Scott wear hot pants."
3. It's a stickler for details. "Emily was very keen for this production to have a very specific look and feel," says Kidao. "All the creative departments worked closely together to create a visual that is very true to the period, albeit a stylised version."
READ: Costume Designer Edward K. Gibbon's Magical Interpretation Of 'The Luminaries'
4. Rather like a 2021 Gucci show, it's not afraid to embrace the unflattering if it's true to the period. "We wanted to create a world that was authentic to the tone of the original novel — bright, bold and comedic. The aim was for it to be as enjoyable to watch as it was to read. We really relished some of the more audacious fashions of the period to comedic effect."
5. It embraces the joie de vivre of fashion. "Nancy Mitford and Emily Mortimer both adore clothes, and the book and scripts were filled with brilliant details and characterful descriptions," says Kidao. "One of my favourites was how Nancy described Louisa's coming-out ball dress as having a giant overblown flower dangling from the left shoulder that looked as though it was "strangely unrelated to the dress", which we ran with for the actual dress that Beattie Edmonson wears as Louisa."
6. It features a sensational 1930s teal gown in episode two that someone should rush into stores right now. "That dress is my favourite," says Kidao.
7. It doesn't mess around with tawdry fakes. "We were incredibly lucky to have access to Bulgari's archives," says Kidao, "where much of Linda's jewellery comes from. The whole look is quite a statement."
8. It understands the psychological tools of clothes and uses them to flesh out character arcs, "Nancy always described Linda as making a 'sensation in a ball room, arriving in yards of tulle... which wasn't typical of the fashion of the time," explains Kidao. "Linda also had a yellow scarf that was scripted and we used it almost like a keepsake that carried with her through the years, even though her style changed.  She was always 'dressing the part' particularly in her adult years, from the glamorous socialite in the early 1930s, to life as a communist and then as Fabrice's mistress in Paris, where she cultivates a love of high fashion."
9. Much of the costume work was done in lockdown. "I had to buy mostly online from vintage dealers via eBay, Etsy and First Dibs, rather than in person. So there were a few disasters where I got the scale completely wrong. But we just got on with it and it was fine."
— Telegraph
'The Pursuit of Love' is streaming on Amazon Prime
Share this: