Why Sophie Hulme's Totes are Big News
Bag designer Sophie Hulme focuses on quality rather than 'It' status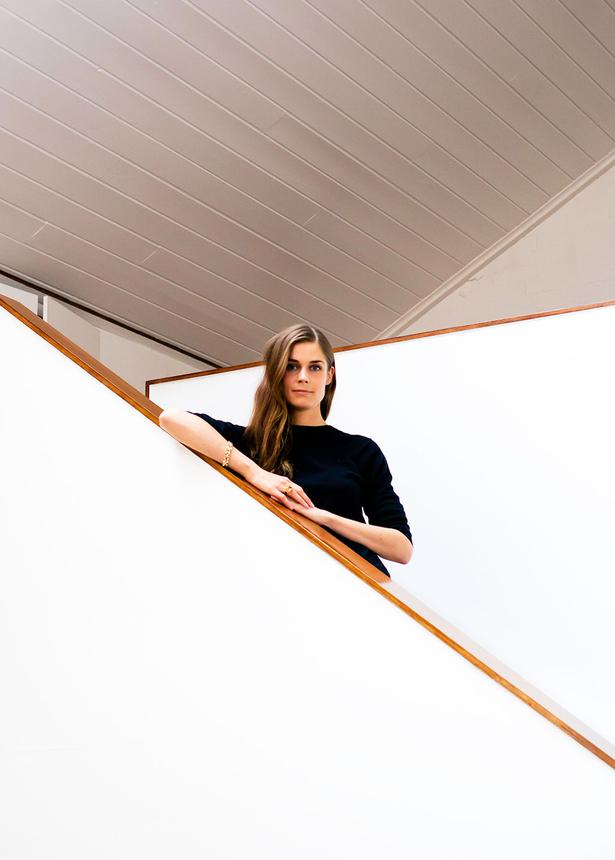 Wednesday Nov. 11, 2015
There is serious power in political gifting, as 31-year-old designer Sophie Hulme discovered when Samantha Cameron, wife of British Prime Minister David Cameron, chose one of her grey leather Albion totes for the First Lady of China, Peng Liyuan.
"The response has been bonkers," she says, laughing, in her studio office in north London, as she explains how being catapulted from the fashion pages to the news resulted in "all kinds of people coming out of the woodwork". "It's incredibly flattering that Samantha Cameron wanted something to represent British design and chose us. It's an enormous compliment."
Given Sophie's pared-back, straightforward aesthetic, it's easy to see why Cameron would have plumped for one of her pieces. They are pure understated charm — a little like Sophie herself. Sophie launched her line seven years ago, six months out of her fashion design BA at Kingston University.
"I never aspired to go into fashion," she says. "No one in my family had anything to do with it, and I didn't have any friends in fashion. I never thought I'd be cool enough for all these terrifying fashion people." She took her first collection to a trade show in Paris and was immediately snapped up by Selfridges. Everything since then, she says, has been done in a "common-sense way, and through trial and error".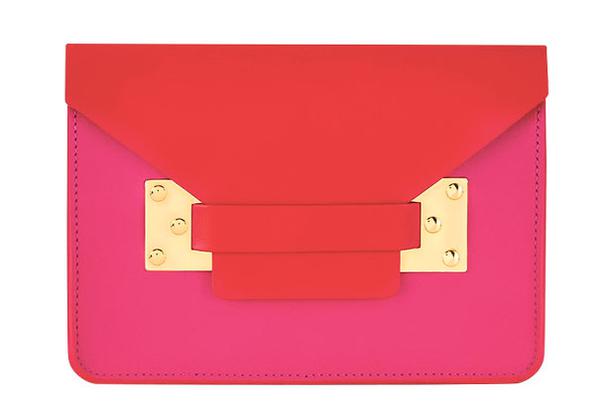 Having won the emerging talent accessories category at the 2012 British Fashion Awards, she now employs 32 people at her studio, a converted toy factory that started out as a flat-share for her and three friends. She has since moved the friends out and employees in, as well as converting one side into a living space for herself and her architect boyfriend.
Sophie now has 400 stockists worldwide and will soon launch an online store (which will feature an exclusive capsule collection of grey bags with silver hardware for the first time). Next year she will expand into evening bags and jewellery, with shoes, clothing and a permanent store hopefully following.
Helen David, fashion director at Harrods, believes Sophie's designs are "effortlessly cool, with no overbearing branding or logos, but are still easily recognisable because of the gold-plated brassware". Harrods has seen "double-digit growth, which shows no sign of slowing down", and sales of her charcoal grey bags have "soared in all styles in recent weeks".
In the light of the four-figure price tags on some designer bags, Sophie's bags are relatively affordable (Liyuan's cost NZ$1268). She is not a fan of the It-bag movement: "I was quite tired of the approach whereby the name became more important than the product, and I think that's the opposite of what we've done. I don't put a logo on any of the bags: I wanted to make beautiful things that were respected as a beautiful object, rather than an 'Oh, it's the Such-and-Such bag by So-and-So'."
Her quirky British wit does show through though, with the fun character keyrings and pom-pom charms that are designed to hang off the bags. "There's an element of not wanting to take things too seriously," she adds. "It's important to have those things that make you smile when you pick up your bag in the morning. There's quite a lot of time spent when we're designing the keyrings, and I say, 'Well, I think that's hilarious, do you think someone else will?'"
— The Daily Telegraph

• Sophie Hulme is available in New Zealand at Seletti Boutique.
Share this: