Trend Test-Drive: Spring Fashion
Viva writers try three of the season's key trends on for size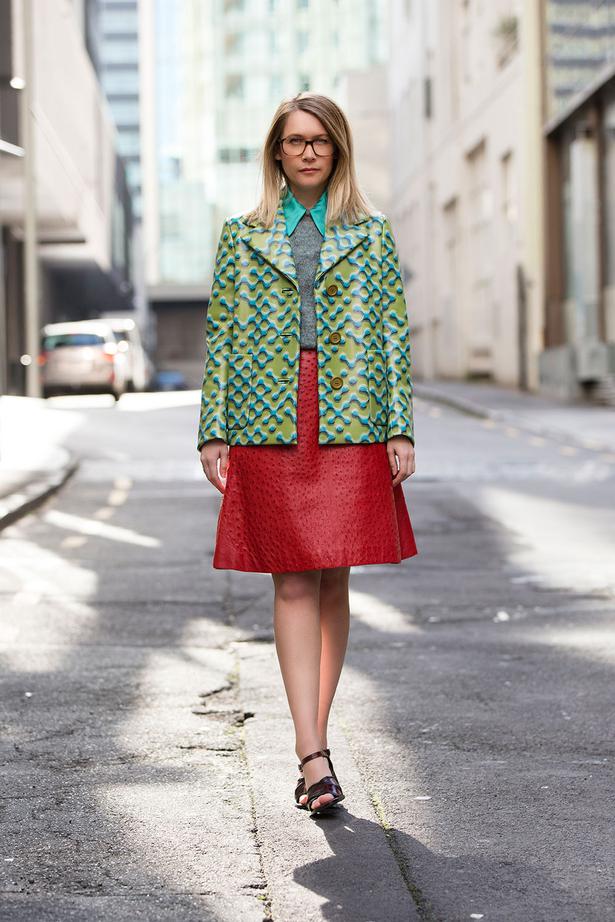 Wednesday Aug. 19, 2015
OLD IS NEW
Associate editor Zoe Walker indulges her obsession with dressing like a granny.
It's been dubbed "attic chic": a tattered glamour that questions bourgeois dress codes and ideas of good taste, seen everywhere from Prada to Margiela, Celine to Chanel. It's also the latest incarnation of granny chic — that old chestnut — a trend that I like to think is an attempt by designers to subvert fashion's weird obsession with youth, and to question stereotypes of sexiness. But I may be overthinking it.
This season's version is faded and eclectic rather than buttoned up, epitomised by Gucci's vintage look that's far from being actual vintage. I have visions of dressing as a wise, eccentric granny with heirloom pieces piled on, in pleated skirts sitting below the knee, sling back midi heels, brooches and cosy knits. Granny chic, geek chic, ugly chic: the lines between these clichés are very much blurred, and in my week of deliberately dressing old, I touch on all of them.
My first look is admittedly more librarian chic, repurposing pieces from my wardrobe: a vintage Nina Ricci wool mid-length skirt, white lace Helen Cherry blouse with a frill neck, Zara houndstooth blazer with elbow patches, a vintage brooch. It all fits the prim criteria, but I have never felt so buttoned up and restricted in my life. The problem with this outfit, I conclude at around 2.30pm when all I can think about is getting it off, is that there are too many granny elements; it feels like a costume.
For the sake of equality (although unintentionally reinforcing gender stereotypes), next I try "granddad chic" — trousers, brogues and shirt under a vintage knit vest. I've been teased for my love of the old fashioned vest, but look, I'm in good company: Prada, Chanel, Bottega Veneta, Miu Miu, Raf Simons have all done them recently. This vest, and outfit, is something I've actually worn before, so I try and style it even more geriatric with glasses and a beret — a styling trick seen at Gucci. I feel ridiculous, not helped when I find myself in a lift next to an actual old man also wearing a beret.
Prada's updated twin-set of a red ostrich leather A-line skirt and boxy printed jacket feels more in line with the season's actual version of the trend: dressing like a rich, slightly bonkers nan. Miuccia Prada is the Grande Dame of fashionable frump, known for taking elements traditionally thought of as ugly or dowdy and making them desirable. This is exactly the type of divisive outfit that would push people's definitions of ugly, frumpy, cool; although surrounded by fashion types all day, most people I encounter generally fawn all over it. Hey, it's Prada.
Helen Cherry's silk ruffled dress with a pussy-bow offers a glamorous take on the trend. Its black and white animal print doesn't exactly fit, but it's the only item I can find with a pussy-bow — a granny chic pre-requisite. Blame the animal print, the fact that I'm wearing heels in the office or that glamour sits incredibly awkwardly on me, but people look at and comment on my outfit all day. "Don't take this the wrong way," a colleague comments at the printer, "but you look like you're from an Yvonne Todd picture." And with that, I know I've hit the off-kilter, attic chic jackpot.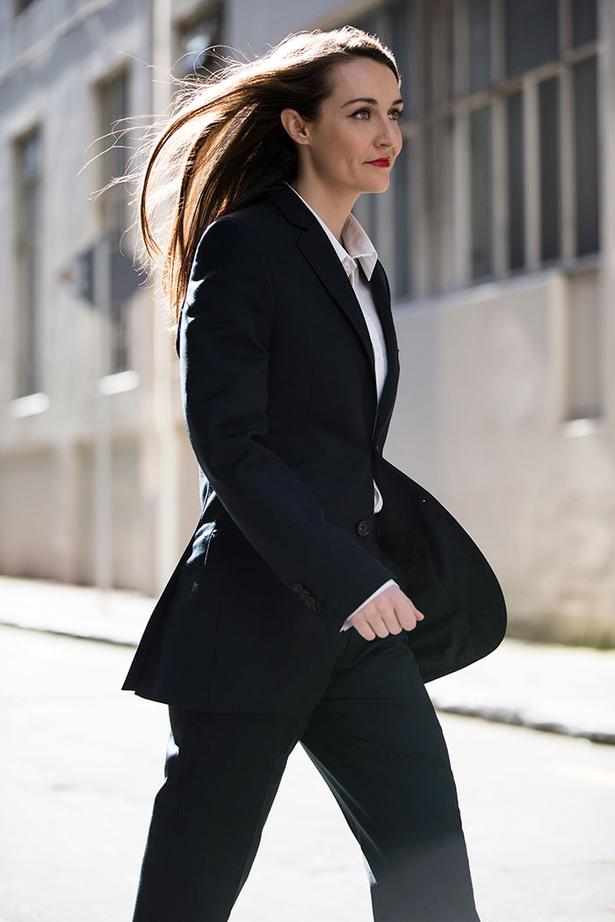 Digital producer Jessica Beresford wears a suit by Crane Brothers. Picture / Guy Coombes.
LIKE A MAN
Dressing in men's clothes offers digital producer Jessica Beresford an insightful look at identity.
For the past few seasons, Miuccia Prada has seamlessly slotted ladies into her menswear shows, musing that it seems instinctively right to interpret the same idea for both men and women. With the conversation around gender fluidity at an all-time high, and not just within the fashion industry, it seems relevant to consider what's traditionally been deemed masculine or feminine, and how we blur those lines within our own wardrobes.
This was at the back of mind when I embarked on a week-long challenge wearing clothes only designed for men, exploring the current fashion mood but also experimenting with any negative connotations associated with dressing for a particular gender ("these heels are killing me!").
I wouldn't consider myself an overtly feminine person, so thought this task would be a breeze. I frequently eye up my boyfriend's sweaters or go looking for men's shirts in opshops (a steal at $2 a pop). Going sans bra wasn't an issue either, not being particularly attached to them in the first place.
I had imagined looking like an assured Jenna Lyons, all pant suits and intellect. A slightly goofy Diane Keaton in Annie Hall, with her beige slacks and black waistcoat, perhaps? Or maybe even Ellen DeGeneres, with her clean varsity attire and big toothy smile.
The first obstacle hit me quick and fast — only wearing pants, shorts and tops was a limitation that was hard to fathom. That's not to say men shouldn't wear skirts and dresses if they are so inclined, but in terms of the majority of menswear collections available in New Zealand this season, there wasn't a midi or mini in sight.
The second obstacle was not so much the clothes' problem as it was my own. In proportion to my height, my feet are slightly larger than average. I usually counteract this by wearing even a slight heel, because they look less like flippers on a 45 degree angle, so wearing only flat sneakers took a while to get used to (besides the fact I kept tripping over my toes).
On the first day, I received some encouraging words: "You've never looked worse," uttered my flatmate, before breaking down in hysterics. I had on a pair of slouchy denim shorts, an oversized knit and a grey button-up shirt, which in theory doesn't sound like an awful combination, but in hindsight I must concur.
Wearing a pant suit was more to my taste, and I can see now why Lyons makes a habit out of it — it offers a kind of confidence that pencil skirts don't allow for.
Despite looking a little bit dumpy the rest of the time, I at least expected to feel overwhelmingly comfortable, dressed in loose-fitting shirts and baggier-than-usual pants. On the contrary, I felt completely on edge — it was as if I couldn't remember how to walk properly or what to do with my hands.
I had always thought of clothes as frivolous bells and whistles, which made visual statements rather than having an overly emotional impact. But wearing someone else's garb — if only for a week — made me appreciate how much our identities are tied to what we wear.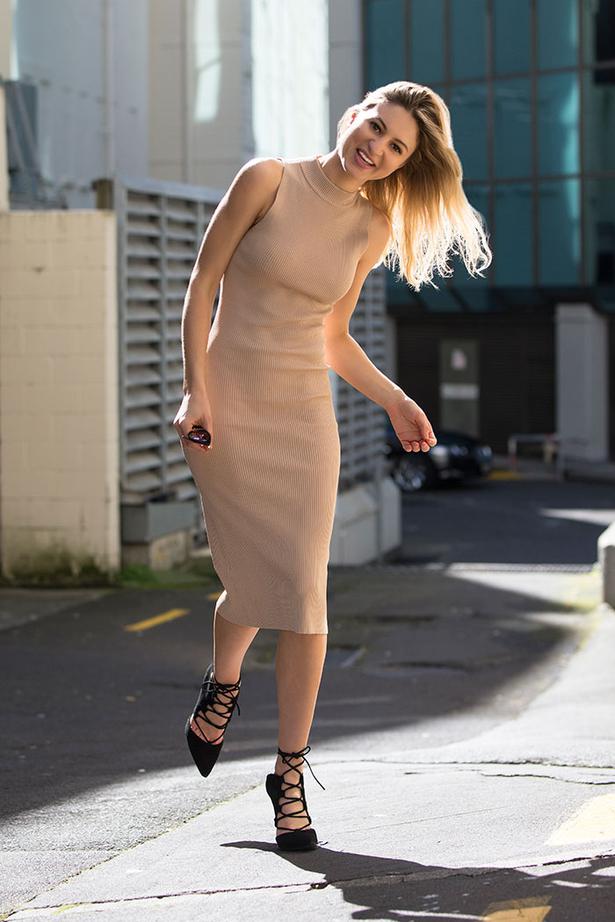 Rosie Kelway wears a Seed Heritage dress and Topshop shoes. Picture / Guy Coombes.
DRESSED TO KILL
Sexy dressing is an unexpected thrill, discovers writer Rosie Kelway.
What do Miley Cyrus, Taylor Swift, Kim Kardashian and Rihanna have in common? Latex. To be specific, they have all worn Atsuko Kudo couture latex, and I came very close to wearing it too.
After weeks of emails back and forth to London in preparation for this story, Atsuko Kudo's team insisted on my measurements, explaining that they only supply pieces if they have specific measurements. Then they wanted a front-on photo, then a side-on photo.
By the time they finally agreed to send me a near custom-fit latex dress, it was too late, with my experiment in dressing sexily nearly over. This story took on a whole new shape, in the form of body-con, figure-hugging clothing, with the likes of Lonely Hearts, Stolen Girlfriends Club and Penny Sage embracing knitted rib, figure-moulding dresses for spring.
My regular style is a bit of an oxymoron: feminine and tomboyish. I've always favoured floaty, baggy clothing rather than trying to squeeze myself into something full-on tight. If I am going to wear something clingy it's generally only one half of my body, never both. So testing out super slinky clothing for a week had me going through waves of emotions. In the words of Destiny's Child: "I don't think you're ready for this jelly, 'cause my body too bootylicious for yo babe." I'm not sure that the Herald newsroom was entirely ready for this racy new aesthetic.
At various points throughout the week I was told that I looked like a condom (wearing a tight nude dress), that I made people feel awkward and to put on a coat; there were stares, there were traffic stand-stills, tummy cramps from the stomach sucking-in-undies and at one time I actually had to go knickerless.
I can now honestly say that I have a newfound respect for the Kardashian-Jenner clan: dressing sexy day in, day out is hard work. It's also really uncomfortable — you can't move around easily at all and getting in and out of cars? Forget it. Two days in, I realised that in order to look as good as possible in these tight-fitting dresses, you have to own it.
On my first day I must have been weaning myself off my normal jeans and a T-shirt look, because I wore sneakers with a tight vinyl skirt — but was swiftly told I wasn't doing the look justice and that in order to bring sexy back, I needed to be wearing high heels.
Once I warmed up to the idea of revealing the shape of my body, I seemed to find a newfound confidence. Dressing sexy does feel risky, but comes with a bit of a thrill. I felt like I had an extra, 'don't mess with me' air. You soon get past the feeling of wanting to rip off your dress in exchange for something more comfortable. I could get used to a little body-con in my wardrobe...and maybe in the future I'll finally get that Atsuko Kudo latex dress.
Share this: