Meet Five Stand-Out Graduates Showing at AUT Rookie 2018
Some of the brightest next-generation fashion stars talk Viva through their graduate collections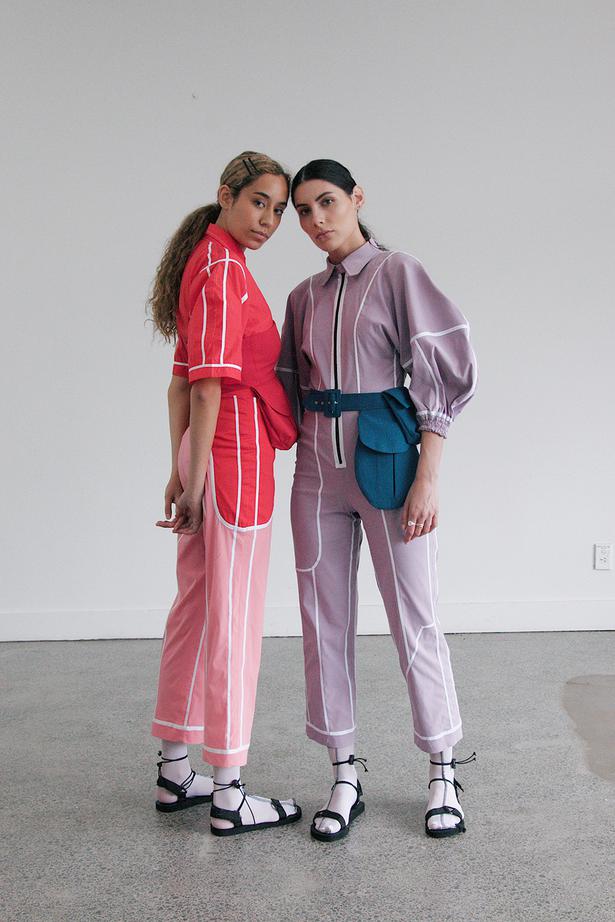 Wednesday Nov. 7, 2018
There's a fresh crop of students graduating from Auckland University of Technology's fashion design department this year, and they'll be showing their final graduate collections this Friday at the AUT Rookie fashion show. A showcase of the best and brightest of our next generation fashion stars, the AUT Rookie show is always a highlight on the fashion industry calendar. Here, five AUT Rookies talk about their collections.
LAVINIA ILOLAHIA 
Lavinia's graduate collection, named 'Sidelined', highlights the associations between a specific race and their ability to excel in sports (in this case, focusing on the Pacific).
Being a young Polynesian woman with no interest in sports, Lavinia channelled the concept that she has been 'sidelined' by those who might expect her to revolve her talent or skill around sport to create a high-end streetwear collection with elements incorporated from sportswear.
"My collection is a physical manifestation of outworking what I do (fashion) with what society commonly expects I do," she says. "By doing it this way, it gives me the chance of connecting myself with this stereotype (as it isn't a bad thing) but in my own terms."
The concept behind your collection is interesting and intelligent — can you tell me how you went about channeling this into fashion?
Research is usually the place I would initially start, but in this case because my concept revolved around the idea of stereotyping, I wanted to take what gave sports/sportswear its identity — and portray it in a way that didn't fit.
I went about this by taking the first things that came to mind when I thought about the subject matter — and then I let those things dictate where I took my research and then finally, my aesthetic, silhouette and feel of the collection.
Each look is a combination of my initial thoughts when thinking of sports: courts, nylon, uniform but also me. The most important part of this concept was the idea of merging sports into my world in order for me to find that connection. In order to do so, the overall feel was dictated by what aligns with my natural design style — clothes that are clean, smart and sleek.

What was the construction process of your garments and techniques you used?
The most noticeable technique that was used in this collection was the outlining of seams and design lines with sporting tape. This technique was used to emulate the court lines of a basketball court as a way of portraying the idea that one literally wears their stereotype when they're in it.
All Taslan shirts nod back to sportwear with the use of open-ended zips and velcro button hole stands as opposed to buttons.

Can you tell me about the fabrics you used?
Going into this project I knew that my fabric choices had to be specific in order to make it a success. I went with fabrics that are commonly associated with sportswear. My main fabric choice included Taslan, a fabric usually used for track suits, jackets and training wear.
I wanted to use it in a way that stripped it of its association with what it's commonly known for — this aided my decision in straying away from what could be expected from a "sportswear" collection and resulted in the various shirts, skirts and tailored trousers that were made instead.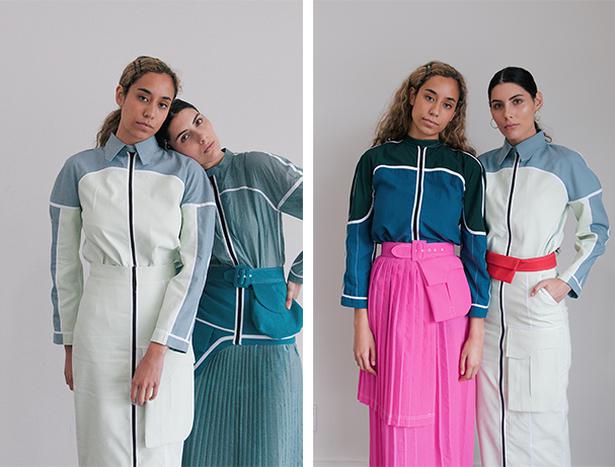 What made you choose the colour palette you did?
From the beginning, I wanted to keep this collection quite light — in no way did I want to portray my concept as a negative or for Polynesians who do well in sports to feel less than, because being good at sports just means having a higher level of body intelligence and it should be something to be celebrated.
In saying this, by wanting to keep this concept positive I thought the best way to do so was through colour. William LaChance's St Louis basketball court informed the formula of how I came up with the colour scheme.
It used a mix of loud colours next to pastels and neons, which I thought was refreshing, and so taking that into consideration I decided to borrow my palette from it.
Do you think it's important for fashion to have a deeper message behind it?
Yes, I believe there are certain things that only the creative arts have the ability to express, in a way that makes it felt wholehearted. I also believe fashion holds more power in society than people give it credit for.
History has shown that it was clothes that dictated socioeconomic classes, it painted a picture of what we perceive masculinity/femininity to "look" like, it holds connotations that have the ability to live beyond years — for example the beret: a political statement. Having a message behind fashion brings it the substance it needs to set it apart from it being "just clothes".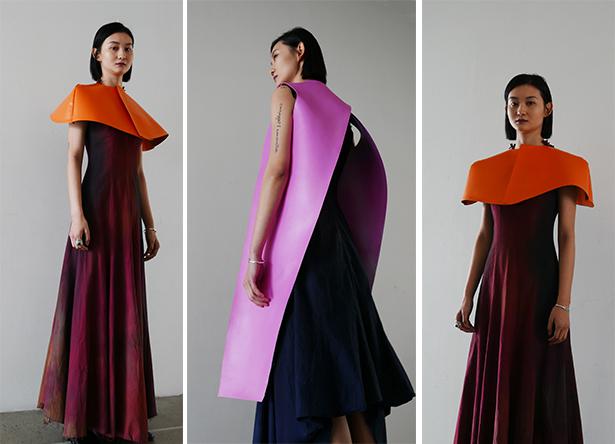 SEAN KETTLE
Sean's collection was inspired by the 'solemn depth' of Mark Rothko's famous paintings and the expertly sculptural creations of Balenciaga founder Cristobal Balenciaga.
His dresses are hand-dyed with raw necklines and armholes, contrasted with sculptural and minimal leather pieces. "The collection has a raw yet elegant feeling," says Sean, "and the relationship between the different elements should challenge the viewer."
What was it about Rothko and Balenciaga that inspired you for this collection?
I was initially inspired by Cristobal Balenciaga's way of creating extreme volume with minimal and precise pattern making and construction. I then used Mark Rothko's work as a reference for how to create a solemn mood through colour.

Can you tell me about the materials and techniques used to create your garments?
The dresses are made from calico which has been hand dyed in multiple layers and tones. Calico is used most often as a toiling fabric so using it as a final fabric gives the dresses a grittier feeling.
The outer pieces are made from bonded leather which was then spray-painted. They are extremely stiff and only have slight movement. They are quite brutal forms but are sprayed very bright playful colours which makes them seem less masculine.
How would you describe the person who wears your clothes?
Someone who wants to feel elegant and powerful.
Why did you focus on dresses for this collection?
Despite fashion being dominated by streetwear I still think people want something that has a more classical romance.

You mentioned your collection's relationship between raw and elegant should challenge the viewer – do you think fashion should be challenging? Why?
Fashion should challenge your views on beauty and respond to the world around us. If you don't try to do this there is no point designing.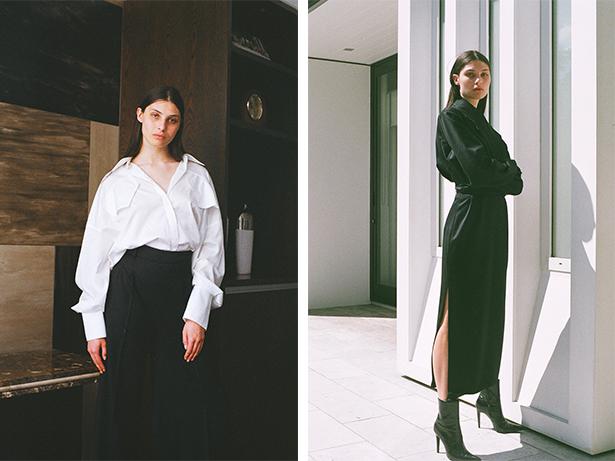 DIANNE KWAK
Dianne's grandmother's signature oversized blazer was the initial inspiration behind her collection. Although a ubiquitous clothing item nowadays, during her grandmother's time it signalled a rebellious spirit, refusing to dress and conform in the way that was expected of her.
"This collection is targeted at women who live for themselves, and who create their own standards, on their own terms," says Dianne.
Describe your design aesthetic?
Clean, minimal and pared back. I love classic pieces like a good button up shirt and pants that just fit really well.
What about the fabrics you used?
For this collection I have used a range of 100 per cent cotton, wool, and silk wool blends. Choosing the right fabric was very important to me. The quality of my garments are equally as important as my designs.
You have used exaggerated shapes in your collection — extra-long sleeves and trousers. What made you incorporate this design element?
My grandmother has always been a petite woman, so the blazer she received as a gift was quite oversized for her frame. I remember seeing in photos that the sleeves were too long for her.
This image has always been stuck in my head and when I think of my grandmother I can always picture her in her oversized blazer with extra-long sleeves. I wanted to incorporate this into my designs. All my designs are super high waisted and have long sleeve cuffs, exaggerating my silhouettes even more.
You spoke about your grandmother being 'rebellious' — in this day and age of fashion, when almost anything goes, what do you think it means for a woman to be rebellious?
My grandmother was considered rebellious for her time and environment. She did not live her life to other's standards and stereotypes to make them happy. She chose to live her own life, even though criticism could follow. Today however, I feel that women have broken down many standards created by others in comparison to my grandmother's time.
But I do still think that even though people are saying that women can do anything, we are still fighting for equal rights and women fighting for this have been described as 'rebellious' countless times.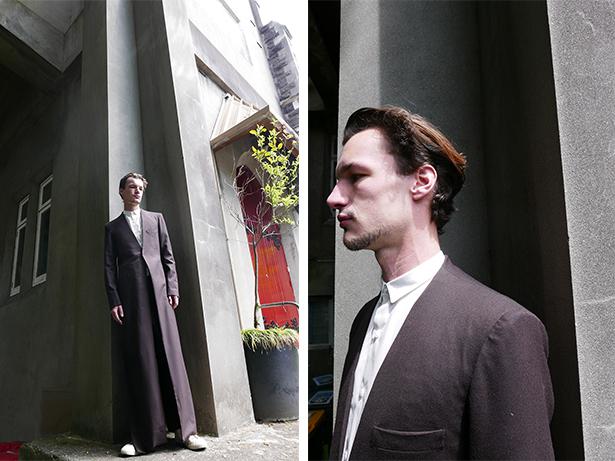 JOON YANG 
A collection of contemporary menswear, Joon developed his five looks from an exploration into the concept of austerity. Rooted in the clean lines of religious clothing, the collection encompasses both the rigidity and fluidity of menswear, with tailoring forming the foundation, with a hint of relaxed softness.
Why did you decide to explore the concept of austerity in your collection?
I wanted to create a reaction towards contemporary fashion which I feel is dominated by chaos and playfulness. I felt austerity would help to ground my work, and capture its conventional perspective of masculinity, seriousness and the 'formal' aspect, which then would relate back to contemporary menswear.
How did you translate the aesthetic of religious clothing into something modern and wearable?
I interpreted religious clothing as having a sense of cleanliness, and in this collection I developed that aspect through an elimination process. During this process, most of the conventional design features such as the lapel were stripped back to set focus on the silhouette and structure of my collection.
My designs have a minimal aesthetic, which helps it to relate to a more contemporary time, yet it holds the visual aspects that reference the traditional garments.

What references did you explore when researching austerity and religious clothing?
I mainly researched the proportions and silhouettes of the religious garments as I felt they were so pure and powerful. To create the same mood in my work, I felt the aspect of austerity would help me to keep a distance from religious clothing and shift away from taking references too literally.

Can you tell me about the construction techniques you used to create this collection?
I used the foundation of tailoring to build a structure around the body. I added full canvas and shoulder pads, as well as different types of structured interfacings to help develop the 2D fabrics to fit the body.

What kind of person do you envision wearing your clothes?
I think my collection is aimed at a universal point of wearability and desirability in menswear. The ideal vision of a person that wears my garments could be seen on the street in an everyday aspect. But they could also to go to formal events without feeling too casual and light.
GEORGIA SMITH
British 1980s skinhead subculture formed the basis of Georgia's collection, in particular a book by photographer Derek Ridgers: Skinheads 1979-1984. Exploring the possibilities of how to distill the masculinity and strength of male skinheads into womenswear
How did your affinity for skinhead culture begin?
In our society, consumed by the forever growing digital and social media epidemic, I felt myself overwhelmed by its ability to flatten hierarchies, and how there is no space for subcultures to be 'sub', because of digital technology melting away space and time, and everything being interconnected. I was fascinated by the tribal identities that were apparent in the 1980s.
This is a strength that's neither apparent nor possible in today's internet-driven climate. The contemporary fast-paced and 'online' way of living hinders any chance for emerging subcultures with identities that are truly authentic or apparent because subcultures need a chance to develop, which requires time and an organic existence, without publishing or commercialising it.
I love the strength and tribal nature of rap culture and the skinhead culture really struck a chord with me probably for the same reason. I also loved skate culture and follow the likes of Gosha Rubchinsky.
Rubchinskiy's often has a tribe of kids—street-cast via Instagram for his shows, and often have the same sort of look in order to look like a cohesive gang. In my research, I found Derek Ridgers' photography which showed the raw, aggressive, authentic nature of the skinhead culture.
In today's not-even-skin-deep world, this was real and I knew I had the foundation for my collection right there and then.
How did you decide on which elements to incorporate into your clothing?
Many subcultures in the 1980s used music, clothing and sport as a social glue to form their fashion- based youth cultures. These uniform pieces consisted of items such as 12-hole Doc Martens, rolled cuffs, MA1 flight jackets, Harrington Jackets, Denim Trucker Jackets, suspenders and Polo shirts, styled especially with rolled cuffs and suspenders.
I often work in a collaging process and like to layer and play with proportion. I would often photocopy hardware/details I liked, or take photos at army stores or op shops of detailing, and play with how I could deconstruct the image and remake it into my own garment or design. I also used these uniform pieces and changed the fabric into something more unexpected to contemporise the style.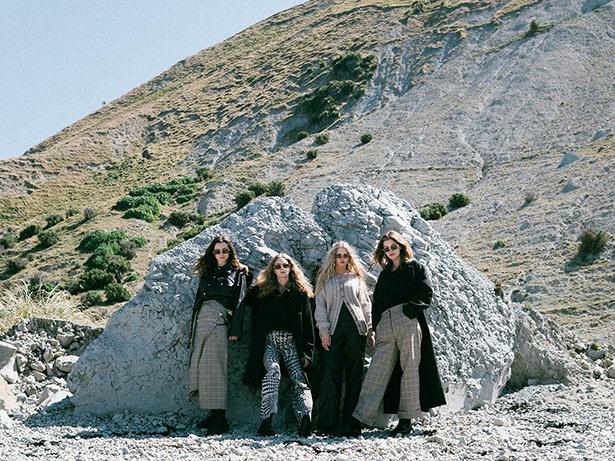 You said you worked with fabrics from New Zealand — is this important to you?
As a new designer in this day and age, I want a completely transparent brand. I believe ethics and aesthetics can sit hand in hand without much compromise, although living in New Zealand can limit you to the fabrics and colours readily available.
I like to be able to trace all my finished textiles, where they were made etc. Within my own t-shirt company, which I have on the side of uni, I made sure everything was hand drawn, printed in Auckland, and the t-shirts themselves were child labour-free.
Working with New Zealand fabrics and fibres has shown me the level of quality that New Zealand produces. I love to make things of a really high quality that will last forever, such as a leather jacket or a woollen cardigan.
Working with New Zealand Light Leathers was amazing, to have the chance to use such a high grade leather, and one of the only companies in the world that produce deer Nappa; they supply to companies such as Yumei and The Row!
I also worked with a printing company to create some of my own fabrics which was a challenge but a really interesting learning curve.
Exploring male skinhead culture and translating it into womenswear forms the basis of your collection. Why did you decide to make womenswear rather than menswear?
As a young woman, I prefer to wear clothing with the same connotations that menswear has to offer. I often wear large oversized clothing and like to see a woman who is wearing something powerful and strong as opposed to the traditional, outdated idea of femininity being a delicate, innocent and fragile thing.
I think it's important to create womenswear that doesn't conform to the typical social norms. I chose to work with the aggressive male self-empowerment that these skinheads so wonderfully embraced and turn it into a collection which empowers women with a freedom to embrace their own suppressed aggression, in a positive and confident way.
Share this: