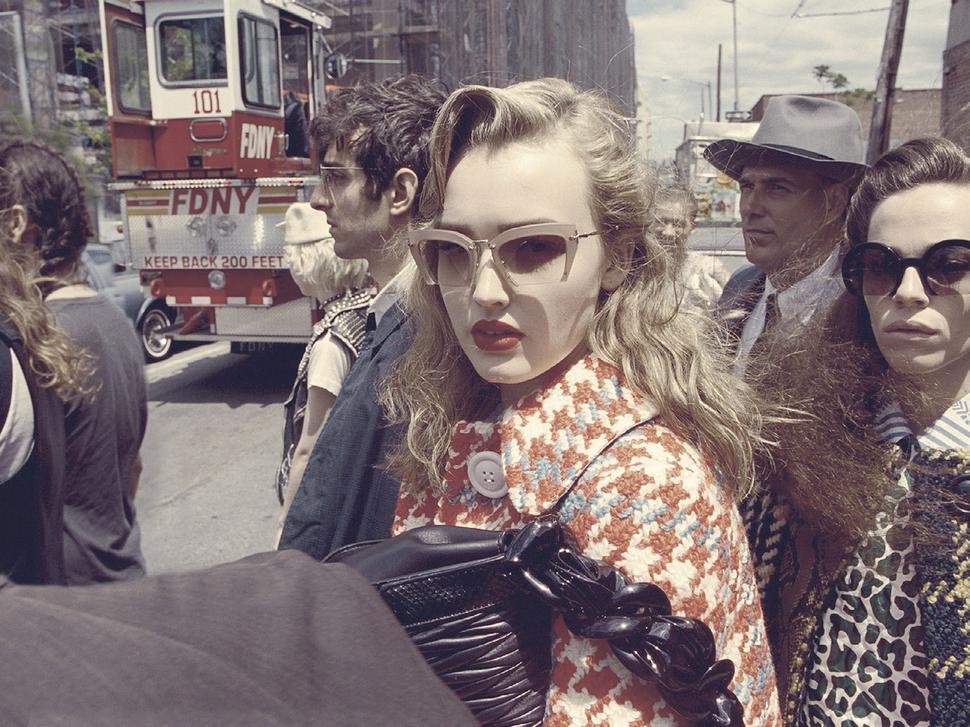 The Rise of Statement Glasses
Never mind a new clutch bag, have you got the latest shades?
Friday Dec. 11, 2015
In days of of yore only eejits and George Michael wore sunglasses in winter. But life is more complicated now. As an Italian expat told me recently, a grin of supreme contentment spreading across his handsome face, "everyone used to laugh at me for wearing my shades in winter. They don't any more".
They're probably too busy inquiring where they can find a pair with curly-wurly arms just like the Pradas he's wearing, or oohing over his folding Persols, or aahing over his velvet Ray-Bans.
It's this repertoire that's new. "Instead of one pair a year, women of all ages are buying a wardrobe of sunglasses — Ray-Ban Wayfarers for daytime, and more elaborate frames for a party or a special occasion," notes Alessandra Beccarini, product development director at Luxottica.
Luxottica is well-placed to observe this redirection of spending power. The Italian company, which manufactures 80 per cent of designer labels, including Giorgio Armani, Burberry, Prada, Miu Miu, Dolce & Gabbana and Versace, sold more than 7.6 billion euros ($1211 billion) of eyewear last year (including prescription). The first nine months of 2015 saw its profits increase by 15.4 per cent — a detail not lost on luxury brands, which are seeing bag sales slow down, especially in China.
Opticals are poised to overtake bags, the turbo fuel that has motorised most brands' profits for the past 20 years. And unlike bags which eventually get deposited, glasses stay with you, either on your face, the top of your head or slotted into your neckline.
"Opticals aren't just part of an individual's total look, they're increasingly a major part of fashion and luxury brands' image," says Delgardo. "We're seeing more and more glasses presented seasonally on the catwalks."
Earlier this month, Kering, the group that owns, or partially owns, Alexander McQueen, Christopher Kane and Bottega Veneta inter alia, announced it was taking the design and production of all its sunglasses in-house. From now on, its designers will be more involved in the process.
Thanks to new materials and techniques, designing eyewear statements can be more challenging than coming up with an interesting grey jumper. Dior is about to launch Dior So Real, inviting customers to customise their own styles online. It's a long way from when Anna Laub launched Prism, high-quality, handcrafted-in-Venice, subtle-statement opticals, back in 2009. "There was such a dearth of interesting eyewear," says Laub. "That's why I launched Prism. I wanted to get as excited about wearing glasses as I did about shoes."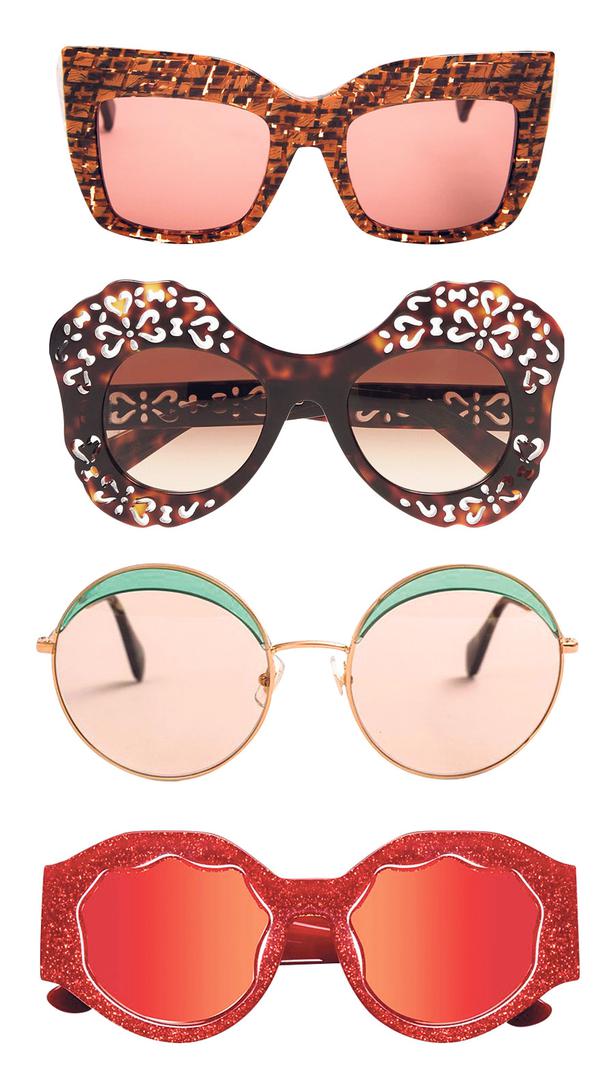 Miu Miu (pictured left) and Prada also spotted the potential for sunglasses to become cutting-edge accessories, rather than a generic after-thought, early in 2011. Besides witty, arresting frames that added instant playfulness to a look, they introduced a spectrum of tinted shades to appeal to the growing number of consumers wearing shades when it's overcast. The response was immediate, with style stars such as 66-year-old Linda Rodin and 26-year-old Leandra Medine (of the Man Repeller blog) demonstrating how effortlessly one can make instant, edgy style statements with the right eyewear.
The latest departure is viewing eyewear as a continuum of jewellery. Pomellato, the upmarket gems house (also owned by Kering), is about to launch a line of high-concept sunglasses. Boucheron, once more famous for its diamonds already has one. Cartier sells gold frames.
Men are equally susceptible to the "wardrobe" concept, lured by nerdy engineering features such as Persol's folding frames — a neat update of its 1955 classic. Laura Imani, an independent designer and producer of eyewear says "customers are responding to discreet expensive details, rather than obvious bling — hand-polished, highly glossy, two-tone frames, made in Italy, gold hinges from Germany". This is one status symbol that nicely intersects with necessity.
Inevitably, prices are climbing. The average pair of Boucheron sunnies is £600 ($1346). Bottega Veneta's limited editions are around £820. Dolce & Gabbana's Mama's Brocade (like bags, some sunglasses designs now have names rather than numbers), are £2500, while Puyi Optical in Hong Kong offers precious metal frames for hundreds of thousands of dollars.
"I think we're at the point we reached with premium jeans 15 years ago," says Laub. "If you wear something every day, then it's not a terrible idea to invest in something that's designed and crafted with absolute integrity".
"Anything under £200 will probably be a moulded frame that's poured into a mass-produced frame and varnished rather than polished," says Zach Duane, chief executive at Victoria Beckham. "That doesn't make it a bad product, but it won't have the longevity of hand-polished acetates, which develop their own patina over time." Meanwhile, £600 ensures 10 or 15 different components and processes, innovative textures — and advertising.
"Part of the process for our acetate frames involves placing them into giant tubs where they're tumbled for days with ceramic pebbles to achieve different finishes," says Duane. Whatever the procedures, a £350-£400 pair of glasses will still seem affordable compared with a £1500 bag.
As a marker of how integral original, well-designed sunglasses are to a brand's cachet, like Kering, Victoria Beckham, recently brought her sunglasses in-house. "From the beginning, if Victoria was going to be taken seriously, she had to be the best in every category," says Duane, "and our sunglasses, which are around 25 per cent of our business, had to come from the core of our design aesthetic." One of their best-sellers is £600.
"Frankly," says Duane, "our biggest problem is keeping them in stock."
In other words, eyewear isn't a key accessory; it's the key.

— Telegraph
Share this:
More Fashion / The Latest