The Manifesto Interview: Stefan Siegel
Founder of Not Just A Label and judge at this year's iD Dunedin, Stefan Siegel is flying the flag for generation next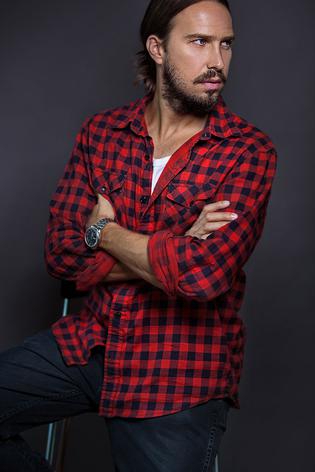 In 2008 Stefan Siegel founded Not Just A Label, a dynamic platform for connecting young designers to the world. NJAL has since grown into the biggest global support network for fresh talent.
Stefan gained an MA in international business administration in 2004, which ultimately led to a position at Merrill Lynch M&A Investment Banking group, specialising in the consumer and retail sector. Off the back of this role, Not Just A Label was born.
Stefan's passion for the new has seen him grow a database of over 21,000 designers, which links them with consumers, press and buyers. This directory is the core of the platform which also includes an online store, fashion features and job listings — an invaluable pool of resources for designers trying to cut through the noise.
There's no denying this platform was well ahead of its time, as the industry continues to shift and designers push back against the immense creative pressure they are placed under. NJAL places focus on craftsmanship, slow fashion and sustainability.
Stefan currently resides in London, but is headed to New Zealand for iD Dunedin Fashion Week where he will take part in a talk at the Dunedin Public Art Gallery on Thursday 17, at 3pm. The iD International Emerging Designer Awards will be held later that evening, and Siegel will appear as an international guest on the panel, judging the work of the 39 young talents in the show.
LONDON
Where do you live? East London.
Best thing: Mental freedom.
Worst thing: Physical restraint (related to the horrible mobility and traffic situation).
Must see/do: Pick an airplane window seat on the right side, and land at Heathrow at dawn, the best view of London you'll ever get.
TRAVEL
Favourite city: Los Angeles.
Favourite destination: A remote valley in the Alps.
Favourite hotel: Chateau Marmont, Hollywood.
Airline: Are there any good ones?
Snow or beach holiday? Snow for sure.
FOOD
Cuisine: Paleo.
Restaurant: Mum's kitchen.
Bar: Hoi Polloi, Shoreditch.
Cafe: Ozone London.
Dish: When do they invent intravenous food?
Death row meal: Kaiserschmarrn — try spelling that.
FASHION
Ethos: Individuality.
Designer: 21,3999 designers on NJAL.
Work clothes: Denim and sweatshirts.
Luxury brand: Public School.
Store: NJAL at the Waldorf Astoria in New York.
Online store: Mr Porter.
GROOMING
Moisturiser: Aesop Fabulous Facial Oil.
Perfume: Giorgio Armani Prive — Bois d'Encens.
Shampoo: Whatever my hotel offers.
Toothpaste: Marvis Liquorice.
CLOTHES
Shoes: Marsell.
Shirt: Raf Simons.
Jeans: Denham.
Blazer: Bergfabel.
Sunglasses: Rayban.
Underwear: Ralph Lauren.
Trainers: Saint Laurent.
Wallet: Saint Laurent.
MEDIA
Newspaper: The Guardian.
Magazine: Frame.
Website: Disegno Daily.
Blog: People still blog? Check out @BlackJaguarWhiteTiger Foundation on Instagram.
Stylist: Alexandra Carl.
CULTURE
Artist: Rob Aigner.
Writer: Karen Finley.
Filmmaker: Ulrich Seidl.
Architect: Edgar J Kaufmann.
Photographer: Leroy Grannis.
Share this:
More Fashion / Features & Profiles