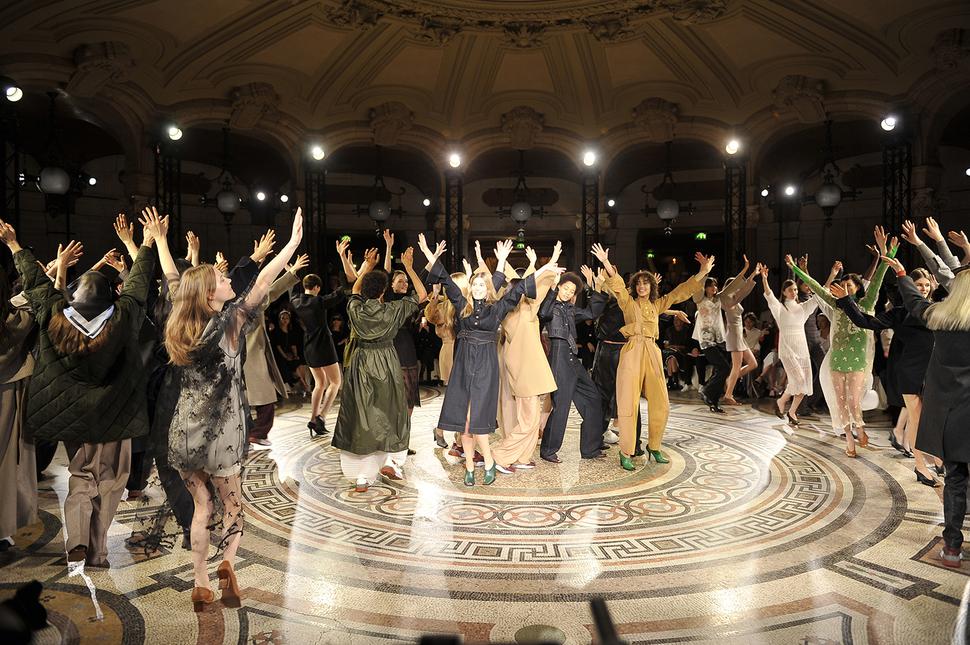 Stella McCartney's Womanly Energy in Paris
Look out! Stella McCartney is bringing back the pointy bra
Tuesday March 7, 2017
There was something both lighthearted and tough-as-nails about the fall 2017 collection that Stella McCartney sent down the runway at Paris Fashion Week.
Some of it had to do with the mix of soft knits, lace and tailored menswear fabrics that made up her collection. Fearsome power and elegance were juxtaposed in the prints of "Horse frightened by a lion" taken from the work of the English painter George Stubbs.
But an awful lot of the tone was set by the pointy little bras worn by the models. The first models wore knitwear that had the bosom delineated by subtle, concentric stitching. The details drew attention to the breasts but didn't elicit a stare.
But then the bosom became more of a focal point until it looked as if nipples would soon be poking right through the finely woven knitwear. It was hard not to stare at such aggressive breasts. Stand back. They look a little dangerous.
The pointy bras were modeled to a soundtrack dominated by a single line from the Princess Nokia anthem, Brujas. "Don't you f-ck with my energy." It was a refrain repeated again and again as the models made their circuit through the rooms and corridors of the opulent Palais Garner.
McCartney's finale included an homage to the singer George Michael, who died on Christmas Day last year. The models danced to excerpts from his hit Faith. But those lyrics were soon mashed up with a chant of "faith" and "love." As well as the take-charge rejoinder, "Don't you f-ck with my energy."
In 2017, the pointy bras are not about trussing a woman up and putting artificial constraints on her natural shape. And they aren't just an aesthetic lark. They are a metaphor about a woman harnessing her own physical strength. All that womanly energy is - yes - focused, erect and pointed. Don't mess with it.
- The Washington Post
Watch the Stella McCartney Fall 2017 show:

Share this: