Show Report: Stolen Girlfriends Club at NZFW 2015
Stolen Girlfriends Club celebrated its tenth year at NZFW this year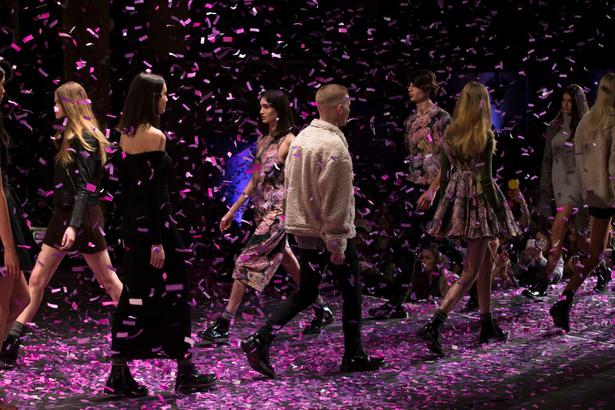 Thursday Aug. 27, 2015
Who Stolen Girlfriends Club, celebrating its tenth year in business with a show and, true to their roots, a rowdy birthday bash.
Where: Venue of the week inside the recently reopened St. James Theatre. Guests sat on stage, while a crowd amassed in the stalls below - perfect for a stage dive from model Derya Parlak mid-way through the show.
What: The collection was called Township Rebellion, looking to dusty small towns and the dreams to escape them. Designer Marc Moore grew up in Raglan and remembered driving through nearby Huntly on his way out, hence the Huntly printed black hoodie and other bogan touches: acid wash prints, ripped black denim, sheepskin jackets, a gang of bored looking girls in very mini skirts. There were prints inspired by the faux mink blankets you'll find at the Avondale markets and hanging on the walls of any good Westie's home, while a custom floral print was based on Derek Henderson's well-known hydrangea photo from this Mercy mercer series, photographed along the Waikato River. This was an in-season collection, so many had already seen it; with a few exclusive pieces added for the show.
We liked: Blame the excitement of being back inside the beloved St. James, but the energy was electric. Opening the doors to their customers, who could buy tickets as well as SGC merchandise after the show, was a business savvy touch.
Not so much… Looking to small town New Zealand for inspiration should be applauded - our own backyard is beautiful, and more designers should do it. But packaging up bogan chic to sell to Ponsonby and Newmarket is pretty ballsy. My West Auckland relatives would wear ripped black denim and ratty knitwear like that shown on the runway to go fishing, bought for less than half the price of what SGC will charge for it. But look, I get it: that's fashion.
The music: A great tracklist reflecting the concert like feel of the show, followed by a performance for the after party by New Gum Sarn.
The Amazing Snakeheads – Can't Let You Go
The Cure – A Forest
These New Puritans – mkk3
Nirvana – Love Buzz
These New Puritans – Navigate, Navigate (The Loving Hand Remix)
Death – Politicians in my Eyes
The The – Giant
Tame Impala – Baby on Fire
Die! Die! Die! - Whitehorses
Caribou – Found Out
Joy Division – Love Will Tear Us Apart (The apple scruffs re-edit).
Stream the soundtrack here.
Sell-out piece: If you live in Auckland, expect to see that hydrangea print everywhere (a nice follow up to their popular Karl Maughan print collaboration in 2011). But those cigarette branded T-shirts will be the biggest sellers; an instant SGC classic.
Share this: