The Rise of Streetwear Pyjamas
Would you dare to wear pyjamas as streetwear this holiday season? Robin Givhan examines one of fashion's favourite — and most perplexing — trends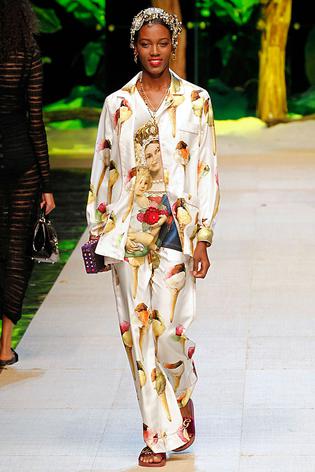 Designers really want to turn fancy pyjamas into glamorous streetwear. The average shopper seems unconvinced. Yet the fashion industry will not let this idea go, despite your reluctance to wear a pair of silk pyjamas to a cocktail party. Indeed, in an uncharacteristic display of independence, confidence and adherence to civility, consumers have been immune to the concept. They've ignored the celebrity endorsements and the cache of designer labels.
The world is bravely refusing the normalisation of pyjamas. Shoppers, stay strong.
Mind you, designers are not touting basic cotton PJs, flannel onesies or even filmy nightgowns. They want you to wear extremely fancy silk pyjamas and dressing gowns — the sort that you might sleep in, if you had a manservant dressing your bed in Pratesi sheets and Hermes throws.
The point of these pyjamas, however, is not sleep. They are intended to be glammed up with chic shoes and a handbag, a slash of red lipstick and a significant amount of chutzpah. Perhaps a robe top over trousers and a dress shirt. You're supposed to wear this look to a holiday party. Or celebratory dinner. Or to the mall.
A significant portion of the fashion industry has gotten behind this notion. Last week, a Givenchy floral pyjama top was for sale on the Neiman Marcus website for $811, marked down from the original $1690. That was just for the top; the bottoms were extra.
READ How to Look Cool in a Kaftan
At Saks Fifth Avenue, customers will find a Gucci corsage-print silk pyjama top priced at $2200 and the bottoms at $1300. And in September, when Bouchra Jarrar debuted her spring 2017 Lanvin collection, the focus of the line was boudoir looks, including a particularly striking black-and-white striped robe worn as a blazer.
To be clear, these are not pyjama-style garments, nor trousers that simply borrow the loose fit and drape of sleepwear. Ostensibly, these are pyjamas, promoted for both men and women. Indeed, in recent years, entire brands have been born solely to cater to the idea that people should wear fancy pyjamas on the street.
The Italian brand F.R.S. (both the founder's initials and an abbreviation of "for restless sleepers") uses fabric patterns and rich colours that call to mind life in a Medici palazzo. Piamita was founded by two fashion editors in 2011 with fashion pyjamas as its early focus. They ooze charm.
All of these garments have luxurious fabrics, elaborate patterns, saturated colours, comfortable silhouettes. They are, in fact, quite handsome. But they look precisely like what they, in fact, are: Pyjamas.
And they are thriving — within the fashion ecosystem, anyway. In the spring, Dolce & Gabbana hosted a "pyjama party" in Los Angeles, where guests Naomi Campbell and Jessica Alba were decked out in pyjamas. The Hollywood Reporter's Booth Moore recalls the model Gigi Hadid wearing a pyjama jumpsuit on the red carpet. Moore has also seen the look at fashion-y Los Angeles parties. She, herself, owns a lovely pyjama shirt, purchased from a shop in Paris. But have any of these looks really been spotted in the wild?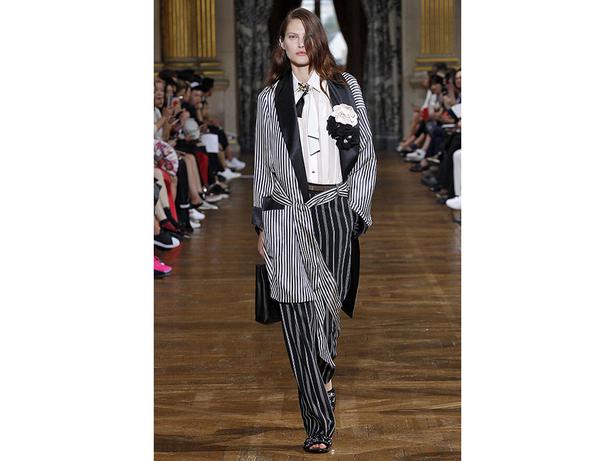 Moore, author of Where Stylists Shop, says she hasn't seen it. Not even in Los Angeles, the city that turned pink velour tracksuits into a fashion statement.
"It's a look I haven't seen hit the streets very much," notes Joseph Errico, fashion director of Nylon, a fashion and culture magazine based in New York. He likes the idea of it; Errico owns a Prada pyjama shirt that he bought way back in the early '00s. And he'd use it for a fashion shoot. But he just can't see it finding a niche in real life.
"Does it walk down the street or just from a chauffeured car to a private event?" Errico wonders. "I don't think it's going to break out.
"Do people even wear pyjamas to bed these days?" Asks an incredulous Marlene Hu Aldaba from the fashion trails in Europe, where she is looking at clothes for the next season and avoiding pyjamas at all costs. "This feels like another effort by designers and the fashion industry to impose some abstract vision on us ... Sure, some of the softer 'pyjama' looks are feminine and flowing, but are designers just sitting around scratching their temples trying to figure out, 'Where have we not been before: pyjamas to dinner! That's it!' Pure shtick."
The fashion industry's fascination goes back more than a decade. In the Prada 2002 spring collection, the designer included metallic gold shirts cut precisely like a pyjama top and shorts that looked like the lower half of a pyjama set. And the designers Stefano Gabbana and Domenico Dolce have for years included a few pyjama looks in their runway shows.
But the trend picked up momentum in the last few seasons. "All the cool fashion editors started wearing pyjamas," Errico says. They wore them with their kangaroo-fur-lined Gucci slides. They tossed Celine coats over their pyjama-clad shoulders.
And there is more to come in the season the industry calls pre-fall, notes Roopal Patel, fashion director of Saks Fifth Avenue. "I don't think pyjama dressing is going away anytime soon," she says.
There is a certain logic to it. Remember Kate Moss in her sexy Calvin Klein slip dress? Women wear camisoles as shirts and don't mind showing off an especially sexy or frilly bra. And folks delight in boarding airplanes or heading to brunch in sweatpants, leggings and T-shirts that make up in comfort what they lack in style. "There's a degree of function in athleisure," Errico says. "There's this assumption that there's a stop at a gym along the way."
Pyjamas, however, are intimate without the sex appeal. They are all comfort without even the pretense of function. There was a period when rebellious teenagers or overtaxed parents wore their jersey or flannel sleepwear out to coffee shops or the dog park. This iteration of pyjamas exuded laziness. They were a declaration of surrender — or, at their silky best, an affectation. (See: Hugh Hefner, Julian Schnabel)
Fashion pyjamas are more complicated. They require a certain level of fashion savvy — to make clear that the look was intentional, not happenstance. That requires work. Selena Gomez was recently photographed wearing pyjamas on a shopping trip. Her hair was in a low ponytail; she wore bright red lipstick and black stiletto pumps. She looked fashionable, but she did not look comfortable.
Still, Patel is committed to fashion pyjamas. She says they have sparked more interest in for-the-bedroom pyjamas from snazzy brands such as Fleur du Mal. And, yes, people really are incorporating them into their everyday lifestyle. Well, fashion people.
Beware of fashion people. But if you cannot resist their siren song, Patel offers this: "Layer a pyjama top under a blazer with jeans and a little slipper or loafer," she says. "Try a striped pyjama bottom with a solid top to give it balance."
"It's really about having fun," she says. Whether you like it or not.
— The Washington Post
Share this: