Style Liaisons: In Conversation With Fashion Designer Meryll Rogge
The Marc Jacobs and Dries Van Noten alumni discusses her astonishing ascension from rural Belgium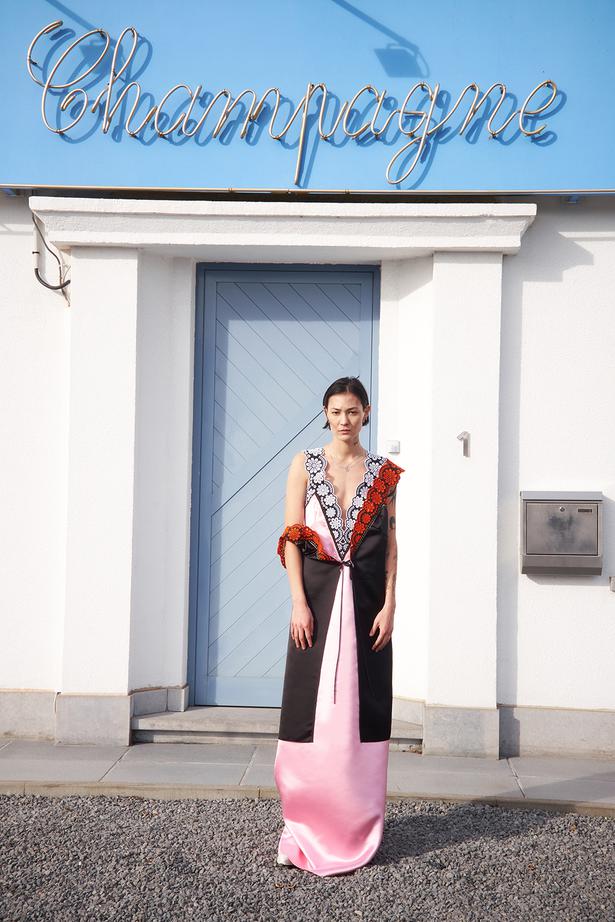 Tuesday Oct. 5, 2021
Anything can feed into the clothes of Meryll Rogge: "The banal, the extraordinary, the arts, everything." It's this that perhaps makes the Belgian fashion designer's pieces feel so unexpected — they emerge, as trench coats with detachable collars, as deconstructed skirts and daisy-print slip dresses, like beautiful wildcards. They're classics, reimagined.
Based in Deinze, near Ghent, in a studio in the countryside, Meryll cut her teeth at some of the top fashion houses: in New York, for seven years with Marc Jacobs, for one; in Antwerp, as the head of womenswear at Dries Van Noten, for another.
In late 2019, she launched her fledgling namesake label, unawares, as we all were, of what would come next. Yet, against the odds, Meryll has created what she set out to do. Now stocked at some of the world's leading retailers, from Nordstorm to Net-a-Porter, she shares the story behind her astonishing journey, and why making mistakes can be interesting.
Were you into fashion growing up?
I wanted to become an illustrator in my childhood years. Then, throughout my teens, I became more interested in fashion. As a child, I remember being really opinionated about what to buy or not to buy and being quite upset and obsessing about small details that I didn't like on garments, and finding it a pity the brand had added a trim which was not to my taste to a perfectly nice sweater. I didn't want to dress in clothes I didn't choose.
How has your relationship to fashion changed since your teenage years?
In my teenage years, I was in awe of the big, famous brands — Marc Jacobs, Louis Vuitton, Prada. As a teenager in Belgium, I already knew a bit about the Belgian fashion scene, but I discovered some great Belgian designers way later on, such as Margiela. I understood his vision way later in my life.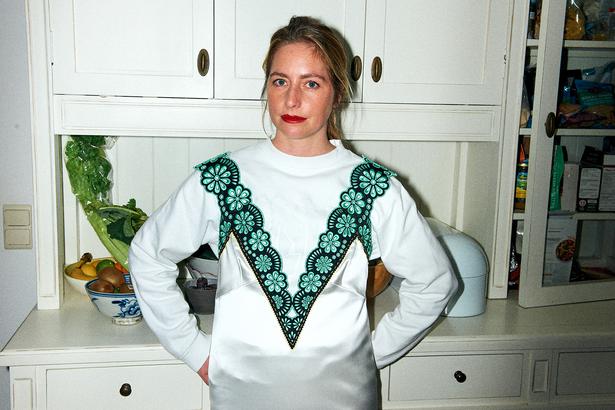 Tell me about your approach to designing clothes, and how did your time at Marc Jacobs and Dries van Noten inform this?
My approach to designing is vintage-inspired. I find that clothes that have proven that they can stand the test of time have a quality to them that will make sure that they have a future. These items will not go out of style tomorrow. The aim for the brand is to create pieces that are [fashionable] — creative, experimental, whatever we want them to be that season — but pieces that are grounded, and can live in a wardrobe for a very long time.
We have a particular approach to colour, texture and fabric, which are often the starting point in my design process. We like to think from day to evening, mix and match, masculine and feminine — and we draw a lot of inspiration from menswear.
READ: Dries Van Noten On Len Lye, Gardening & Reforming The Fashion System
Marc Jacobs was my formative years. There I really learned everything, from how to build a collection to how to create the fabrics, do fittings, and work with suppliers and manufacturers and patternmakers.
With Dries Van Noten, it was even deeper. It was not only about working on clothes but also about thinking about the runway shows, the image. It was interesting to see because Dries is not only a creative but also a kind of CEO, a leader of a company.
Was there a moment that gave you the push that you needed to go freelance?
I went freelance because I needed some time to think about starting this brand and have some time on a personal level, too. I also needed to earn some money to make it happen. But from a very young age, it was always clear in my mind that I would do this one day, it was just not very clear exactly when. I felt it when the time was right. I had an urge to do it, it was undeniable, and I just had to try.
Even though it is important and interesting to work for and learn from others, you want to express your true self. Indeed, when you have things to say and you want to share them, it is important to take the big step, this leap of faith. I was done compromising.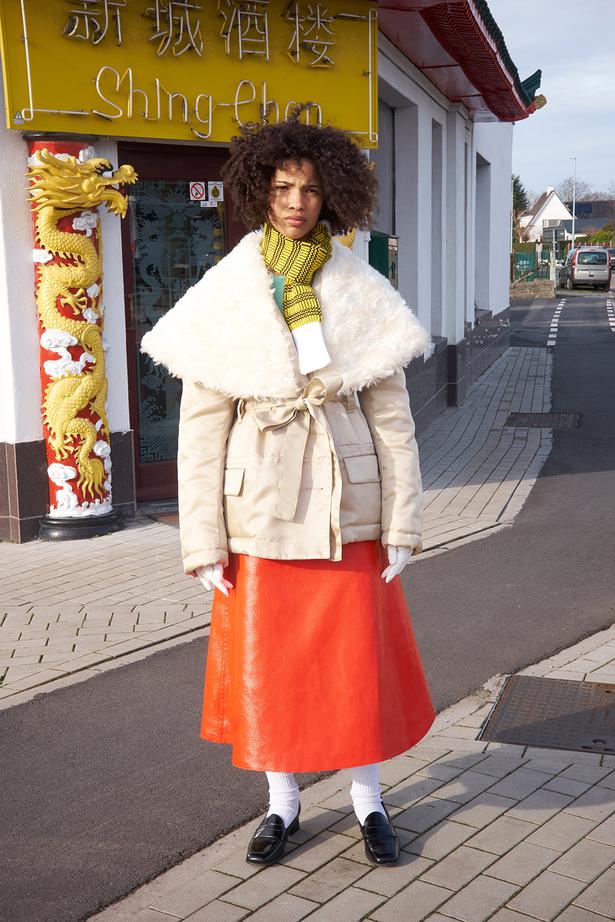 How does it feel to be working on something on your own, rather than as part of a larger fashion house?
On the one hand, it is great because you have a lot of freedom, you can work as you please and the decision-making process can happen very fast.
But, on the other, it is kind of hard. Since we do not really have a full-time team yet, working on your own can also appear to be very time-consuming. I have a lot to manage, such as the production of clothes, the production of photoshoots, making sales manuals, doing social media, making Excels for care label information, answering a million questions from retailers. Designing really is about 5-10 per cent of my time.
The budget constraints are quite severe for some things you want to do. But I never really felt restrained by it because I never felt like I had to produce huge collections or insanely expensive items. It takes time to establish your vision, so I am happy to be able to do so at my own pace and still be a bit hidden from a gigantic audience. To me, it is attainable to establish a strong vision with less budget, less expensive ornaments, and fewer pieces.
I feel bad for young designers who join fashion houses as creative directors and must find their vision in three seasons maximum or they're out. I am very happy to be able to develop our identity gradually, without having to deal with a merchandising team or a chosen and imposed vision that is not mine.
Have there been challenges to finding your own voice, or has this been something that's been growing within the fashion houses that you've flourished at?
I have always had my own voice and point of view and sometimes it was a bit hard because I disagreed with the choices taken in some fashion houses where I used to work. I've sometimes been proven wrong, and it happens that years later, I'll tell myself that what had been done was actually really good.
Other times, I am still in accordance with myself by thinking that some things weren't good. It is totally normal because everybody has their own vision, and they may diverge. To me, it is different to have an opinion and to create.
READ: Style Liaisons: In Conversation With Fashion Stylist & Editor Chloe Hill
Since I am freelance, I also learn new jobs, such as how to organise photoshoots and how to book the right models, to photograph, to be a creative director. I've had disappointments during some seasons because the vision was not the exact one that I had imagined due to the collaborator choice or something else. But these are things you learn through time and that is why making mistakes can also be interesting.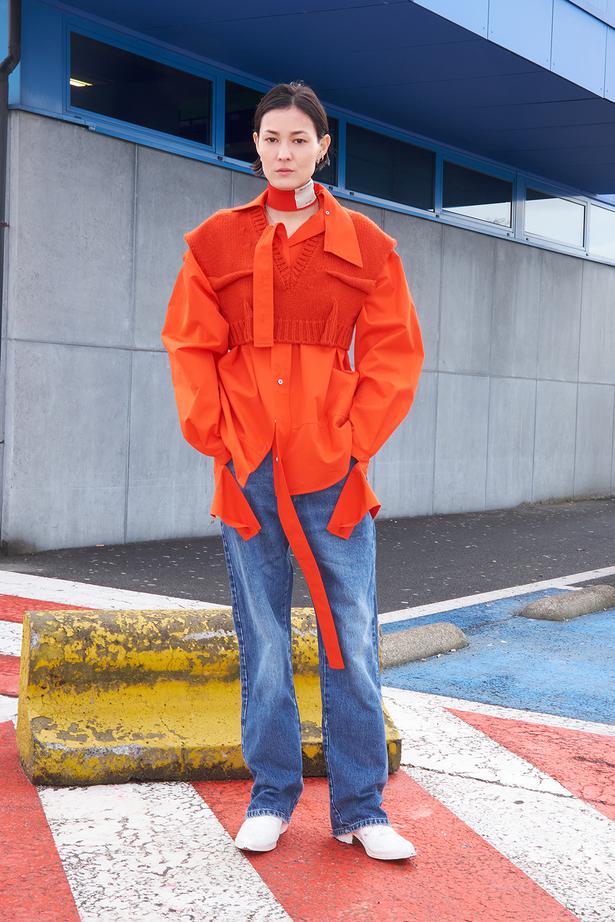 You launched your brand just before the onset of the pandemic, yet you've had remarkable success despite this formidable challenge. What do you think has contributed to this?
Obviously, we had no idea being in Paris in the showroom that the year would turn out the way it did. We clearly had a good start thanks to our sales team, who connected us with the most amazing retailers. After the pandemic hit the world, those retailers that bought the collection helped us enormously by changing the delivery window slightly. This was crucial because all the manufactures were closed for a period of three months, from the embroiderers in India to the manufacturers and fabric suppliers in Italy, France, Spain, and everywhere.
READ: Style Liaisons: In Conversation With Opera Singer & Model Isabella Moore
Then there were the enormous efforts of the manufacturers when they reopened. They gave it their all and produced the clothes in time; they did a miracle.
Our tiny but great PR team also did incredible things to get us global attention. I guess it was just a great synergy from different people doing their thing, from patternmakers to friends and family who helped, and it still is.
You've spoken about being interested in incorporating banal, recognisable elements into your designs. Where do you think this interest comes from?
I see the durability of garments as a huge quality. Classic clothes have a standard. I think it is interesting to take those garments out of their proportions and contexts and compose from there, keeping a certain familiarity that people can recognise. It is quite an intuitive process.
You've also mentioned the role of nostalgia. Do you have a research process?
Research has been hard this last year. We usually travel, visit expos, fabric archives, libraries, vintage shops, and since we couldn't go anywhere and everything was closed, it was a bit complicated. I had to work in a simpler way and draw inspiration from my own library and garment archive, and the internet. I also lack time for research, and I really miss that.
What advice would you give to young designers wanting to launch their own label?
Be prepared to have people around you to help. Doing this on your own is impossible.
The budget is important to manage. We made a conscious choice to save on rent and to not establish ourselves in a big city where you pay a lot of money to live and work. During the year you can really work from anywhere and cut down your costs to be able to spend more on other things.
Share this: