A Stylish Man: Breakfast Host Daniel Faitaua On His Personal Style
The Breakfast host shares his style tips and what self-representation means to him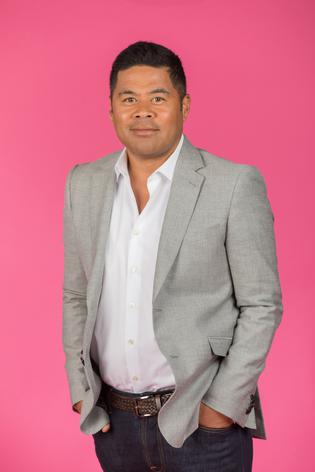 I've always admired Daniel's unapologetic commitment to classic preppy dressing with his slick mix of sharp blazers, denim and a decent pair of lace-up shoes. The 42-year-old currently hosts TVNZ's Breakfast alongside Hayley Holt and Jack Tame and along with his wardrobe of blazers, he has an equally sharp wit. He shares his style advice. 
READ: 5 Stylish Lessons In Italian Dressing From Pitti Uomo
What does personal style mean to you? 
Personal style to me is feeling comfortable and confident in what you're wearing.
How would you describe your personal style? 
Corporate/prepster
When did you become interested in style? 
It's undeniable that fashion and music go hand-in-hand. Mid to late 80s my style was inspired by New Kids on the Block, New Edition, Prince, George Michael. In third form sewing, everyone sewed a pillow case. I sewed a pair of MC Hammer pants. You can't touch this. Ho ho ho.
WATCH: Step by Step by New Kids On the Block (1990)
What's your favourite style memory or moment in your life/childhood? 
My grandma's old singer sewing machine with the crank handle stored in its wooden case. Grandma and I would catch the bus into the city to buy metres from the fabric store. I'd watch grandma roll out the fabric, pin it, cut it by hand and then sew. She sewed most of my family's clothes.
READ: Men Rule The Red Carpet These Days
Whose style have you always admired?
In my teens, right through university, I admired Lenny Kravitz. He goes beyond the realms of music, and impedes on style. Now that I'm in my 40s, Idris Elba delivers on the style front.  
You mentioned one morning on Breakfast one morning using a handkerchief. Do you still use one? 
Yes for those awkward moments no tissues or hand towels are available.
What in your opinion should every guy have in his wardrobe? 
A tailored suit, a proper belt, a crisp white shirt, fitted jeans, a pair of loafers and a decent watch.
WATCH: Daniel's Contempt For Christmas Cakes
What advice do you have for guys that aren't as confident with their personal style? 
Forget about what people think but ask yourself 'does it feel right'?
There is value in self-representation beyond clothes — what do you think men should be doing better in 2019 when it comes to presenting themselves to the world?
Make it right or don't do it. Life is too short to be mediocre.
Share this: