The Most Stylish Restaurants Across NZ
Industry folk share their favourite stylish restaurants across NZ for food, drink and good times.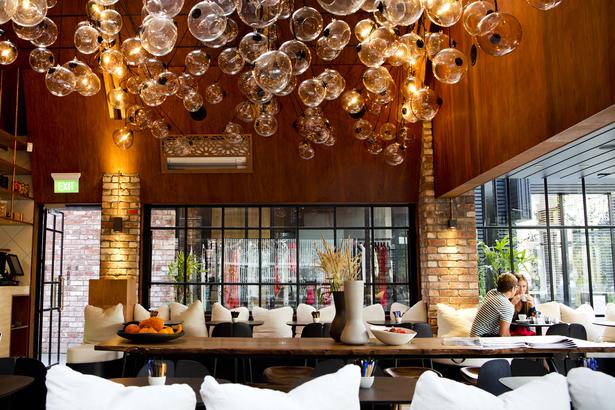 Tuesday Aug. 23, 2016
Vicki Taylor, designer, Taylor Boutique and Creative Director, The Shelter
Ortolana is a serious favourite of mine, I always find their food inspiring, full of amazing flavour and attention to detail. Do not try to dissect the menu - there are always things you have never heard of or tasted before but trust the chef! The flavours are amazing and the nights Gavin, their head chef, is on the pass the food always seems to just melt in your mouth. The part I love the most is I come away feeling I have had more of an experience than just a great dish and always want to go back again.
— Ortolana, 33 Tyler St, Britomart, Auckland.

Dr Margo Barton, professor of fashion, Otago Polytechnic
My go to place in Dunedin for coffee and food is most definitely The Bund in the Octagon. Love their fabulous Asian inspired snacks matched beautifully later in the day with a glass of rose or a local craft beer. Pequeno is the place for a drink too, amazing wee bar hidden down the end of a lane opposite the Rialto theatre. Has great young jazz musicians on a Thursday night and older jazz musicians on Saturday night - simply incredible, cosy, quirky wee place. 
— The Bund, 16 The Octagon & Pequeno, 50 Princes St, Dunedin.
Anjali Stewart, designer, Twenty-seven Names
Ortega is the best place for dinner hands down SO yum. The prawn linguine is an experience in itself, the salted butter that comes with sourdough....and the crepes OMG. 
— Ortega, 16 Majoribanks St, Wellington.

Liz Wilson, designer, Eugenie
My Favourite restaurant is Orphans Kitchen. Josh and Tom are such lovely guys, plus they're my studio mates at the shop so I'm totally biased. I love the atmosphere and the food is incredible. Any restaurant with its own bee hives gets my vote - those suits are the best. 
— Orphans Kitchen, 118 Ponsonby Rd, Auckland.
Jane Daniels, designer
In Auckland we are blessed with so many world class eateries, but to pick just one I would have to go for Soul at the Viaduct. I can take any type of person there. They will be enchanted sitting under the hanging flower baskets. With the buzzy atmosphere, the sea close at hand, the yachts with rigging rattling, the clink of wine glasses and lively conversation echoing around the harbour - it can't be beaten. The food and service is always great, and in my experience, reliably consistent.
— Soul Bar & Bistro, Viaduct Harbour, Cnr of Lower Hobson St & Customs St West, Auckland.

Greta van der Star, photographer and stylist
My favourite dinner spot is everyone's favourite - I just always want to go to Coco's Cantina. It feels like you're in someone's living room, it's loud and fun, they give the warmest welcome, and the polenta chips.. I long for them! For a breakfast spot, if I'm ever in the city during the week, I'll head to Ima. The bourekas from the Tel Aviv breakfast menu is hands down the best breakfast I've had in a long time! 
— Coco's Cantina, 376 Karangahape Road & Ima, 53 Fort St, Auckland. 

Lucilla Gray, designer
Loretta on Cuba St has a relaxed yet warming atmosphere making it my go to for casual meetings or lunch with friends. You can share a wild grain salad or indulge in a chamomile and burnt honey ice-cream. Loretta is contemporary rustic at its best - my perfect Friday wind down. 
— Loretta, 181 Cuba St, Te Aro, Wellington. 
<SPQR>
Adrian Hailwood, designer
My favourite cafe is directly opposite me on Douglas St, Little & Friday. Isaac and the team make a great coffee and I like sunning myself outside on a winter's morning, it's the best, oh and they do those famous donut things. SPQR is still my favourite restaurant and always will be.
— Little & Friday, 42 Douglas St & SPQR, 150 Ponsonby Rd, Ponsonby. 
Andrea Moore, designer
I love Orphans Kitchen - so wonderfully boutique and inspiring. I love stepping outside our office and seeing what the bees are doing up in the rooftop garden and what they are slow cooking. I had the best oysters the other night with a Chardonnay iced sauce, beautiful.
— Orphans Kitchen, 118 Ponsonby Rd, Auckland.

Share this: