Superette Celebrates 15 Years of Epic Fashion
As Superette turns 15, the fashion retailer's co-founders look back at their impact on Auckland's style scene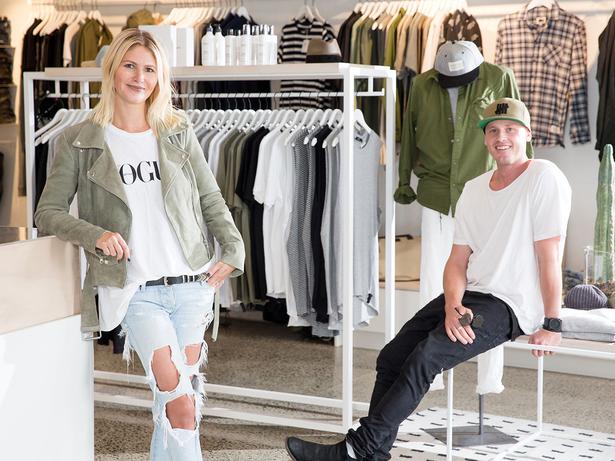 Thursday April 6, 2017
Here are a few fashion styles you won't find at fashion retailer Superette. High necklines ("so uncomfortable"), cropped pants ("they cut you off"), mid-length skirts ("they cut you off") and culottes — no explanation needed.
"Perhaps I feel that way about high necklines because we had to wear skivvies at school," muses Rickie Dee, co-owner with James Rigden of one of Auckland's rare fashion retail success stories.
It's hard not to want to take home the entire contents of the stylish store: — a super-soft mohair sweater from Sass & Bide looks like a winter staple; Mother jeans embroidered with black stars scream rock 'n' roll chic and new pieces from their own Superette collection are on trend — like a sassy red star-print mini skirt.
Superette HQ is in Takapuna, the same North Shore suburb where the duo kicked around when they were kids. The head office, in the old post office building, is not really like an office, more like a place you'd like to hang out at with your mates.
Rap music quietly thumps in the background and the open-plan space retains a few original brick walls, now painted white. On the wall a neon sign flashes, "We do epic shit", and when you're there, you're convinced they probably do.
This month the brand turns 15. It's hard to believe it's been that long since the duo, then only 21, opened their first store in central Auckland's Drake St in 2002. From this industrial, bright space (painted with the help of friends) the young Rickie and James made coffee, served lunch and ran their concept store. Their aim right from the start was to stock homewares and fashion they loved.
Rickie, who had recently gained an advertising diploma, realised after a year in an ad agency, it wasn't for her. James was brought up in the fashion industry — his mother owned Hotbody — and was an avid skateboarder who'd been selling surf and skatewear to retailers before he and Rickie decided to branch out on their own.
The idea of opening more of a lifestyle store was inspired by places they'd visited abroad, such as Colette — the Parisian-based concept store that curates the best labels in the world, plus has an exhibition space, a bookshop and a "water bar". They loved the idea that a space can offers customers a glimpse of a fabulous life, from fine art to fine heels.
READ: Deadly Ponies Collaborates with French Jewellery Brand Atelier Paulin
The pair have created their own version of a concept store, and it's evolved with the times. Offering coffee and food got too hard, so they ended up focusing purely on the product.
"We like to create a lifestyle within our stores, a place where customers like to come and hang. The way we merchandise our product plays a big part in created the 'Superette' look," explains Rickie.
What exactly is that look? Designer jeans hang from hooks, dresses are displayed randomly with jumpers, their bright and open interiors are loft-like spaces with polished concrete floors that make you feel you could be in a very cool apartment. The staff are smiley and cheerful — nothing seems too much of a hassle.
The formula has worked. The brand now has five retail stores (three in Auckland, one each in Wellington and Christchurch) plus an online store. Rickie and James seem to find it hard to believe their company now employs about 80 staff.
Often the two will be chatting on speakerphone from their respective homes while attempting to feed their chidren dinner. James and his wife have two children and Rickie has three. Needless to say life is busy. "We've got super supportive partners, which helps" James says.
Many of the 150 brands the store represents are Australian, and in the past few years they have branched out into the US, picking up labels including Rag & Bone, Wildfox and Frame. All their brands are fashion forward, casual and comfortable, and it's an aesthetic Kiwi buyers seem to love.
Some of their favourite Australian brands have been with them for the whole ride.
READ: Superette Homeware Buyer Jess Sands
"The first fashion week we attended back in 2002 was in Melbourne, and there was a lot of artsy, way out-there stuff," James says. "We gave some of it a go, but most of it didn't sell. The brands that did are still our best-selling brands today, like Bassike, Sass & Bide and Ksubi."
Rickie's role involves buying, "pretty much all year round", as well as meeting designers on a daily basis. She travels abroad several times a year to view designer collections, whereas James focuses more on online retailing and business development.
As for her knack of knowing what Kiwis like, Rickie says, "If we don't love it, we won't buy it"; an ethos she says goes against every buying handbook.
Another successful strategy has been to buy in small quantities so the Superette customer can be assured of exclusivity.
This month, in celebration of their 15th birthday, Superette is launching several limited edition collaborations with some of their favourite designers — clothing lines Bassike, C&M, and Ksubi, plus jewellery stars Zoe & Morgan and handbag designers, The Wolf Gang.
Even staff can't escape the Superette spell, finding it hard to resist the goods in store. One of their Takapuna staff tells me, "I don't know if we work here as much as we pay off debt!"
Be inspired by the good things in life. Sign up now to receive emails from Viva, and twice a week you will be sent the latest news, profiles, videos, fashion shoots, competitions and more.
Share this: