Supermodel Yasmin Le Bon's 10 Life Lessons
Yasmin Le Bon on feeling unphotogenic and fighting over Chanel with Linda Evangelista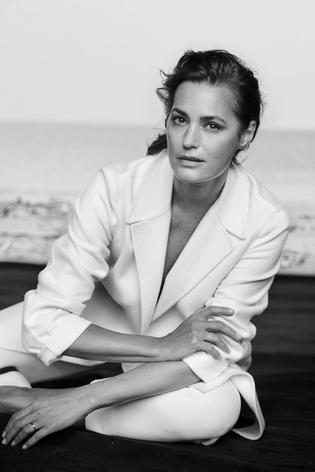 She might have 30 years of getting dressed professionally under her carefully cinched belt, but Yasmin Le Bon still insists she is unphotogenic. "To pose in front of a camera for a living is such an odd thing to do. I'm not a poser by nature," says the 51-year-old. In spite of this, after being scouted in her home town of Oxford, aged 17, she's appeared on myriad covers of Vogue and Elle magazines. For the latter she was the inaugural cover girl for both the American and British launch editions — which was how her husband, Duran Duran's Simon Le Bon, first saw and fell in love with her. His people talked to her people and ...
Yasmin Parveneh, as she then was, has worked for every major fashion house, including Chanel, Dior and, currently, Giorgio Armani — fronting the designer's "New Normal" campaign alongside Eva Herzigova, Stella Tennant and Nadja Auermann.
As rock star wife models go — she married Le Bon in 1985 and they have three daughters, Amber, 26 (also a model), Saffron, 24, and Tallulah, 21 — she is perhaps one of the most cheeringly down-to-earth: the ravishingly exotic-yet-warm looks that propelled her into the fashion firmament have endured, her approachability resonates through her pictures.
Though in real life she has an ever-expanding family, with husband, daughters and their various boyfriends all living at the family home in South London, beyond that, she's cultivated a style that is covetably current without falling into fashion victim territory, and is a brilliant example of how to maintain your style kudos at any age. She's a fan of a great dress and timelessly cool tailoring — see the successful employment of a wide-leg trouser. Here are her life (style) lessons:
1. Always play to your strengths
I'm really good at my job when I'm working, but I'm terrible when I'm not working. As far as I'm concerned, anything that isn't a proper photo-shoot isn't working. I am unphotogenic and can't do holiday snaps or red carpet. Look at your strong points and what you're proud of, and focus on those. I just deflect everything with an enormous grin because I always feel like an idiot when someone points a camera at me.
2. Embrace your choices
I've always loved clothes and designers. I used to buy Vogue when I was 13. The great thing about fashion is that you don't have to wear the same thing every day — that's the beauty of it, the whole psychology of deciding that you want to be someone else today. It's those tiny, innate decisions about whether you put on a pair of trousers or a body-con dress that give you a different perspective. As women, we have so much choice. I do feel sorry for guys, having to wear trousers every day. Saying that, I'm not about to start sharing any of my frocks with Simon.
3. Be confident to wear what you feel happy in
I never know what to wear, I get it really wrong. But I dress for myself. I think you've got to do it with confidence. I don't really care about fitting in, because I've never really fitted in anyway. If you love something, you should go with it.
4. Roll with the changes
My body has changed so much, which has really had an effect on my decisions. I have boobs for the first time, which is quite an extraordinary thing to deal with. It's happened over the past five years. It's really strange. I spent my life quite happily looking like a boy, but certain necklines don't work on me now. I love looking quite masculine and androgynous, but it's becoming harder!
READ: What it Takes to Be a Supermodel
5. Keep to your favourites
I am completely obsessed with two pairs of shoes. One is a pair of Chanel slingbacks that have a really sensible inch-high heel. Oh my God, they are so gorgeous. The other ones are by Celine. They look like I've got a pair of fridge-freezers on my feet. They're so ugly, but I love them. I buy something from Christopher Kane every season, and I've got a lot of Preen, I can't stop buying it. It's my guilty pleasure. They do the easiest things to wear, which make you feel great.
6. Sharing is caring
My wardrobe gets raided a fair amount by Amber. I did try to remind her the other day that she needs to invest a lot more, because this sharing thing should be a two-way street. But we all cross over. Saffron and I both went into American Apparel the other day and bought the same jumper — but in different colours.
7. Avoid asking difficult questions
I never ask any of the children or Simon what they think of how I look before leaving the house. Being family, they're far too honest. I've learnt the hard way. And Simon's only opinion is that I look lovely.
READ: Kate Moss' Beauty Routine
8. A great coat can conceal anything
There's nothing wrong with going to the airport in your pyjamas. I have done, many times, quite happily. At JFK airport in New York once, I was going on a night flight and turned up wearing men's ones from Charvet in Paris. The lady at security turned round to her colleague, laughing, and said: "Is she wearing pyjamas?" Knowing full well I could hear her. I said: "Yes, darling, I am. They're French cotton and they're wonderful!" But if you take a greatcoat and a pair of aviator sunglasses with you, you can hide anything.
9. Work out what you're really cut out for
Modelling is a weird profession that suits only a very few. It's not necessarily anything to do with what you look like. Being successful is about being there at the right time, in the right place, with the right face. It's very strange. You have to have the type of personality to deal with the rejection you get all the time. It can make you much stronger, but if you're not already quite resilient then it can definitely lead to insecurities.
10. Make sure you're having fun
Karl Lagerfeld is extraordinary to be around. For the Chanel shows, I always wanted to have my fittings with Linda Evangelista, because she would be terribly naughty and mouthy. Linda and I would be fighting over the outfits. Karl would always humour us, even though obviously he would know exactly what he wanted to put us in. It was a lot of fun back then.
— The Daily Telegraph
Share this: