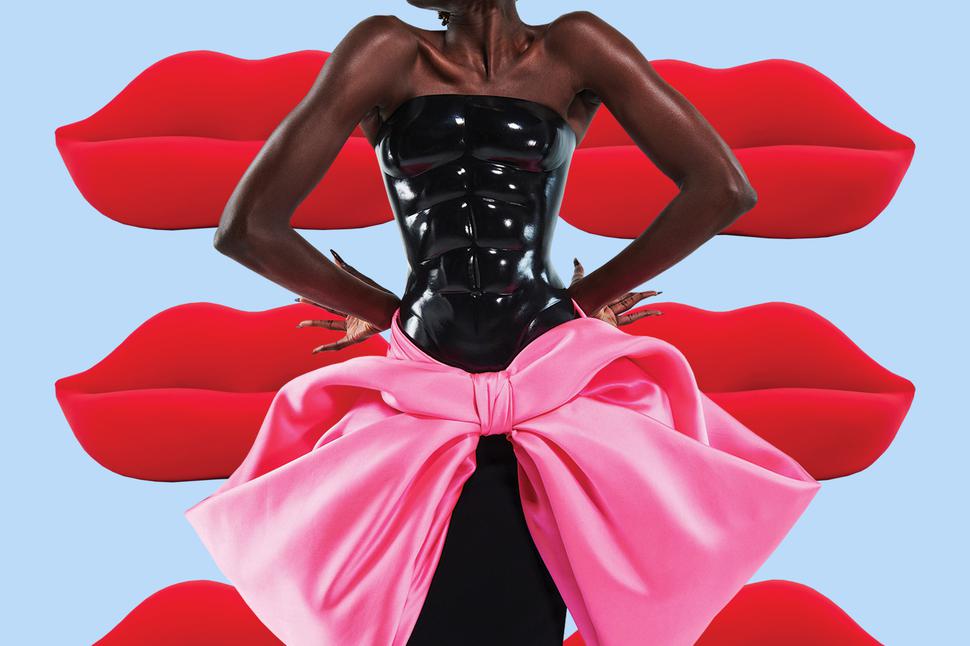 Dressing Out Loud: How Fashion Found Its Flair For The Outrageous
In this surreal moment in time, fashion is embracing the silly and the sublime
Tuesday Aug. 10, 2021
"In difficult times, fashion is always outrageous." Elsa Schiaparelli may have declared that to be true in 1954, but the fashion designer and champion of the surreal didn't live in the pandemic era of 'sweatpants forever'.
Fashion is desperate for escapist fashion again. After a year of low-key lockdown dressing, when the world's collective needs turned to comfort, a mood of maximalist exuberance is bubbling under the surface. Dress up, go out (safely), see the world in real life: fashion is obsessed with dressing for what has been dubbed the "re-emergence moment", like a butterfly emerging from its chrysalis. Outrageous? Yes, please.
In 1940, Salvador Dali wrote of making the "fantastic real" as a response to a world that was too mechanical, a comment that could have been uttered today. "I try to create fantastic things, magical things, things like in a dream," he uttered. "The world needs more fantasy."
And so, fittingly, fashion once again turns to surrealism — the artistic and literary movement that originated in the 1920s. A movement that rejected control exercised by reason and embraced the creative powers of the subconscious. Today, the concept has evolved into an aesthetic practice that deals in a sort of bonkers, dreamlike whimsy — an escape from a harsh (and yes, surreal) reality.
But the movement's original tenets of outrageousness and humour are subtly influencing how we behave and dress — or how we will dress — in more ways than you may think.
We all need to dream a little.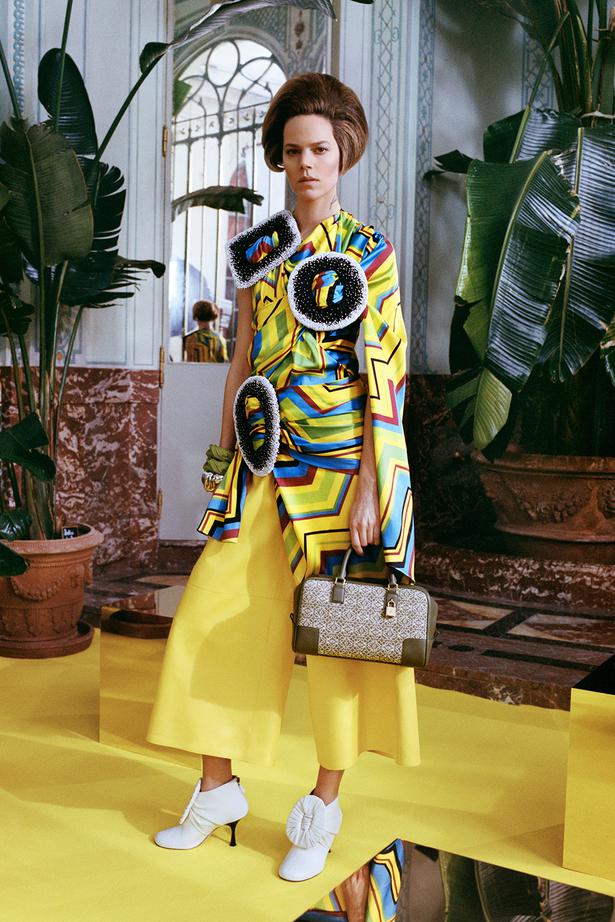 In March, French brand Paco Rabanne showed its fall 2021 collection via, like most brands this past year, a video rather than a fashion show. But despite the digital distance, the mood was jubilant; an "affirmation of decadence" that explored the unique, almost childlike, thrill of dressing up and getting ready.
It was, the brand's creative director Julien Dossena explained to Vogue, about fun but also a sign of hope. "The good thing about fashion is that we're proposing clothes for the next six months. So we hope that in six months' time, it's going to be a big party; everyone will be getting out for days and days, nights and nights."
Loewe designer Jonathan Anderson was another looking at dreamlike expressiveness, although he didn't want to call it fantasy. "I think it's about this idea of projecting what a new reality will hopefully be. I think fashion is going to be important in the next while, in making people gain the confidence of going back out and dressing up again. The whole point of this collection is: Believe it, and it will happen."
READ: How Colour-Blocking Made Its Roaring Return
Jeremy Scott, a designer who has always embraced the humour of the surreal, was rejecting comfort, too. "What we need now more than ever is fantasy and glamour and things that make you feel wonderful, and I don't think sweatpants do that."
That's all very hopeful — and the fashion industry really does need shoppers to spend their money on things other than sweatpants and loungewear — but it seems that it's not just wishful thinking from designers.
Luxury search platform Lyst recently released its 2021 Q1 'Lyst Index' that analyses consumer behaviour through Google search analytics, social media and more, and reported that "peak sweatpant has passed", with searches for high heels up 163 per cent and dresses up 222 per cent quarter-on-quarter.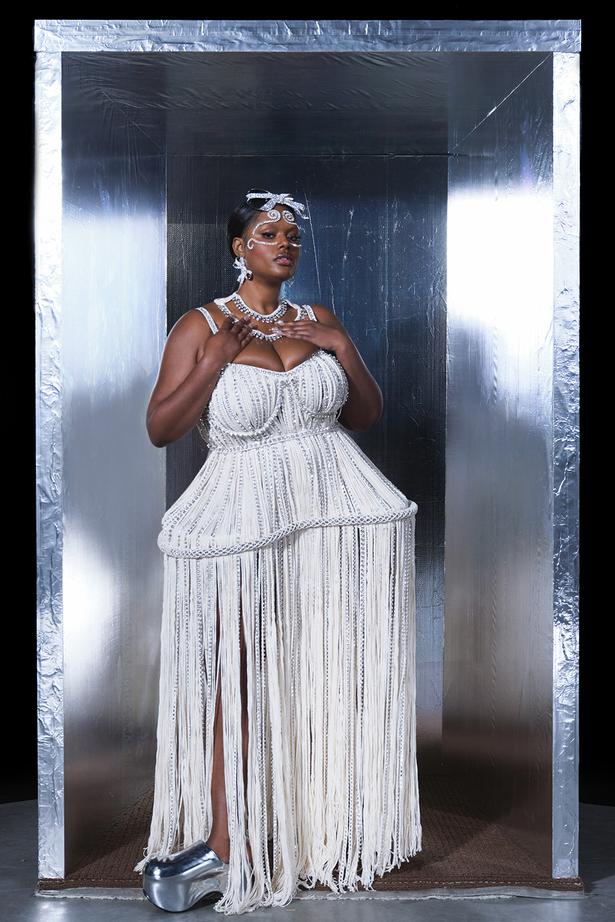 It's a dressed-up glamour, but what feels different now is a slightly absurd, madcap twist. The Guardian noted a "good-weird" mood on the red carpet: think of The Crown actor Emma Corrin's oversized Pierrot-esque Miu Miu gown at the Golden Globes, Regina King's dramatic Louis Vuitton gown with bejewelled butterfly-wing shoulders at the Oscars, or Beyonce at the Grammys in Schiaparelli door knocker-sized earrings and gloves with trompe l'œil golden fingernails.
And picture the campy Surrealism of Lady Gaga arriving on stage at the US inauguration, surrounded by suits and masks while wearing a swooping gown and giant dove brooch.
That fantastic fashion moment — and it was a moment — was a collaboration with Schiaparelli, the fashion house famed for its Surrealist history. Founder Elsa Schiaparelli collaborated with Jean Cocteau, Alberto Giacometti, Meret Oppenheim, Elsa Triolet and Dali on several now-iconic objects.
READ: What To Wear Now: How Has 2020 Shaped Our Wardrobes?
Her creations were, at the time, provocative and today, still hugely influential: a shoe-shaped hat, newspaper print, trompe l'œil hand-knit sweaters, zippers as a decorative feature, the famous lobster dress, her love of 'shocking pink'. Elsa's eccentric legacy has influenced Yves Saint Laurent, Marc Jacobs, Miuccia Prada, Kate Sylvester and more.
In 2019 Daniel Roseberry was announced as Schiaparelli's new creative director, and reflected on the brand's namesake in a way that seems eerily prophetic.
"Schiaparelli was a master of the modern; her work reflected the chaos and hope of the turbulent era in which she lived," he said. "Today, we find ourselves asking similarly big, identity-shaping questions of our own: What does art look like? What is identity? How do we dress for the end of the world?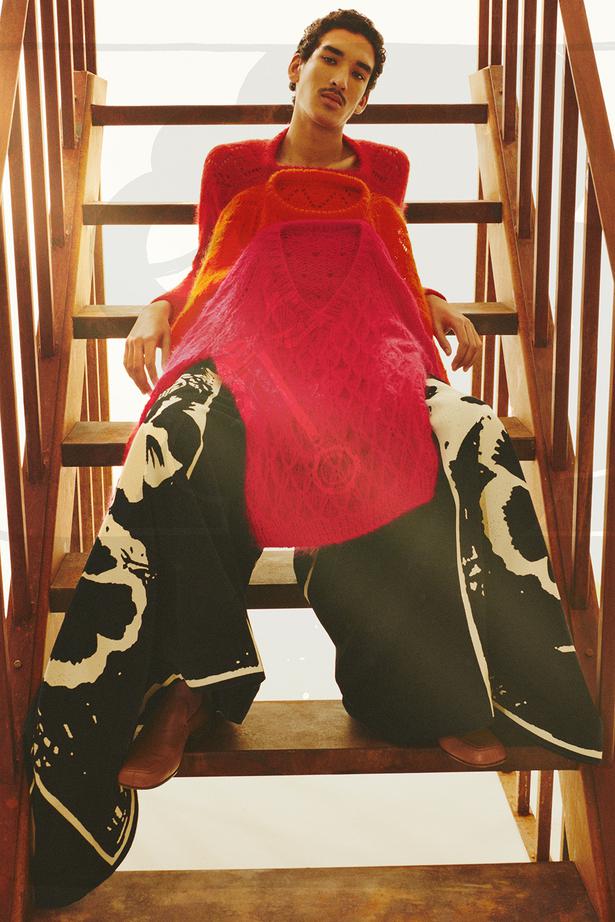 Loewe menswear fall 2021. Photo / Supplied

"Schiaparelli answered these questions with candour and humour, but one of her greatest legacies may be her commitment to fantasy, her understanding that we need fantasy in complicated times. I want to offer my own answers to these questions, and offer a fantasy — a dream — that feels relevant, and necessary, for today."

Roseberry has since taken iconic symbols from the house's archives and presented them to a young, modern and always online audience: intricate embroidery detailing referencing Schiaparelli's golden measuring tape, an iPhone case in the shape of a golden ear, a sunglass/mask/phone case cast in gold. He was also the creative behind Kim Kardashian's much-mocked, and meme-worthy moulded six-pack leather bodice — a piece that is reflective of Surrealism's traditional fixation with and fetishisation of the body.

READ: The Renaissance Of Made-To-Order Clothes In New Zealand

Roseberry describes it as "performative moments", and it certainly is maximalist fashion that manages to capture the now. It also photographs well — relevant in our visual and viral age.

"The real currency of the day is meme culture, so if it's funny, it can be memetic and spread," says Sam Trainer, co-founder of LA-based brand Meals which sells clothing inspired by food. There's no deeper cerebral meaning: it's just funny. That absurdity is present in other signs of a Surrealist pop culture moment, particularly from a new generation of creatives rejecting over-intellectualisation and embracing silliness and camp.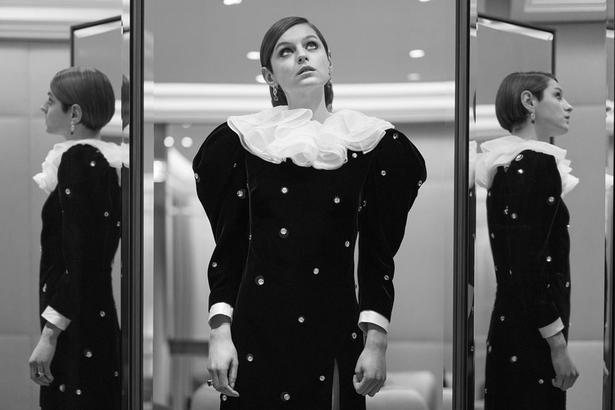 Actress Emma Corrin in Miu Miu at the Golden Globes. Photo / Supplied

It's Symone, the winner of RuPaul's Drag Race season 13, wearing a wig in the shape of manicured hands with a gorgeous mini dress swinging with tassels that are actually red acrylics. It's a ball gown worn with a matching face mask. It's the reality show The Masked Singer, described by one of the creators of its delightfully ridiculous costumes as a "visual cacophony of insanity". It's musician Aldous Harding. It's TV shows Atlanta and Sorry to Bother You and the sunken place in Get Out (The Guardian wrote about the revival of Afro-surrealism in 2018).

It's the proliferation of young and talented makeup artists painting and morphing their faces into mind-bending works of art on Instagram and TikTok.

Lizzie Bisley, curator of modern art at Te Papa — which opens the largest exhibition of Surrealist artwork in June to be shown in New Zealand (180 pieces from the 1920s through to the 60s from Dali, Max Ernst, Leonora Carrington, Rene Magritte and Marcel Duchamp) — thinks the Surrealists would have loved platforms like TikTok, Snapchat and Twitter.

"Surrealism was about reaching as many people as possible, to try to effect a massive shift in consciousness. The Surrealists would have been excited by the reach of social media platforms, but also the opportunities that they offer for subversion and shock," she says.

"Surrealism often used public events like exhibitions to try to attract and engage a wider audience. They would have loved viral campaigns like the one that ran with K-Pop fans on Twitter and TikTok last year, where teens subverted a Donald Trump rally by booking tickets to falsely inflate numbers."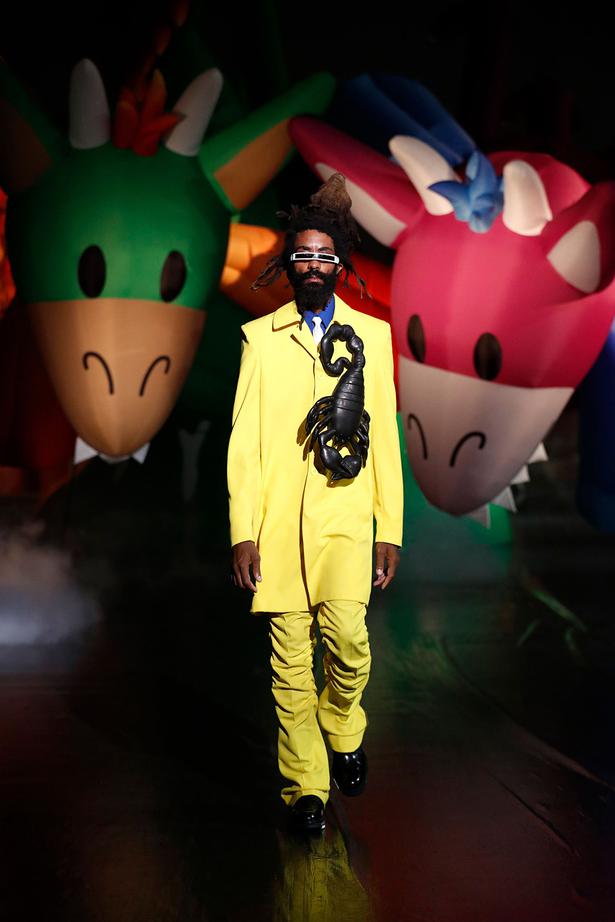 Louis Vuitton menswear spring/summer 2021. Photo / Supplied

Wired even recently likened TikTok's duet feature (where users add to another user's video clip in a potentially never-ending loop) to the Surrealists' favourite parlour game, the exquisite corpse. "While the grotesque Surrealist illustrations now live in prized collections, as Andre Breton remembered it, "ill-disposed" critics in the 1920s "reproached us for delighting in such childish distractions".

One could even see a connection between the mainstream rise of micro-dosing and other psychedelic "distractions" to a sort of contemporary Surrealism: rejecting logic, reason and control in a world where it feels like we have none. The Cut wrote of this dawning new age where "everyone is tripping balls in the name of self-care"; a response to Covid's economic devastation and psychic trauma.

They dubbed it the "dissociation generation" — which sounds a lot like the "total liberation of the mind and of all that resembles it" described in the 1925 Surrealist Declaration.

Te Papa's Bisley believes our continued fascination with Surrealism is because of its ability to liberate the mind, or break the status quo, whether it's in design, fashion or outlook.

"It offers a different way of looking at the world, giving space to many alternate viewpoints and realities," she says. "That is something that feels particularly important at the moment, when we are having to radically reshape the ways that we live and think.

"Surrealism shows the power that imagination and creativity can have in changing our view of the world."

– Originally published in Viva Magazine – Volume Four
Share this: