How To Lean Into The Sustainability Conversation At NZ Fashion Week
There's conscious runway shows, seminars and workshops, markets and walking tours galore at this year's NZ Fashion Week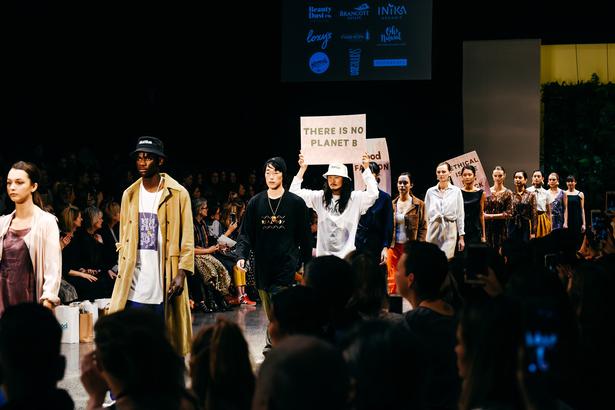 Tuesday Aug. 27, 2019
In light of a worldwide awakening around the sustainability, or lack thereof, of the fashion industry, New Zealand Fashion Week is going all out with efforts of its own.
This includes conscious runway shows, seminars and workshops, markets, walking tours and onsite waste reduction. Book in for sustainability seminar Doing Well By Doing Good, to be held at the Auckland Town Hall on Friday morning, with live projection onto big screens in Aotea Square.
READ: The Latest Way To Buy Conscious Clothing In New Zealand
The event will include a guest panel of designers prominent in the sustainable fashion space including Maggie Hewitt of Maggie Marilyn, Kate Sylvester, Kathryn Wilson, Holly Norman of Olli, and others.
The eco-message carries through to Fashion Weekend at another panel-style event, The Sustainability Conversation: 'Can Fashion Save The World?'. This will hear from four local designers prioritising sustainability including Maggie Hewitt again; with Marilou Dadat, head designer of Kowtow; Kiri Nathan, co-founder and designer at Kiri Nathan; and Peri Drysdale MBE, founder and CEO of Snowy Peak and Untouched World.
Elsewhere, the Sustainability Show will make a statement on the runway with upcycling, vintage and fabric innovations, and will feature brands WE-AR, Ovna Ovich, Mane Project, Greatest Friend, Papinelle Sleepwear and more.
READ: Where To Shop Vintage Clothing For A Stylish & Sustainable Front Row Outfit
Logistics wise, NZFW is aiming to keep a minimum of 70 per cent of its waste out of landfill, and delegate passes, which have previously come in plastic pouches, will be made from recycled materials, with reusable delegate and goodie bags available. 
• Socially Sustainable Business 'Doing Well By Doing Good' is presented by the Ministry of Social Development with support from the Auckland Chamber of Commerce. Friday August 30, 10am-11.30 in the Concert Chamber. Book at Iticket.co.nz
• The Sustainability Conversation: 'Can Fashion Save The World?' is on Saturday August 31, 12pm at the Auckland Town Hall. $45 pp. Book at Iticket.co.nz
Share this: