Talking the Business of Fashion with Karen Walker
Karen Walker shares the stage with some of the global fashion industry's most influential heavyhitters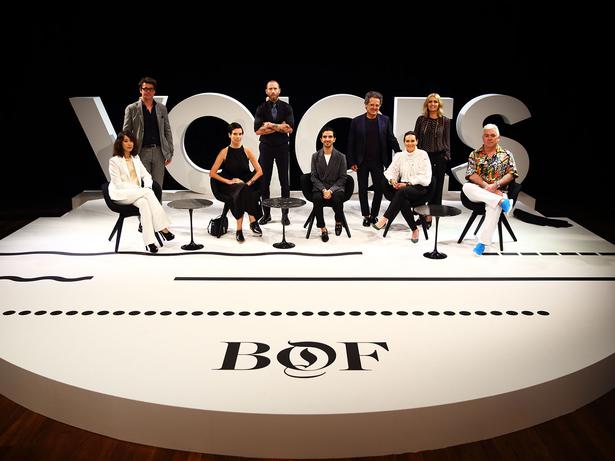 Wednesday April 13, 2016
I've always loved the Picasso quote: "When art critics get together they talk about Form and Structure and Meaning. When artists get together they talk about where you can buy cheap turpentine."
The same can be said of fashion people.
When we get together we seldom talk about the product. We talk about the business. This is why The Business of Fashion's Voices events have been so quickly and enthusiastly embraced by the international fashion community.
I was thrilled when BoF's editor-in-chief, Imran Amed, asked me to be one of the panelists for the Voices event at the Sydney Opera House last week. In part, I admit, because it's just a kick to be backstage and onstage in Sydney's greatest icon, but also because it's just so damn exciting to be talking with, and to, industry leaders about the the business we're all in, our experiences, our visions, our issues, our ideas.
The event was invite only (everyone in the room was an industry heavyhitter) and in The Studio at the House so it was intimate and knowledgeable. The conversation ranged from what aliens would think if they were to find themselves at a fashion show (Tim Blanks thinks they'd love it!) to the place of theatre in retail (A?sop's CEO Michael O'Keeffe says it puts the customer on the outside) to the fact that being in retail should be a fight, not a pleasure (L'Eclaireur's Armand Hadida has had more than three decades in the ring).
Armand was hilarious, by the way. I'm yet to meet a retailer who doesn't, from time to time, complain about the market, the margins, the changes, the designers — and Armand spent a decent portion of his time reminiscing about the "golden days of retail" (the 80s, apparently) but also shared his vision for the future — it's all about kitchens!
I love that he got to ask the final question of the day, which, as it turns out wasn't a question, but an opportunity to vent about how fashion shows have turned into circuses with celebrity chefs taking up valuable front row seats. Armand's a fashion legend who was central in transforming the fashion world when he started his retail brand in Paris in the 80s and every time he spoke there were plenty of nods in the room.
One of my favourite points was from Kim Bui Kollar, director of special projects at Hong Kong's Pedder Group, who said that good retail hinges off four things: emotion, creativity, authenticity and discovery. Aesop's CEO, Michael O'Keeffe, was the panellist I took the most notes from, which speaks to his clarity of vision as much as my love of his brand.
I like how he described Aesop as being a "dog-whistle" brand — "You either hear it or you don't". He says that a product should either connect and form part of your customer's identity or be a commodity product. How true — and who wants to be crude oil or milk powder?
Justin O'Shea, who spent his first day as creative director of Italian luxury brand Brioni talking shop with us, says "Find out what your one thing is." Sounds easy!
Tim Blanks, always hilarious, insightful, intelligent, and undoubtedly the most authoratative voice in fashion, was resplendent as always in his signature look — a loud shirt, and threw into the mix the industry's current number one topic: to show or not to show? Now that the consumer sees fashion shows before the last girl's even off the runway what's the point if people can't buy the damn stuff straight away?
I walked away knowing that these are exciting times to be in — there are no rules of engagement for the industry anymore (which can be overwhelming or you can just get on with it), that if you're authentic, intuitive, know your product, know your community, create an immersive world and, of course, invite aliens to your fashion shows, that you'll be fine!
What BoF's so good at is bringing the industry conversation alive. It's thought-provoking and holds the big issues up to the light to be examined from every angle. It loves to get the industry bigwigs in the same room to throw the conversation around. Sydney's Voices event was an entree to the next Voices event in Oxfordshire in December and I've started packing my bag to be there already.
— Karen Walker
Share this: