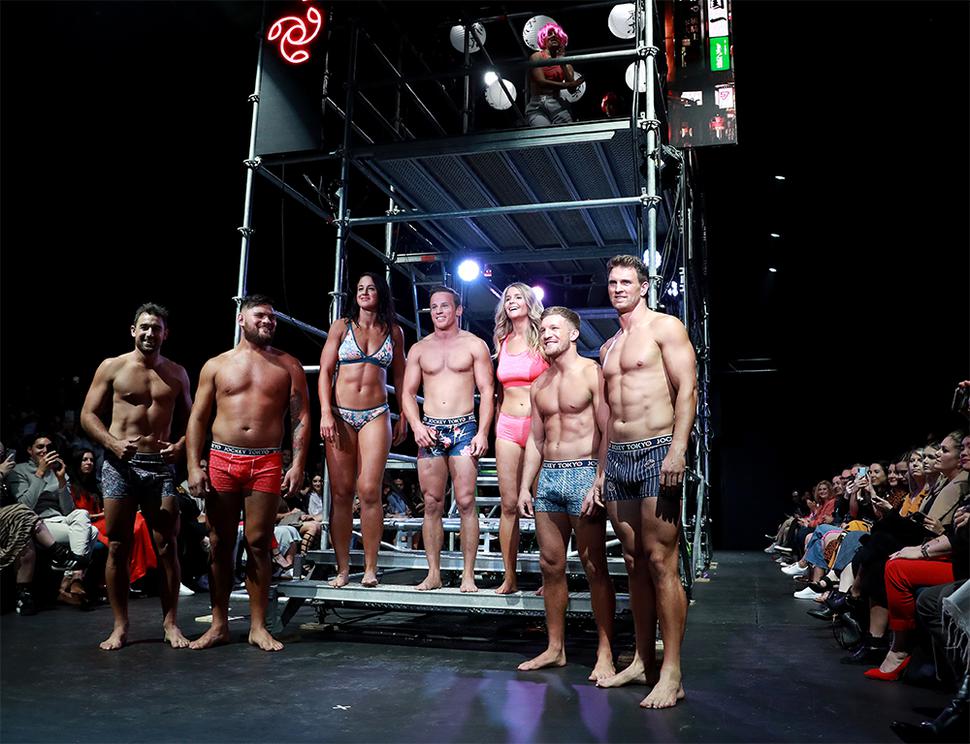 The All Blacks Warm Up For Japan In Their Jockeys At NZ Fashion Week
The All Blacks strut their stuff on a Tokyo-inspired runway for New Zealand Fashion Week
Tuesday Aug. 27, 2019
The All Blacks strutted their stuff for the Jockey fashion show as they warm up for the Rugby World Cup in Japan.
The show is a hot ticket on the Fashion Week schedule where the All Blacks take to the runway in the brand's underwear.
Housed at Q Theatre, the runway was inspired by the bright lights of Tokyo and included a raised metal mezzanine to represent a dynamic cityscape. 
READ: What Does An International Fashion Buyer Really Look For On The Runway?
All Blacks Damian McKenzie, Brad Weber, Ngani Laumape and Rugby Sevens stars Scott Curry and Kurt Baker traded a ruby ball for the catwalk, striding to the powerful sound of live Japanese drumming. 
It wasn't all boys in black though — Black Ferns star Ruby Tui and Olympian Anna Wilcox were runway favourites.
Jockey's ambassador and Fashion Week regular Matilda Green watched from the side-lines this year, awaiting the arrival of Baby Green.
READ: The Best Street Style Looks From NZ Fashion Week 2019
This season's Jockey collection is a nod to Japan, with cherry blossom printed silk robes and briefs, bright pops of blue, white and pink. 
Share this: