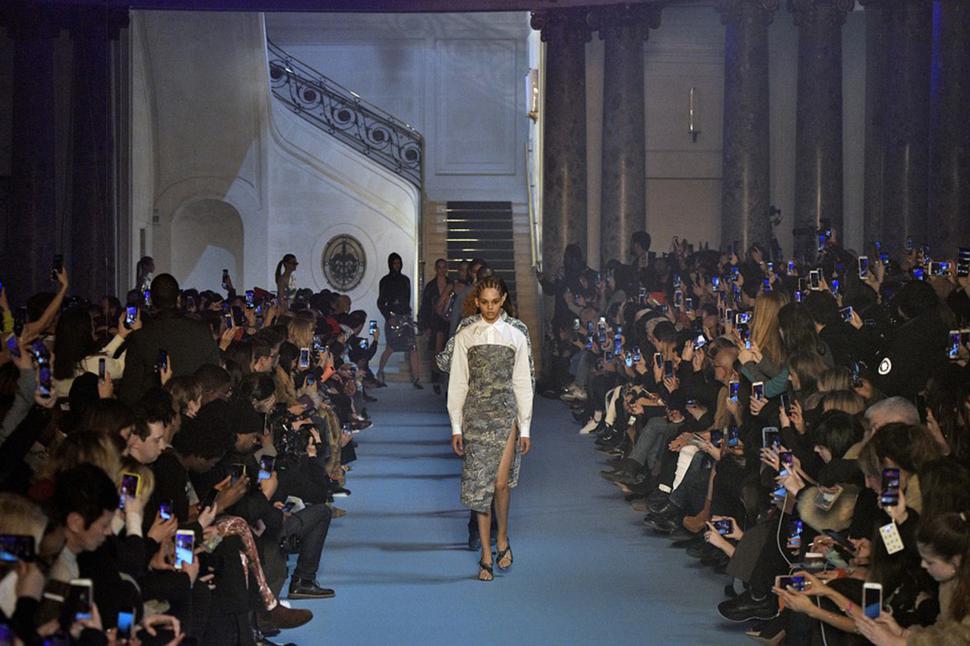 The Craze Surrounding Off-White Designer, Virgil Abloh
Only one Paris designer had fans rioting in the street - but is his fashion any good?
Monday March 5, 2018
The scene outside the Off-White fashion show Thursday night was chaotic and, at times, dangerous.
The narrow block of Rue Cambon was filled with a mob of fans, some of them pressing towards the narrow entrance to the show, others trapped in a scrum around a black sedan that had somehow gotten itself wedged amidst the throng. The police blew whistles and yelled, not in an attempt to keep the crowd from pressing in on itself but in order to free the car. The people were essentially a thick field of mud in which the sedan was stuck.
Eventually, the car pulled away and the crowd squeezed ever more tightly towards the door. No one seemed in a position to restore order. And if people were trying, their efforts were not obvious.
The reason for the frenzy was both remarkable and unsurprising: the possibility of bearing witness to the work of Virgil Abloh - a marketer, habitual collaborator-with-other-brands, zeitgeist-capturer, self-trained designer, garrulous personality and friend to countless cool people.
Editors and retailers were four days into the thick of the fall 2018 season here, and not Saint Laurent or Chloe or any of the earlier shows had caused people to become so agitated.
Once a guest had moved into the eye of the Off-White maelstrom it was impossible to turn back. One had no choice but to press on and hope that the thick wall of people blocking the entry would part before the momentum slammed an unwilling body into it. No one at the door was making a concerted effort to look at guests' invitations, let alone inspect a bag. It was a fashion free-for-all.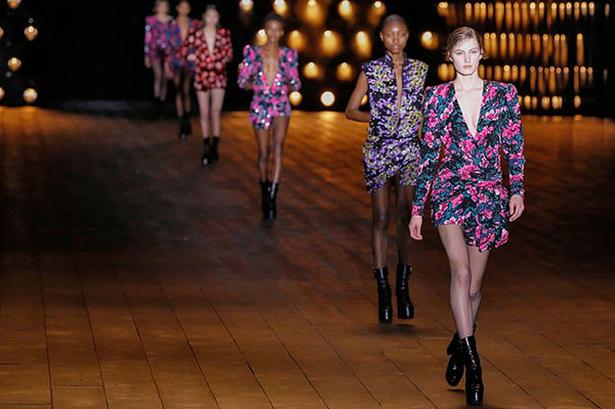 To be clear, Abloh has not reinvented, well, anything. He has put his signature white slashes on everything from T-shirts to motorcycle jackets; he's co-branded Nike sneakers and Jimmy Choo boots. (And to Abloh's credit, Jimmy Choo boots have never looked so good.)
Does Abloh make existing products better? Or does he simply make them cooler and therefore more desirable by connecting himself to them? It doesn't even matter. Because what is true is that design houses, particularly big ones, swoon at the thought of stirring the kind of passion among their legions of customers that Abloh sparks in his.
Abloh makes streetwear - a name that increasingly seems ready for the dustbin because everything is moving in that direction, and so making a distinction between denim, sneakers, bomber jackets, hoodies and everything else seems moot. It's all fashion, and in some quarters the street stuff is considered far more fashionable than some preciously tailored blazer.
READ: Kanye West's Creative Director Virgil Abloh Launches Streetwear Line
Abloh has a sharp eye for men's style. But he would probably be a better womenswear designer if he would simply work within the new fashion reality that his menswear helped create. Where is the cool, nonchalant ease? His womenswear is dominated by dresses that leave a woman looking trussed up and ready to be ogled. He offers up booty shorts and corset-like bodices, jacquard skirts, translucent chiffon dresses and a giant meringue of a tulle ballgown. He isn't making women look hip; he's making them look like they're simply trying far too hard to live up to someone else's fashion standards instead of their own.
Abloh is at his best whipping up desirable accessories or engaging in a collaboration that lets him juice up an established brand, rather than when he is creating something out of whole cloth. He is the master of making the sum greater (or cooler) than the parts.
Abloh has figured out how to capture the pop culture moment. And it's evident in the heat that surrounds him. Fashion still has a place for the creative eye, for the undiluted point-of-view. But increasingly, fashion is more excited by a designer's heat than what's on their sketchpad.
The same day that Abloh's fans were shutting down a street, the quintessentially British brand Burberry announced that designer Riccardo Tisci would become the company's new chief creative officer after the departure of Christopher Bailey. The Burberry public statement didn't spend much time touting the darkly romantic aesthetic Tisci had brought to Givenchy during his 12 years there.
Instead, Burberry emphasized Tisci's ability to bring streetwear into the luxury market, his collaborations with artist Marina Abramovic, as well as with Kanye West and Jay-Z, and his costume work with Beyoncé, Rihanna and Madonna. Yes, Tisci has made some truly extraordinary clothes. but he's also buddies with the Kardashian-Wests.That's not a criticism; it's simply an observation. The new order dictates buzz first, clothes second. And indeed, without the hype, selling clothes is even more of a challenge.
Saint Laurent is a perfect case study. It wasn't until Hedi Slimane took the reigns in 2012 that the luxury house turned a financial corner and its sales began a gobsmacking climb. Slimane was all petulance and strong-willed stubbornness. And his youth-cult aesthetic never exuded sophistication and only occasionally traditional good taste. He was a controversial personality who surrounded himself with artists and musicians.
After his departure in 2016 and with the arrival of Anthony Vaccarello, there's still plenty of Slimane's influence in the house's collection, particularly for fall 2018 with its big shoulders, bright beading and sculptural gowns. Vaccarello has injected grown-up sexiness into the collection, but he has not cut the ties with the Slimane years - an era that was extraordinarily lucrative for the brand.
At the Chloe show Thursday morning, there was no frenzied mob at the door of the Maison de la Radio. There was no crush of people. But on the runway, there were compelling ideas that brought fresh life to V-neck dresses and tops, the cut of a skirt and the silhouette of a pair of trousers.
The clothes created by designer Natacha Ramsay-Levi were a blend of clear-eyed tailoring, bohemian eccentricity and a singular valuable asset: Ramsay-Levi's personal point of view. Chloe doesn't look like anything else, not precisely.
Arm bands changed the shape of sleeves on sweaters and jackets. Swirling embellishments gave contemporary shapes a patina of history. And the accessories had the look of amulets and talismans.
The Chloe show was not about dramatic backdrops, upheaval or chaos. It was simply about clothes, how they change and evolve to suit the times and the women who enliven them. It's not the sort of philosophy that makes a company burn white hot. But it's a reassuring warmth that ultimately may last longer.
— The Washington Post
Share this: