How The Crown Captures the Royal Style of the Swinging 60s
As The Crown returns, its costume designer lifts the lid on the royal fashion tenets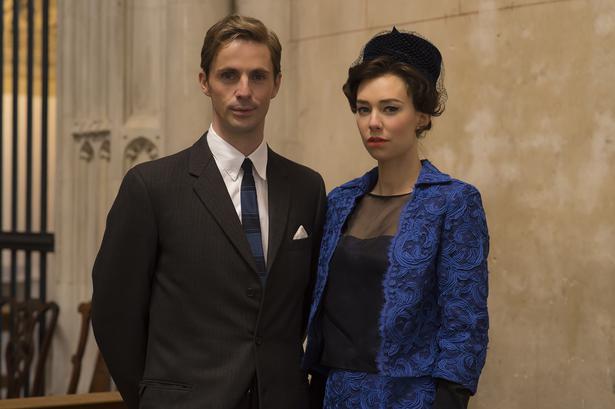 Monday Dec. 11, 2017
The trailer for the second series of The Crown begins with a shot of Claire Foy, as the Queen, at the studios of Norman Hartnell, the royal couturier. She is contemplating a line-up of models each wearing a confection frothier than the next.
"They look like cakes," says Jane Petrie, the costume designer on the series. "I used a box of French fancies as my reference."
It's a scene that in the first series might have denoted the glamour and decadence of the young Queen's position and her need for the most meringue-like dresses Hartnell could rustle up. But in a world on the cusp of the Swinging Sixties youthquake, its meaning is less clear-cut.
In period dramas such as The Crown, the clothes offer an anchor to time and place, but sartorial meanings shift like never before as series two, which has just been released on Netflix, takes us from the end of the Fifties to the mid-Sixties.
"Fashion magazines are never usually a good starting point if you're researching," says Petrie, whose team made dozens of costumes from scratch in cutting rooms at Elstree studios. "Most people don't look like they inhabit a Vogue shoot, but they do in this."
In style terms, this season there is a trio of protagonists - the Queen, Princess Margaret (Vanessa Kirby) and Jackie Kennedy (Jodi Balfour) - each epitomising a different take on the changing style of the times.
"Margaret was very fashionable and glamorous before she met Tony Armstrong-Jones, so it was trying to find a way to move her style into something which felt a bit cooler and reflective of everything that was starting to become exciting about London at that time," Petrie explains. Establishment figures would pour scorn on the Queen's fashion-forward younger sister as she broke away from tradition to experiment.
"When is Princess Margaret going to be her age [then 26] and behave like a member of the Royal Family, instead of a half-baked jazz-mad Teddy Girl?" asks government officer Anthony Heap, in a letter quoted in Craig Brown's book, Ma'am Darling: 99 Glimpses of Princess Margaret.
"It began too late and ended too soon," was the remark of one French male guest in regard to Margaret's dress at a dinner hosted by Lady Gladwyn, wife of the Paris ambassador, in 1959.
Nancy Mitford, who was also at the dinner, added that her "whole appearance was excessively common". Such vitriol only fuelled Margaret's anti-fustiness fire as she moved into simpler lines, shorter skirts and styles that chimed with the bohemian circles that Armstrong-Jones had introduced her to. "She was connected to the fashion ether and was really on the cusp of the times," says Petrie.
In The Crown's 10 new episodes, we will see her dance around her bedroom in her underwear, get married in one of the most pared-back royal wedding gowns and become vexed about the fussiness of her dress on a Cecil Beaton photo shoot.
But Petrie says that Margaret's best fashion moment is one of the series' most understated. "There's a scene where she's riding through London on the back of Tony's motorbike wearing a really simple black coat with a crash helmet. It says what she's about. All we needed was the right pair of sunglasses to go with that helmet. You can overthink sometimes, but there, the story just tells itself."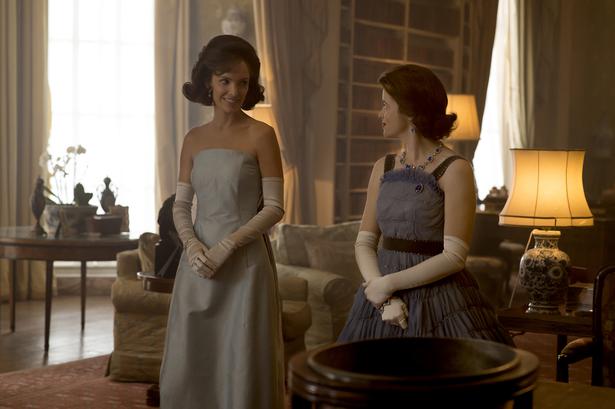 Jacqueline Kennedy (Jodi Balfour) and Queen Elizabeth II (Claire Foy). Picture / Alex Bailey, Netflix

Jackie Kennedy, who arrives for a visit to London in 1961 (it was the next stop after France, where JFK had declared: "I am the man who accompanied Jacqueline Kennedy to Paris"), is the other major fashion agitator of the piece, with her "clean, fresh and icy" style.

If Margaret was all Carnaby Street cool, then "the Americans brought another wave of style with them because they were just so wealthy", says Petrie. The pivotal Kennedy scene is the state banquet, for which the Queen wore Hartnell while Jackie had a sleek Givenchy-esque dress by Oleg Cassini, her personal couturier.

"The Queen looks dustier and dowdier, like she's wearing a dress from the Fifties," says Petrie of a storyline that suggests a note of jealousy on the Queen's part. "In her world, she was glamorous and fashionable, but Jackie Kennedy is Paris fashion."

Even if it sounds like the Queen might be trailing behind in the style stakes here (and she probably was, for a while) then, never fear; it is really she who has the last laugh. After the Kennedy visit, Petrie shows how she began to sharpen and update her look into a version of the uniform that she still wears today.

"She stuck with the boxier look of Sixties fashion which worked well for her, especially while having her children. Add to that the functional aspect to her clothes - they have to stay put; her hat would never lift in the wind and she looks immaculate at all times - and my feeling is that they nailed that in the Sixties."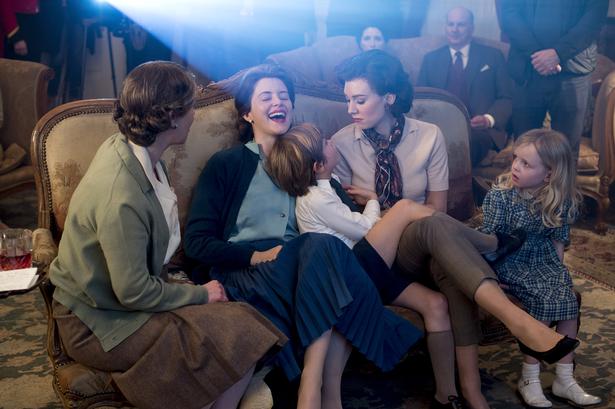 Among The Crown's most enthralling aspects are the domestic scenes it imagines, such as Prince Philip rubbing the weary feet of his pregnant wife. The costumes for these - from the stockings to the nighties - had to be entirely a figment of Petrie's imagination.
"We have a fantastic royal adviser in Major David Hunt. He used to be responsible for looking after the royal art collection, so he knows them and the workings of the palace. If I was wondering if something was right or appropriate, I didn't feel it was possible to go off course with him around."
She was on surer ground with the scenes at Balmoral and Sandringham, where the Queen wore much the same country look that she had as a little girl and still does today.
"That's when they really are at home, relaxed with their family," says Petrie, whose team made up several pleated tartan skirts and had knitted twinsets made in Scotland.
"One of the few original items we used in the series is a mac we found. It still had the ticket and the Rainmate hood in the pocket, and had never been worn."
Between Margaret's cool and Jackie's international chic, the Queen in a sturdy raincoat is a reassuringly British fashion statement - and one that still makes her a style icon today.
- The Daily Telegraph
Share this: