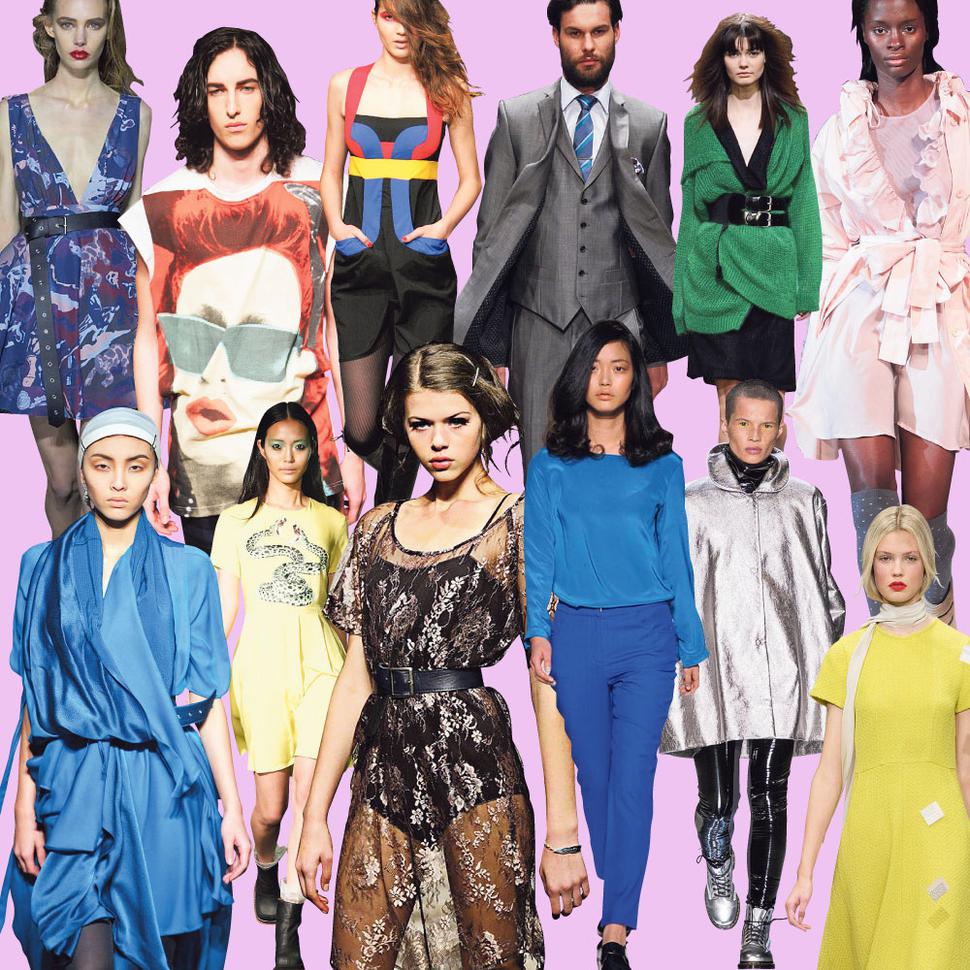 The Definitive A-Z Guide To New Zealand Fashion Week 2018
Here's everything you need to know about the biggest week in New Zealand fashion
Monday Aug. 27, 2018
Aurai Swimwear
Named after the winged nymphs of the breeze who carried messages for the gods in Greek mythology, Aurai Swimwear is here to carry an important message of its own — one of eco-design and slow fashion. The label is the passion project of Brazilian designer Natalia Bertolo, who aims to raise awareness of best practice in fashion, by supporting local suppliers and promoting a fair trade business ethos. The eco and ethical swimwear label is handmade, using recycled and biodegradable materials at a family-run atelier in Bertolo's native Brazil. Aurai Swimwear is part of the Swim and Activewear Collective, showing on Tuesday afternoon at The Runway.
Breakfast
Everyone's favourite meal time has proved a popular option for designers to shun tradition and to take time to break bread with their VIP guests. Rather than host a runway show, exclusive breakfast events are scattered throughout this year's NZFW, including those of Georgia Alice and Harris Tapper. Fashion meets French Toast, what more could you ask for?
SEE: The Most Memorable Looks from NZ Fashion Week
Couture
Frothy tulle confections, swathes of sequins, silk and shimmer, new to this year's NZFW line-up is the New Generation Emerging Couture show, which highlights the country's up-and-coming ateliers. Comprising designs by Cecilia Kang Couture, Judy Gao Couture, Srishti Kaur Designs and Ruscoe, this is a glamorous affair not to be missed.
Delegates
Who are they and why should you care? Every year, NZFW hosts a mix of local and international delegates, comprising fashion bloggers, influencers, and media. This year, Australian sisters and fashion bloggers Bec and Marissa Karagiorgos of Twice Blessed will be schooling us all in nailing street style. Sydney-based fashion stylist Chloe Hill is set to represent her personal blog, Coolpretty.cool, and online fashion publication, Who What Wear, while Patty Huntington will be working for her blog Frockwriter, as well as WWD and the South China Morning Post, among others. Fashion editors from Grazia, Icon and Russh will also be documenting highlights from the week.
Eyewear
We're praying for sunshine, even more so to be able to don new season sunnies from Australian label Pared Eyewear who will be at the Trade Space during the week, showcasing their range of handmade sunglasses, which celebrate clean lines, soft silhouettes, and comfort. The Viva team will be donning the latest shades from Sunglass Hut throughout the week, stay tuned to see what we're wearing to Fashion Week.
READ: Top Tips On Choosing The Right Sunglasses
Fashion Plate
Combining the fun of yum-cha with the delicacies of high tea, New Zealand Fashion Weekend food is getting a shake up with the offerings at Fashion Plate — a beautiful selection of finger food and canapes served in heart of the NZFW venue. Select between a brunch, lunch, high tea, or cocktail option, and dine on produce from local artisans, including Kapiti Cheese, Cook and Nelson, and Te Matuku Oysters and more.
General Collective Connect
If you're a long-time fan of the General Collective Market, then you'll want to secure your ticket to the newest Fashion Weekend event — the General Collective Connect. Popping up in The Studio on Sunday, September 2, this market experience is set to bring together 14 brands, curated exclusively for Fashion Weekend. These makers, designers, and creatives will offer wares for your shopping pleasure.
Hashtag
At Viva, we love a good #HASHTAG. This year, we're picking savvy designers will have their own unique hashtags, all set to compile user content during their shows. #fashun #styleblogger #yasssskween
Instagram
Whether you're hanging out backstage, posed in the front row, or dashing out between shows to grab a coffee, chances are you'll be glued to your phone to capture every fleeting moment of #nzfashionweek. Make sure you're following @nzhviva on Instagram as we share up-to-the-minute content live from every show at NZFW.
READ: Stylish Instagrams To Follow Right Now
Jewellery
We're still obsessing over the OTT accessories spied adorning the necks and earlobes of key fashion players at Copenhagen Fashion Week, and plan on following suit this week. Think belcher chains boasting over-sized heart lockets, thick gold hoops, shell chokers, Aztec-inspired cocktail rings, pearl anklets and the artful layering of delicate chains with bulkier pendants. More is more is more, right?
Korowai
We're eagerly anticipating Maori designer Kiri Nathan's runway show on Wednesday, August 29 at 1pm. We're excited to see her contemporary take on the traditional korowai, a Maori cloak made from flax and feathers, and worn as a mantle of prestige and honour.
Late Night Bite
Keep hunger pangs at bay by making a beeline for a nearby restaurant to park-up after the final show of the night wraps. Wynyard Quarter is a mere hop skip and a jump away from the Viaduct Events Centre venue, with a variety of restaurants and eateries open late. Nosh on a meatball sandwich at New York-Italian restaurant Baduzzi, explore the flavours of southern America with fried oyster po' boys at Miss Clawdy, grab some bar snacks and small plates at 16 Tun next door, or head over the tram lines for something a little lighter at The Conservatory.
Meitu
Not to be confused with the #METOO movement, T Galleria by DFS has a similar sounding clever new virtual beauty experience that has set the Viva beauty team buzzing. Created in collaboration with Meitu, China's No. 1 selfie app, the Meitu Magic Mirror enables users to "try on" more than 100 lip shades from 20 participating brands. Every product recommendation is tailored to your skin tone and face shape. We're hoping the Meitu Magic Mirror makes an appearance at the DFS Designer Showcase on Friday August 31 at 6pm.
New Generation
One of the most thrilling elements about NZFW every year is the rising stars who emerge amid a sea of established Kiwi designers. This year sees the addition of the New Generation Emerging Couture show on Tuesday, August 29, where four up-and-coming Kiwi designers will showcase their high fashion offering on the runway for the first time. The following day's New Gen show will highlight creations by another four new faces — Havilah, LVLD Clothing, Olli and Starving Artists Fund.
READ: What Was NZ Fashion Week Like 10 Years Ago?
Open Showroom
Another new addition to the NZFW line-up is the Open Showroom, celebrating the work of local designers Penny Sage, Georgia Jay and Ovna Ovich. Hosted off-site on Wednesday August 29, this invite-only event will see all three designers partake in a unique presentation shared with an exclusive list of VIPs and media guests.
Pout
If there's one thing we've managed to unearth from the make-up artists working on multiple shows at NZFW, it's that lips are going to be huge. We don't mean that in the sense of the overdrawn, Kylie Jenner kind of way, either. We're talking punchy pink hues, lashings of gloss, and holographic shades that scream "pucker up".
Quotes
Slogan tees, embroidered knits, and playful badges — it seems our non-verbal communication continues to extend to our wardrobes. Melania Trump made headlines earlier this year when she wore a Zara jacket emblazoned with the message "I really don't care, do u?" during a tour to an immigrant children's shelter on the US-Mexico border. Last year, World's 'Protest The World' show saw models hold placards as they took to the runway. Will this year's shows follow suit with statement wear?
Ripped Up
Frayed, tattered, shredded, or torn — whatever you want to call it, less-than-perfect iterations of slip dresses and over-sized silhouettes are the style du jour for one of NZFW's freshest talents. Ryan Turner's approach to fashion looks to raw hems, frayed edges and asymmetrical lines to inform his collection of easy wearing pieces.
Soundtrack
There's no denying the power of music to set the tone for any runway show, and this year we're anticipating some killer soundtracks. From sombre, classical tunes to bass-heavy R'n'B, we can't wait to listen-up as models step to the beat during shows.
THROWBACK: The Coolest Show Music from NZFW 2016
Turmeric Latte
Sorry, coffee drinkers, but turmeric lattes aren't going anywhere anytime soon. The superfood ingredient has been taking over cafes since hitting the foodie scene last year. We're predicting many fashion bloggers will arrive at the Viaduct Events Centre armed and ready for a big day of gramming and dreams of being snapped for the Viva Street Style Gallery with a trendy reusable cup filled to the brim with that golden good stuff.
Underwear
We're not talking about the kind you'd buy your dad for Father's Day, either. An exquisite addition to the New Zealand Weddings magazine collection show, Lonedaisy Boutique specialise in custom and ready-to-wear bridal lingerie. A fun show to have on your radar is Jockey, which is bound to have watchers think they should have spent as much time at the gym as the sportspeople and models walking in the show. Long-time Jockey ambassador Matilda Rice will be among those on the runway.
Viva.co.nz
Make sure you check out the Viva Fashion Week video coverage on Viva.co.nz, shot on the new Huawei Nova3, featuring an incredible 24-megapixel camera and 28GB storage. 
SEE: Celebrating 20 Years Of Viva, In Association With The Launch Of The Huawei Nova3 Series
Weekend
Workshops, panel discussions, cocktail hours and master- classes galore will feature at NZ Fashion Weekend, where you can eat, sip, shop and discover your newest fashion and beauty obsessions. We're looking forward to the two high tea sessions at Fashion Plate Café, and the Y-Our Hands Sewing Workshop on Saturday, September 1, at 9.30am.
XXL
Richard Kavanagh teased it, Mana Dave hinted at it, and Siddharth Bahree outright told us that big hair is back, baby. Check in with Viva.co.nz throughout the week where we'll be unpicking how to create every XXLhair look at home.
Yacht
Hosting their presentation on a yacht, we're expecting big things from newcomers Hej-Hej. Based between Shanghai and New Zealand, these linen lovers have invited a handful of VIPs and media to sip G&Ts and pretend like its summer while cruising around the harbour. One word: #extra.
Zips
If you thought we were running out of letters by now, you'd be right. So here it is: zips. Zips are easily the most convenient way to get in and out of any garment, and no doubt a NZFW dresser's dream.
Share this:
More Fashion / NZ Fashion Week 2018